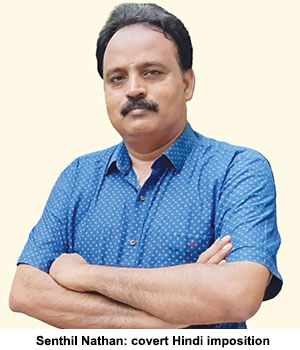 – Shivani Chaturvedi (Chennai)
Although the All India ADMK (AIADMK) ruling party is an ally of the BJP/NDA government at the Centre, the three languages learning formula for all school-going children proposed in the new National Education Policy (NEP) 2020 has been rejected outright by the state government and indeed by all political formations in Tamil Nadu (pop. 68 million).
On August 3, chief minister Edappadi K. Palaniswami forthrightly said that the people of Tamil Nadu would never accept the Centre's threelanguage policy, and would continue to teach two languages in the state's 37,500 government schools. Nor would it enforce the three-language mandate of NEP 2020 in private schools statewide.
NEP 2020 approved by the Union cabinet on July 29, mandates two language learning proposals — all school-going children should learn three languages but "no language will be imposed on any state," and secondly, "wherever possible, the medium of instruction until at least grade V, but preferably till grade VIII and beyond, will be the home
language/mother-tongue/local language/regional language… This will be followed by both public and private schools".
Although seemingly liberal, these proposals are like a red rag to a bull for Tamil Nadu's politicians and two major political parties – AIADMK and the opposition DMK — which rose to power in the 1960s when Hindi was proposed to be legislated as the national language of India.
"The three-language formula reiterated by NEP 2020 is a covert attempt to once again impose Hindi as the national language. Since schools cannot afford teachers for all 29 major languages of India, and Hindi is widely spoken, the assumption behind the three-language formula is that most schools will adopt Hindi as one of the three languages mandated by NEP 2020. I am not against Hindi being taught to school students. But the three-language formula violates equality. In 1968, the Union government had said that Hindi, English and one southern language would be taught in all states. Hardly any of the Hindi-speaking states have followed this formula," says Aazhi Senthil
Nathan, convenor of the Chennaibased Campaign for Language Equality and Rights (estb.2015).
Also the author of several books including Mozhi Engal Uyirukku Ner, a 500-page tome on language rights movement in India, Nathan believes that Tamil Nadu's two language formula introduced in 1968, has served the state well. "The two-language formula of Tamil Nadu has been quite successful. The state's literacy rate was 80.33 percent in 2011, way above the national average. While we regard English rather than Hindi as the official and link language of India, we are in favour of all children having the right to get primary education in their mother tongue," adds Nathan.
A version to Hindi being imposed upon the country as the national language has a long history in Tamil Nadu. Before India wrested its freedom from British rule, founder of the Dravidian movement Periyar E.V. Ramasamy opposed a decision of the revered C.R. Rajagopalachari, then chief minister, to accept Hindi as a compulsory subject in secondary schools. Subsequently in the 1960s when Hindi was proposed as the national language, riots broke out in Tamil Nadu and several southern states, forcing the Congress government at the Centre to declare Hindi as the 'official' language and English as the associate official language.
The fundamental objection of Tamil Nadu's political class is that if Hindi is accepted as the national language of government, courts and business, graduates from north India's Hindi-language states — UP, Bihar, Rajasthan, Madhya Pradesh among others — would enjoy unmerited advantage in government employment and the professions. On the other hand, English — or more pertinently Inglish — is neutral and creates a level playing field for all citizens of India.
Nevertheless, proponents of the two-language formula take pains to stress that they are not against children learning Hindi — or any other language — voluntarily. "About 40 percent of Tamil Nadu's 4,800 private- unaided Matriculation schools teach English as first language and Hindi as the second because they want their children to compete with students of CBSE and CISCE schools in which Hindi is compulsory. There is no state government pressure on them not to teach Hindi," says A.T.B. Bose, general secretary of the Association of Managements of
Private Schools of Tamil Nadu.
The managements of some private primary-secondary schools in the state teach Hindi as an informal subject. "We teach Hindi so that when they grow up and leave the state for higher education or work, our students should not experience communication difficulties. All our Hindi language classes are activity oriented where students' participation is necessary, but there is no Hindi exam. This model has really worked well for our students and these skills also help them succeed in further education and in workplaces," says D. Girija Devi, principal of Anna Gem Science Park Matriculation Higher Secondary School, Chennai, which has 1,400 students and 70 teachers on its muster rolls.
Clearly formulators of NEP 2020 erred in raising the mother tongue and three-languages learning issues. Curiously they seem ignorant about post-independence India's energy sapping language wars and have needlessly resurrected this dead and buried controversy.
Education News