This article is republished with permission from

IntrepidEd News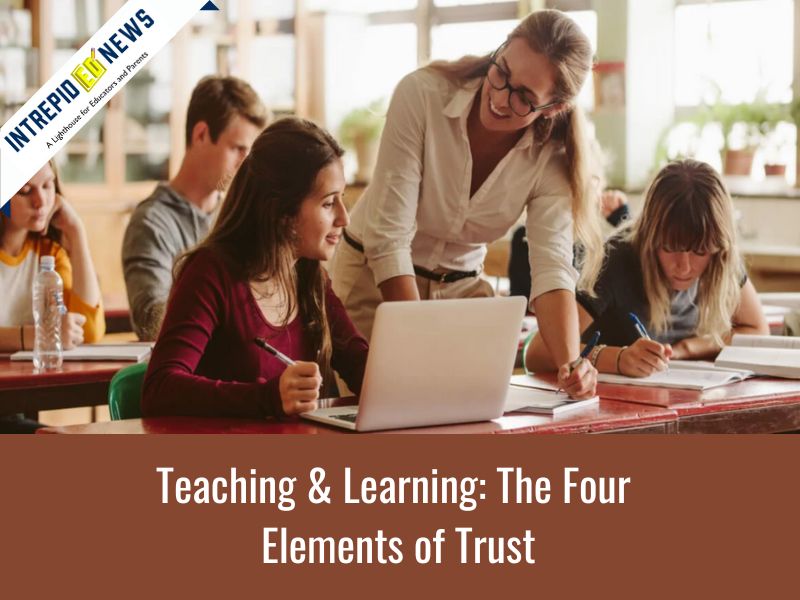 Relationships are at the heart of leading and learning. As school leaders, we know this from intuition and experience. It is also clear that relationships require trust.
Research reveals that there are four elements of relational trust: consistency, compassion, competence, and communication.
Consistency is equated to predictability
Consistency is equated to predictability—in any interaction, there is a degree of vulnerability that occurs, and being predictable reduces the uncertainty of the interaction. This is often extended to concepts such as reliability or integrity which are absolutely foundational for trust to emerge.
Orienting to vision, mission, and values helps to build consistency throughout the organization. Adhering to plans helps to have a reliable way to plan and organize major strategic projects. Use of routines such as weekly Cabinet meetings is another way to create predictability. Finally, as a leader, it is critical to follow through on commitments which includes keeping appointments (or renegotiating commitments when necessary).
This planning tool will help guide the structure and content of meetings with a hook, practice time, real-world application, and a debrief: Faculty Meeting Planning Template
Compassion relates to genuine empathy
Compassion relates to genuine empathy and understanding. We don't care how much the other person knows until we know how much they care. Compassion is often perceived to exist when there is a meaningful response to a person's unique needs. Further, the research makes it clear that for trust to occur the compassion must be perceived to be genuine and sincere. Faking it does not cut it in this regard—we have to truly care.
Being responsive to student needs is a way to demonstrate compassion. Adjusting plans based on feedback is another way to show empathy for others who have different and important perspectives. Finding ways to bring people together to create community is another way for leaders to demonstrate care for others. Finally, slowing down and simply being present and mindful with others is critical for leaders.
Competence is tied to the task at hand
Competence is tied to the task at hand but can also be perceived based on affiliation or prestige. For example, a student who has graduated from a "prestigious" school is often perceived to be more competent in their learning than others. Similarly, we can extend presumptions of competence to others based on certifications, awards, and validation from other parties. Competence is a key element of the framework of relational trust in that it shows that being reliable and kind is insufficient to generate trust – you have to get things done and show that you are capable if you want to be trusted.
Making performance quality visible and demonstrating progress toward goals is an excellent way for leaders to demonstrate competence. For example, while I was Superintendent in the Vista Unified School District, our Board agendas included an update on our goals early in every meeting to ensure accountability and to celebrate achievements. Outside validation for our efforts when we were recognized for Digital Learning Day or invitations to the White House were also helpful in building positive momentum and community confidence.
Communication is the thread that connects the four elements of trust
Finally, communication is the thread that connects consistency, compassion, and competence. The research on trust shows that the highest leverage area is actually receptive listening which is an underappreciated act in our fast-paced society. Maintaining confidentiality is another critical consideration in establishing and maintaining relational trust.
In Vista, conducting community forums and routine surveys were ways to demonstrate that we were focused on listening and taking input. In terms of expressive communication, we implemented a social media strategy, overhauled the district website, and added quarterly newsletters to the community. On a micro-level, leaders should also remember Stephen Covey's habit of "seek first to understand, then be understood" and to ensure that in meetings and informal conversations the orientation is to first understand the context.
Read more about how relationships and culture are key elements which must be attended to in creating transformational change in A Question of Trust: The Arcadia Unified Better Together Project.
These four elements also exist in opposition to one another. Being consistent and compassionate are often at odds with one another. Consider, for example, the teacher who wonders whether he should make an exception for a student with unique circumstances. If the teacher makes the exception he would demonstrate compassion but undermine consistency. Doing the opposite might convey a lack of regard for the individual and reduce perceptions regarding compassion.
Competence and communication are also at odds with one another. This is a lived tension for school leaders who want to be visible and spend many hours creating communication channels to keep community members informed. While those activities are essential, the task list continues to grow while the leader may be engaged in those communicative activities. In other words, one can do the work or one can communicate about the work but it is near impossible to do both at the same time.
The balance of these four elements leads to relational trust. Every leader has to determine their own mix to develop the trust that is key for success in a community of change.
Find your own mix, and learn more about transforming your learning community in 4 Examples of Learner-Centered Leaders Challenging the Status Quo.

This post originally appeared in the Learner-Centered Collaborative blog on August 8, 2020.