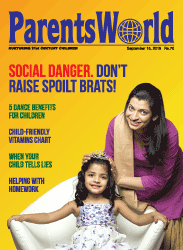 The September cover story about the dangerous consequences of overindulging children was very relevant.
Most working parents believe that they need to make up for not spending quality time with their children by pampering them and acceding to their every demand. Though in the short-term this may bring pleasure to both parents and children, in the long run it will make them self-centred, demanding and narcissistic.
Teaching children the values of patience, hard work, compassion, empathy and perseverance is a continuous job. Parents need to realise that buying children expensive gifts is no substitute for love, affection and family bonding. Teaching children social responsibility and empathy will help them grow into well-balanced adults. As parents we tend to forget our life reflects in theirs, and the values they absorb are often ours.
Elizabeth Kurien
Bangalore
Impressive and useful
I am a regular reader of ParentsWorld and was impressed with the latest cover story, 'Social danger. Don't raise spoilt brats' (PW September). The story will be very helpful for young parents on how to raise children who are well-balanced and socially responsible. The practical advice on correcting over-indulged children was also very useful.
Kirti Gupta
Bangalore
Address parents' denial
I enjoy reading ParentsWorld and liked your story 'Why is my child telling lies' (PW September). However, I believe you missed out a very important perspective in the story: why are most parents in denial about their children lying? I personally know of a case where the tuition teacher and parent both know that the child is persistently lying about her studies but they are in denial.
Isn't this parental behaviour unhealthy? Would love to read what your experts have to say on this issue.
Deekha Ram
Ghaziabad
Homework benefits
As a parent of two teens who still helps her children with homework, I was happy to read your story 'Helping children with homework' (PW September) and want to share an interesting news snippet I read recently.
According to this news-report, a legislator in the Philippines has tabled a bill to ban homework on weekends — No Homework on Weekends Act of 2019. The proposed law seeks to ban all elementary and high school teachers from giving children homework or assignments over the weekend. Violators will have to pay a fine of 50,000 Peso (Rs.68,465) and/or serve jail time of up to two years.
Although this might sound like an amazing idea to children and parents, I'm not sure if the ban will be helpful or harmful. Not all children are confident to ask their teachers for help if they don't understand a concept, math sum, or science experiment etc. In such cases homework helps children clear their academic doubts with parents who can also provide remedial coaching.
Susheela R.
Chennai
Life-changing experience
The '5 benefits of dance for children' feature (PW September) was thought-provoking. While I knew that dancing is a great stress buster and good exercise, I didn't know it was a great way to instil discipline and perseverance in children, helping them develop self-confidence, social skills, cognitive and academic abilities.
Moreover as renowned educationist Sir Ken Robinson says, "dance can help restore joy, stability and ease out tensions in schools caused by violence and bullying".
Sharmila Mathur
Delhi
Words of praise
I am a regular reader of ParentsWorld and want to congratulate you on the excellent stories you publish on a wide range of parenting issues.
I especially love the health & nutrition page written by Dr. Gita Mathai. It's superb and useful, particularly the August advice on preventing dengue. Ditto your healthy and quick to rustle-up recipes section.
Manisha Patil
Mumbai