At a time when Delhi air pollution has reached an all-time high, 11-year-old climate activist Ridhima Pandey, popularly known as "India's Greta Thunberg" visited the Shiv Nadar School, Faridabad on Monday to spread awareness about climate change. The youngster from Haridwar addressed students from grades 3 to 9 from different schools.
Deeply moved by the 2013's Uttarakhand flash floods, Ridhima says, "We are not doing anything to limit or slow down the process of climate change." In 2017, she filed a petition at India's National Green Tribunal (NGT), which oversees environmental concerns, for not taking serious steps to combat climate change. Though NGT dismissed her petition, Ridhima escalated it to India's Supreme Court in September. She also wrote to the PMO urging the Prime Minister to talk about the climate change crisis in his Mann Ki Baat show. Earlier this year, she also appealed to PM Modi to prevent trees from chopping down at Aarey forests in Mumbai.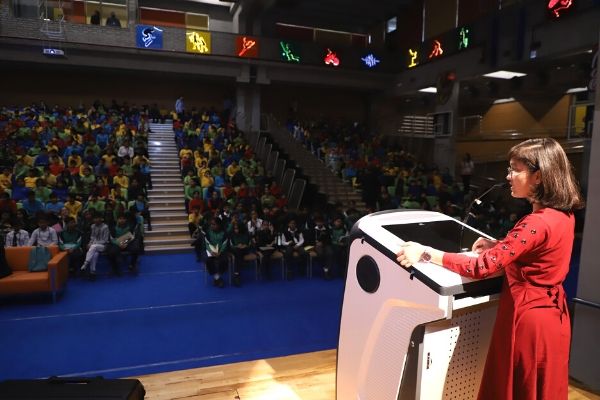 "I feel very bad as well as angry that some people are criticising young climate activists and I just want to ask them 'what you have done' and then say anything to us," says Ridhima. She is one of the teen activists who criticized Germany, France, Brazil, Argentina, and Turkey for failing to uphold their obligations to young people under the UN's Convention on the rights of children.
When asked why did the school decided to host Ridhima, the Faridabad school's principal, Anju Wal says, "She is an inspiration. When we read about her story, we thought what better day to call her on Children's Day for the children of Faridabad. And we had 200 children from our Gurgaon school and students from other schools in the vicinity. And when we shared the plan with our school children, they were very excited. In fact, when we asked them what would you be more excited and happy if we give you a Brownie and some special food on Children's Day or would you like to meet this young girl, all heads nodded for Ridhima."
"I want a better future.
I want to save my future.
I want to save our future.
I want to save the future of all the children and all people of future generations."
– Ridhima Pandey, one of 16 children who filed a complaint on climate crisis to the UN child rights committee. #UNGA pic.twitter.com/E8O2ZlmfAo

— UNICEF India (@UNICEFIndia) September 24, 2019
To inspire kids to take inspiration from Ridhima, the school also gave its students the opportunity to interact with the climate activist. 12-year-old Vaani who spoke to her, says, "I think what she said really inspired us. She is almost of our age. After talking to her, I feel that we can also help in bringing a change."
Speaking on the takeaway, a student says, "What I learned from our interactions is that elders will remain the same. But it is us the children who will have to step up and will have to make them realize that climate change is actually happening."
Manoj Joshi
International
,
News