The distinguishing characteristic of this sun, sea and sand state is that it's a middle class society unscarred by visible poverty and want
When the first cool winds heralding winter start blowing across the sweaty brow of the subcontinent, the thoughts of most cerebral individuals and party animals who take their rest and recreation seriously — as all productive professionals should — lightly turn to Goa, India's smallest (pop 1.5 million) western seaboard state, which offers a French Riviera or Caribbean style holiday at a fraction of the price of these two exotic destinations.
Much has been written about Goa in recent times — perhaps too much. But most of the coverage of this golden state which offers a unique combination of sun, sand and sea, and a lot else, tends to be impressionistic, i.e long on lyrical descriptions and short of hard information. A satisfactory explanation as to why this state's population doubles — surely a phenomenon unprecedented in the annals of tourism worldwide — during the peak of the tourist season (Christmas-New Year) has thus far proved elusive.
Certainly there is a je ne sais quoi about Goa which attracts people from across the subcontinent and from around the world. But thus far the lure of this state remains largely a matter of conjecture and media hype. In particular it is important to note that the great majority of holiday-makers who swarm this tourist paradise annually are domestic revelers who aren't enchanted by its glorious sun, sand and sea which could darken complexions and ruin values in the marriage and related markets. So what is it about Goa which attracts domestic tourists by the hundreds of thousands?
Those conditioned to swallowing traditional Marxist (exploitation of poor natives) and loony right (alcoholism and debauchery) explanations, skip the next paragraph.
It might sound strange, but for my money the major attraction of Goa is that it is India's most well-educated (English language, forget about fudged literacy figures) state. This translates into good manners, easy transactions, cleanliness and hygiene. Surrounded by filth, the uncouth and PWD architecture, a growing number within the nation's new middle class is attracted to these elementary charms of the golden state. Moreover, Goan politicians are — as yet — unmoved by the hypocritical posturing of their counterparts in other states on liquor and prohibition. As a consequence liquor prices are the lowest in India.
Good manners and education also translates into respect for women (even if clad in beach wear or less), and the natives have the intelligence not to dirty the beaches as is common in the rest of the country. Indeed the distinguishing characteristic of Goa which makes it an attractive destination for tourists from India and abroad is that it is a predominantly middle class society unscarred by the visible poverty and want which often diminishes the charm of other tourist destinations in the subcontinent. This is the bottomline for the annual exodus to this Mediterranean-style experience from the hinterland.
Surprisingly not a few domestic tourists believe that Goa is a town or city rather than a fully-fledged state of the Indian Union. Spread over an area of 3,702 sq.km including perhaps the world's finest and safest white sand beaches and warm climate (28-32°C in winter), the state of Goa harbours a population of 1.5 million. Most of the friendly and good-humoured people of this balmy state are concentrated in its half-a-dozen large towns or small cities — the capital Panaji aka Panjim (pop. 114,759); Mapusa (39,989); Margao aka Madgaon (87,650) and the industrial town of Vasco da Gama.
History. Way back in the 3rd century BCE, Goa was a province of the Mauryan empire. After being ruled by the Satavahana and Chalukyan dynasties of Kolhapur and Badami (580-750 AD), Goa fell to Muslim rule in 1312 but they were forced out in 1370 by Harihara I of the Vijayanagar empire. In 1510, just a decade after Vasco da Gama rounded the Cape of Good Hope and discovered the sea route from Europe to India, the Portuguese planted their flag in Goa with the objective of controlling the spice route from India.
Inevitably, the church followed trade and the Catholic Church, particularly the Jesuits, established a strong and enduring presence in Goa which is manifested by the large number of beautiful, always gleaming white churches set amidst emerald green paddy fields and swaying palms which is the defining Indo-Mediterranean characteristic of the country's most tourism-oriented state. In 1961, 14 years after the British Union Jack was history in the new Republic of India, this Portuguese administered enclave in independent India was overrun by the Indian Army in an almost bloodless operation. But fortunately, given its high literacy and deeply entrenched western traditions, Goa has been able to resist the worst excesses of levelling-down, Indian socialism and retain its unique Indo-Mediterranean character.
Geography. For tourists Goa is conveniently divided into the north and south by the broad expanse of the Zuari River which flows into a spectacular bay (best viewed from Dona Paula in Panjim). Broadly speaking, north Goa is Hindu dominated (therefore more crowded and unkempt) while the south is Christian (quieter and cleaner). However Goa's singular Iberian (i.e Spanish-Portuguese) character is all-pervasive and north-south differences are of degree rather than of substance. For bar-hoppers and party animals, the beach hotels of north Goa are preferred destinations while more laid-back holiday-makers tend to opt for the southern beaches.
Getting there. Goa is well-connected by air and rail to all the metros across India. But the preferred option of tourists from the neighbouring states of Maharashtra and Karnataka is by car. Mumbai and Bengaluru are also connected by overnight 'sleeper buses' which offer train-like berths at half the price. The only airport is at Dabolim in south-central Goa from which taxis to the various beach destinations are expensive (Rs.700-1,600) by general Indian standards.
General advice. The downside of a Goan holiday for domestic tourists is high transport — specifically taxi — fares. The taxi trade is controlled by a powerful union which doesn't for example, allow buses into the airport and has banned Uber and Ola. The way around this downsider is to either drive to Goa, or rent a self-drive car (Rs.1,500-2,000 per day from the airport) or better still to rent a motor-scooter (Rs.400-1,000 per day) which — and this is a unique feature of Goa — is easily available for hire. Almost every lay citizen owns a two-wheeler which he is ready to hire out to bona fide visitors without fuss, bother or paperwork.
Post-independence India can boast very few world-class achievements. Goa is one of them. Popularly believed to be more Portuguese than Portugal, it offers the chance of an Iberian holiday with a better climate at a fraction of the price. Make the most of it.
North Goa
The most popular beaches of north Goa are Calangute, Baga, Anjuna, Vagator, Candolim, Sinquerim and Miramar — in that order.
Calangute & Baga. These contiguous and happening beaches are the favourites of package tourists from Europe, especially from Britain. The mood is generally upbeat, but lager louts can be a nuisance.
Anjuna. Famous for its bi-weekly flea market. Popular with the party crowd and foreign backpackers.

Candolim. This is a more upscale and quieter beach than the others in north Goa. Runs into Sinquerim which hosts the famous 5-star Taj Fort Aguada and Taj Village resorts.
Residential accommodation. The beaches of north Goa offer a plethora of hotels, guesthouses and cheap shacks suitable for every budget. This explains the phenomenon of foreign tourists who come for a two-week holiday and usually end up staying for two months, if not forever. Top-end: The Taj group's pricey Fort Aguada and Village (Rs.17,000 plus per night). Mid-priced: Marabella Guest House and Sea Shell Inn (Rs.3,800-14,900). Budget: Florina Beach Resort, Tropicano and Villa Ludovici (Rs.1,500-3,000). All these hotels offer good seafood restaurants and bars. However the charm of Goa is that one can wine and dine
inexpensively in most of the large number of beachside shacks and restaurants without fear of violent gastric repercussions, especially if one sticks to western-style cuisines.
Excursions. For domestic tourists who are not as enamoured of lazy days on sunny beaches, the beachside hotels of north Goa offer convenient access to day-trip destinations. A must-see on every agenda is Panaji (aka Panjim — pop. 114,759), the crowded but still charming capital of Goa. Panjim offers some excellent restaurants (Riorico, Ruchira, Sher-E-Punjab, Palmeira) for lunching. While in Panjim you could visit Old Goa which maintains several strikingly beautiful churches and cathedrals which are among the largest in Asia. Old Goa
also houses the Basilica of Bom Jesus in which the mortal remains of St. Francis Xavier, revered throughout the Roman Catholic world, are preserved. Most visitors to Old Goa are bus day-trippers, but a more pleasant option is a water cruise to Old Goa with lunch on board. Other excursions could include a visit to the Salim Ali Bird Sanctuary, the Shri Mangesh Temple and Mayem Lake.
South Goa
The major beaches of south Goa are Bogmalo, Colva, Benaulim, Varca, Cavelossim and Palolem.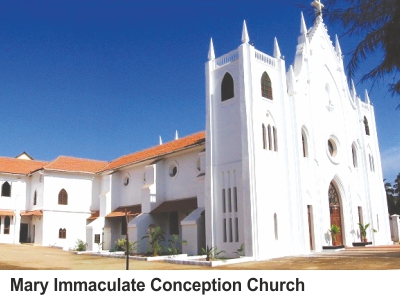 Bogmalo. The primary charm of this small beach dominated by the 5-star Bogmalo Beach Resort is its proximity to Dabolim airport (10 minutes drive). It also offers well-developed water sports.
Colva. This is the busiest beach in south Goa because of its easy access for the residents of the town of Margao (pop. 87,650), which is a 15-minute drive into the hinterland. It boasts a large number of medium-price hotels and offers numerous many shopping options.
Benaulim. Contiguous to Colva but much quieter. Excellent beachside shacks and the site of the very upscale, beautifully landscaped Taj Exotica hotel.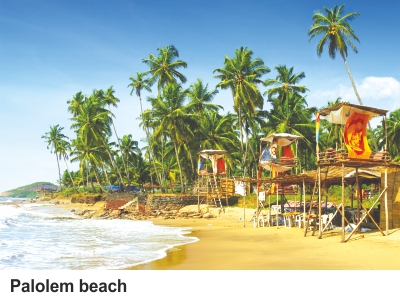 Varca. Offers the characteristic white sand beaches of south Goa and a large cathedral in Varca town. Host to the cathedral-style 5-star Ramada Renaissance hotel.
Cavelossim. High on the list of one of Goa's finest beaches, it offers solitude and wide empty spaces. The contiguous Mobor village offers excellent restaurants and eating joints. Dominated by the Dona Sylvia, Leela Beach Resort and Marriot 5-star hotels.
Palolem. Goa's most unspoilt and idyllic beach. Though it's fast developing, it lacks a sufficiently supportive tourism infrastructure.

Residential accommodation. All the major beaches of south Goa offer residential accommodation to suit differing budgets. Top-end: Bogmalo Beach Resort (Bogmalo), Taj Exotica (Benaulim), Goa Renaissance (Varca), Dona Sylvia, Leela Beach Resort and the Marriot (Cavelossim). These are all world-class 5-star hotels with peak season tariffs of Rs.15,000-50,000 per night. However most of them offer attractive non-peak-season packages. Medium-range (Rs.4,000-8,000): Silver Sands and Longuinhos Beach Resort (Colva); Baywatch (Benaulim). Budget (Rs.1,500- 3,000): Sea Pearl, Sam's Beach Resort, Lucky Star, Vailankanni Cottages (Colva); Furtado's Beach House, Camilson's Beach Resort, Lamour Beach Resort (Benaulim); Caroline Guest House, Palm Grove Cottages (Benaulim-Varca-Cavelossim strip). With almost all households in Goa engaged in the tourism trade, there's no shortage of budget hotels and guesthouses. Don't shoo off the hotel tout at the airport or railway station; some of them come up with
amazing bargains. Also don't be shy about inspecting the accommodation offered before signing the hotel register.
Excursions. Though most towns and villages of south Goa boast beautiful whitewashed churches, it doesn't offer the architectural splendours of Old Goa and the Basilica of Bom Jesus. The charm of the south is its green paddy fields fringed by white sand beaches disappearing into warm blue seas and its sossegado (the laid-back life). For nature lovers it offers opportunities to take in the Bondla, Bhagwan Mahavir and Cotiago wildlife sanctuaries and the scenic (but not so easily accessible) Dudhsagar Falls. For the less adventurous Margao is easily accessible (15-20 minutes) from most south Goa beaches. Margao offers shopping opportunities and excellent bar-restaurants (Longuinhos, Tato etc) including the famous Maria's pastry shop.
Also read: French Riviera of the east – Pondicherry