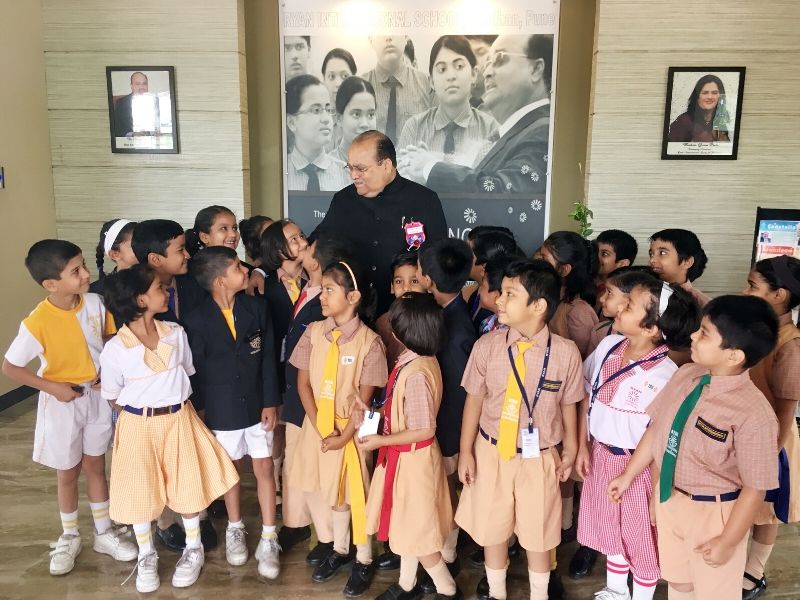 "Let us sacrifice our today so that our children can have a better tomorrow." These words of our former President Dr. A. P. J. Abdul Kalam wonderfully highlights the importance and dire need of parents, school educators, elders, leaders and the society focusing on the welfare of children. Our little wonders, our kids are truly capable of mighty things in life, if they are provided with the right opportunities and proper environment to grow.
Today everyone seems to be juggling between fast-paced family life and financial securities with little quality time for children. It is high time for parents to be aware of their priorities in lives. A child needs attention and wants to feel loved by parents. 'Spending quality time with children' is vital as it helps them in building security & self-esteem. Let this quality time not be replaced by mobile phones, TV or computers. Even simple things like doing activities together or reading stories to them can boost confidence among children and make them feel that they are loved, valued and cared for. Developmental psychology tells us that brain development is at its highest peak during childhood where children learn rapidly during these early years. They are like sponges just ready to absorb things. Parents' quality time and interaction at home and teachers' personalised attention during the formative years at school are, therefore, critical factors in shaping and moulding their futures.
Children's Day is celebrated as a tribute to our first Prime Minister Pandit Jawaharlal Nehru for his love and care he showed towards children. Even though he was very senior in stature, he was fond of children and became popular as Chacha Nehru among them. He desired that every child grows into a responsible citizen through proper education and suitable environment. He wanted children to prosper in life and fulfill their dreams. As we remember Pandit Jawaharlal Nehru on this day of great significance, let us together turn our attention to the rights, care, and education of children in our country. Let us make the required sacrifices today so that our children will have a better tomorrow. Let us not ruin their future by depriving them of their right to a happy childhood. All that they need is:
 HEALTHY & SAFE ENVIRONMENT,
 LOVE AND CARE
 EMPOWERMENT THROUGH EDUCATION
 HEALTHCARE
 PROVISION OF OPPORTUNITIES FOR HOLISTIC DEVELOPMENT
 A LISTENING EAR
 QUALITY TIME
 SAFE & JOYFUL FUTURE
 GREEN, CLEAN & POLLUTION FREE ENVIRONMENT.
In our country, the need of the hour is laying a greater emphasis on enhancing the school education system which is the largest in the world, catering to over 260 million young students. We need to treasure our children and provide them with opportunities and an environment to go to school and grow into persons they truly deserve to be. "You have to love your children unselfishly. That is hard, but it is the only way." These words of Barbara Bush, Former US First Lady hold a profound message for every parent and teacher about the fact of preparing powerful, creative, integrated and emotionally healthy future citizens.
Children on your part need to be open to learn and make the best of every opportunity provided to you. We urge you, children, to imbibe values, critical thinking, collaborative and teamwork skills, time management, and communication skills and develop yourself into an emotionally strong personality in order to lead a happy life and also to contribute positively towards building an empathetic society. Be grateful to God for the gift of childhood He has blessed you with. Pray for those who are not fortunate to go to school that they too may get the opportunity to study and live a life of dignity and respect. As you celebrate your childhood, remember that you are unique, special and a wonderful child of God.
(by Dr. A. F. Pinto, Chairman, Ryan International Group of Institutions)