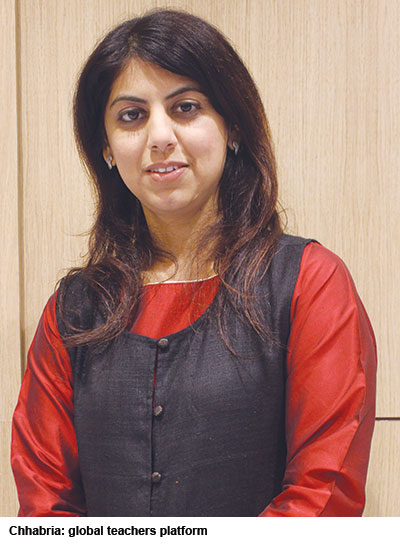 Mumbai-based Rakhee Chhabria is the founder of Teachers Help Teachers (THT, estb.2017), a social enterprise to empower educators. THT is an online Facebook support group and website where teachers can interact, avail guidance on pedagogies, share information, upload and download resources, become aware of employment opportunities and upgrade their knowledge. Membership of this FB group and website is free, although THT conducts paid professional development, offline workshops for teachers.
This two-year-old initiative has struck a resonant chord within the teachers' community worldwide. The THT FB group has 10,000 members while its website has registered 1,500 educators countrywide. Two years ago, Sheryl Sandberg, COO (chief operating officer) of Facebook, the US-based social media giant (annual revenue: $55 billion or Rs.385,000 crore), lauded Chhabria for "…creating THT where teachers share ideas and resources to do their jobs better", and invited her to speak at the FB Asia Pacific Summit 2017.
Newspeg. THT is gearing up for the second edition of its Edustar awards which acknowledges and rewards innovative school teachers. The awards nite is scheduled for September 2019 with the nominations window open from June 13-July 30.
History. A commerce graduate of Mumbai University and certified ECCE (early childhood care and education) teacher, Chhabria began her career as a pre-primary teacher at the Arya Vidya Mandir School, Mumbai in 2001. This was followed by a stint with Samarpan, an NGO working for autistic children. Subsequently in 2009, Chhabria promoted an educational services company under the name and style of Saieducaserve. A strong believer in continuous professional development, she simultaneously completed her B.Ed and M.Ed in special education from Mumbai's SNDT University.
In 2015, driven by a desire to empower, enable and connect teachers to facilitate continuous knowledge upgrades to bring about positive changes in Indian school education, Chhabria created the Teachers Help Teachers group on Facebook. Two years later, THT launched its website which presents curated teaching-learning content such as lesson plans, presentations, research papers etc. The same year, THT also began conducting offline paid teachers' workshops. Thus far, 2,000 teachers have participated in THT workshops.
Direct talk. "Our objective is to provide a national platform for teachers to share best practices and learn from each other, create a curated bank of teaching resources and bring about positive changes in Indian education. By empowering teachers to assist each other in upgrading their skills and knowledge, we hope to drive progress in K-12 education and sharply improve students' learning outcomes countrywide," says Chhabria.
Future plans. To meet rising operational and overheads expenses, THT intends to multiply its paid services and revenue streams. "We intend to increase the number of continuous professional development workshops across India. Upgrading its offerings, THT's website will also deliver paid premium services, and e-shops where teaching resources can be purchased at discounted prices," says Chhabria, evidently a firm believer in the virtues of peer-to-peer learning.
Dipta Joshi (Mumbai)