This month we explore the literary world of British naturalist Edward James Corbett aka Jim Corbett (1875-1955). Huntsman, wildlife enthusiast, conservationist, and writer, he is part of folklore for hunting several man-eating tigers and leopards across India especially in the Kumaon-Garhwal region. Mini P. recommends four out of Corbett's vast repertoire of books that describe some of his thrilling adventures in the jungles of the subcontinent.
The Second Oxford India Illustrated: Corbett
by Jim Corbett
Publisher: Oxford University Press (OUP) | Price: Rs.321
This is a collection of Corbett's best-loved stories — from 'The Queen of the Village' set in the Himalayas to a sneak peep into dense Indian jungles teeming with wildlife in 'Jungle Lore' and a tale recounting the hunt for the beautiful Pipal Pani Tiger with Corbett's ever-trusted pooch, Robin. The collection is embellished with striking visuals, making it especially appealing to young readers.
Corbett was encouraged to write about his hunting expeditions by Roy E. Hawkins, manager of the India office of the Oxford University Press.
Tree Tops
by Jim Corbett
Publisher: OUP | Price: ₹155
What makes Tree Tops unique is that this is the only book Corbett wrote that is set outside India. Also his last book, it is set in Kenya during the royal visit of 1952, when Princess Elizabeth learned that she would be crowned Queen of England. The book poignantly describes Corbett's final days in this Kenyan game reserve.
My Kumaon: Uncollected Writings
by Jim Corbett
Publisher: OUP | Price: Rs.245
Published to mark Oxford University Press India's centenary celebrations, this book features Corbett's unpublished writings including personal letters. It details his unique understanding and love of tigers and leopards, and his ideas about conservation of wildlife habitats. Also featured are rare photographs and evocative line drawings.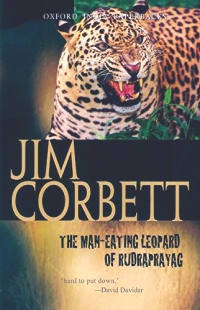 The Man Eating Leopard of Rudraprayag
by Jim Corbett
Publisher: Rupa | Price: Rs.156
This gripping tale begins with an introduction to a man-eating leopard which Corbett failed to capture despite trying every trick, from poisons to gin-traps as bait. Dejected, he decides to leave town for a few months, but returns with newfound confidence. Does Corbett finally shoot the leopard? We're not going to tell you except that it all boils down to his last day in Rudraprayag.