Coping with parenting challenges such as helping children fight school bullies and protecting them from online dangers can become a lot easier with help and advice from these websites, says K.P. Malini
1. Prevent bullying, build respect
www.micheleborba.com
The objective of this website-cum-blog founded by US-based psychologist Dr. Michele Borba, an expert on parenting, bullying, youth violence and character development, is "to strengthen children's empathy and resilience, and break the cycle of youth violence". A motivational speaker, NBC contributor and former teacher, Dr. Borba has authored 22 books, including the best-selling UnSelfie: Why Empathetic Kids Succeed in Our All-About Me World, The 6Rs of Bullying Prevention: Best Proven Practices to Combat Cruelty and Build Respect, The Big Book of Parenting Solutions, and Building Moral Intelligence.
Through well-written blogs she provides research-backed advice on coping with peer pressure and bullying and character development.
Based on her wide research on school shootings in the US, she also gives parents insights on how to nurture empathy in children early, so they don't transform into school bullies. She stresses development of the moral intelligence of children through 'no-cost strategies'. Her prescription for preventing bullying is to "mobilise the compassion of students".
2. Internet safety
www.connectsafely.org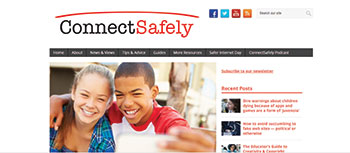 Most parents are oblivious to the numerous dangers and risks the Internet presents to children and teens. This website provides updated news about online trends and dangers including an explanation of the word 'juvenoia' — "exaggerated fear about the influence of social change on children and youth".
It also highlights trending social media challenges, including dangerous ones, and guidelines to help children navigate the Internet safely. A special section on teens and Internet provides useful suggestions on social media usage. Ways and means to spot fake online news are also highlighted in considerable detail.
In short, it's a one-stop website for parents to protect their children from the dangers of the Internet.
3. Homework helper
www.more4kids.info
The mission statement of more4kids.com is "to foster and encourage children's intellectual and emotional growth by providing parents with current and relevant information and resources". The website provides advice on helping children with homework, creating a learner-friendly home environment, drawing up study time tables, and accessing learning resources.