Trampolining is an enjoyable family exercise activity – K.P. Malini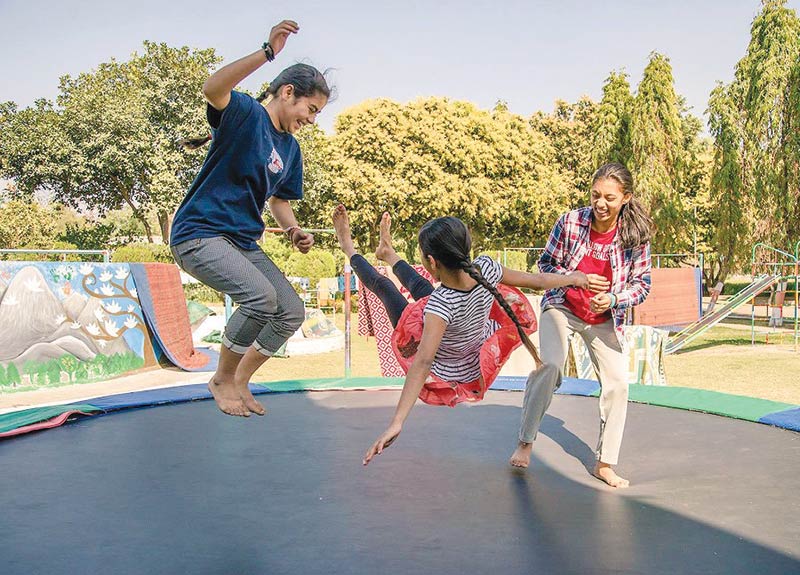 Trampolining — defined by Merriam Webster dictionary as "the sport of jumping and tumbling on a trampoline" — is an enjoyable family exercise activity. Aka rebounding, it's a trampoline work-out which offers a host of health benefits. For adults, it's a safe and low-impact cardiovascular workout that helps strengthen muscle mass. For children, bouncing on a trampoline offers good exercise and plenty of fun, and helps keep them away from digital screens.
The US-based NASA (National Aeronautics and Space Administration) deems it "the most efficient exercise yet devised by man". This NASA endorsement — quite proudly quoted by every trampoline owner in the country — highlights that rebounding is 60 percent more effective than jogging. A NASA study found that an individual spending one hour on a rebounder (a mini trampoline) is likely to burn more calories than a person jogging for an hour. Another 2016 study conducted by the American Council of Exercise reveals that bouncing on a trampoline for 20 minutes is just as good as running a mile. Rebounding, says the study, also helps improve body balance and equilibrium.
"Children especially in the age group four-ten years love trampolining. It is a full-body activity that's relaxing and most important, enjoyable. It helps improve children's balance and focus, coordination and agility, and develops motor skills. That's why a rising number of kindergartens and schools have installed trampolines. Moreover it's a great stress-busting activity for adults. That's why trampoline parks are becoming popular in metros and even small towns," says Balaji Rajendraprasad, founder-managing director of Fun Galaxy Indoor Play Area, Electronic City, Bangalore. According to Rajendraprasad, trampoline parties are the rage for themed birthday celebrations. "Fun Galaxy hosts ten trampoline parties per month. We also offer trampoline fitness classes which are becoming popular with families."
Though trampoline gymnastics has been an Olympic sport since 1999, where gymnasts perform a variety of somersaults, handsprings and other acrobatics with great skill, trampolining as a fitness activity has become popular recently. Thanzim Azeez, a cardio fitness sports player of Decathlon, Calicut, advises adults and children to start with slow bouncing, and intensifying the workout gradually. "For children rebounding is an excellent systematic low impact antigravity workout. Adults should start with slow bouncing to high by keeping their feet 15 cm apart. Stop if you have breathing difficulty or pain in the knees and ankles. Trampoles reduce impact by 40 percent, which means that your body won't get as beat up as when you do impact exercises on the ground," says Thanzim.
Calicut-based mom Cibi Thomas believes that trampolining has successfully helped divert her six-year-old daughter Keerthana's attention from digital screens. "She loves the trampoline so much that we've bought one for the home. Ever since, she has started spending less time on the mobile phone and computer. Her appetite and attention has also improved," says Thomas.
Trampolining: Get set, go!
Jumping jacks and high knees are great ways to warm up
Try sitting on the trampoline and then popping up to a standing position as fast as you can.
Add a skip to your step. At the top of each jump, include a few fun dance moves like a full body twist, a kick, hugging your knees or anything else that lets you return to position before landing.
Try jump jogging where you land on alternate feet with every jump.
Warming up, cooling down and stretching is important just as it is with any other workout.
Popular trampoline parks
Fun Galaxy
Neeladri Nagar(Near Sai Baba Temple)
Hulimangala Road
Electronic City Phase I
Bangalore 560100
Ph: 7022851112/ 7022861112
Email: [email protected]
www.fungalaxy.in
Smaaash (DLF Mall of India)
A-501, B 504, 4th Floor, DLF Mall Of India,
Sector 18, Noida 201301
Ph: 120 6209944, 120 6209955/9999311141
www.smaaash.in
Kiddo Castle
53 Old Mahabalipuram Road, Okkiyam Thuraipakkam,
Chennai 600 096
Ph: 95663 46789 /98418 23876; Email: [email protected]
Web: www.kiddocastle.in
Airborne Trampoline Park
10/29 Khader Nawaz Khan Road, Nungambakkam,
Chennai
044 48571235
Let's Play Indoor Trampoline Park
B-62, SR 41 A, 1st Floor, Shreyas Industrial Estate, Off New Link Road, Next to Oberoi Springs, Andheri West, Mumbai, Maharashtra 400053
Ph: 022 4972 8882