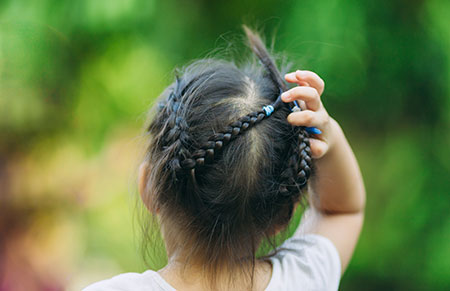 There is an outbreak of head lice in my daughter's class. She and some of her friends were sent home from school because of this contagion. I am very careful with my daughter's hair care routine — she has shoulder length hair. My husband has advised that we cut her hair but I know it will upset her. We have tried a medicated shampoo but the lice have resurfaced. Please advise.— Sreeja Ramesh, Chennai
You don't have to cut her hair. Lice infestation is very common in school-going children. There are numerous over-the-counter medications available in the market. For instance, you could try the 1 percent Permethrin scalp rinse. Most of them work well when applied to wet hair and left to soak for 20 minutes before washing thoroughly. Don't use oil or soap to wash hair on the day of application. All family members need to be treated on the same day, including men. Usually a single application will suffice. Reinfestation can be treated similarly and may be repeated once in three months.
My 12-year-old daughter loves outdoor sports and has recently been selected to play for her school's junior cricket team. However she tends to tan very fast. Is there a natural way to protect or de-tan her skin? — Lakshmi MV, Bangalore
The common preference for light skin tone is somewhat outdated. Moreover sun tans usually diminish and disappear over a period of one to three months. Exposure to natural sunlight does not require the use of any sun screen lotion or de-tan preparation. Let your daughter enjoy the pleasure of playing in natural sunlight.
Many people use hand sanitisers before a meal. Are the chemicals present in them likely to cause harm? Please advise whether I should encourage my children to use them.— Ridhima Seerat, Mumbai
It's preferable to avoid hand sanitisers, although they are routinely recommended in healthcare clinics and hospitals. Hand sanitisers contain chemicals such as triclosan, which is a known endocrine disrupter. Using sanitisers frequently can also deplete microorganisms of the skin. Washing hands with soap and water is a better routine before meals and after using the bathroom. However hand sanitisers serve a useful purpose during picnics and tours.
As a child, I was always told by my parents that playing in the rain causes cold and cough infections. My children love to play in the rain and also spend time in the swimming pool. Are they likely to be susceptible? — Shaheen Khan, Pune
Playing in the rain and/or swimming is unconnected with common cold infections, which are caused by viruses. But the first rain (of the season) in urban cities may contain chemicals (usually called acid rain) and it's better to avoid it.
(Dr. Sajeevan E.S. is a consultant paediatrician at Pathoor Nursing Home, Malappuram, Kerala)