Summer is in full swing, which means the heat is only going to get stronger now. While summers are great to break for vacations and rest alongside the pools or beaches, many of us would be working. Irrespective of the heat, we have to chase the hot summers and endure traffic snarls to reach our offices. One of the best ways to beat the heat is to wear the right clothing that is both cooling and is equally trendy and fashionable. Here are a few summer fashion tips.
Cotton Kurtas
During the summers, it is always wise to choose cotton fabrics since they are sweat-absorbent. They can also help in cooling the body and prevents the growth of bacteria, which cause infection. For women, especially who have to hit out for work, in the hot sun there cannot be a better option than the cotton kurtas. Flair, A-line and Asymmetrical kurtas are the current trend. Choose kurtas of lighter colors; do not go for black because it absorbs more heat. You can pair the kurtas with leggings, jeggings or cotton trousers and end up look fashionable.
(Visit: Myntra.com)
Khadi Tops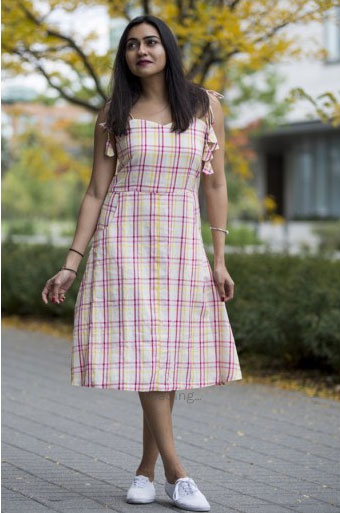 When the heat becomes too much to bear, the best option is the khadi fabric since it keeps us cool in summers. In fact, Mahatma Gandhi's yarn has made its way into the racks of the famous designers like Sabyasachi, and Rajesh Pratap Singh. For girls khadi shorts could be a great fashion wear that could be worn with white shirts. Also khadi suits, tops or dresses are very comfortable to wear during the summers.
(Visit: InKhaDI)
Denims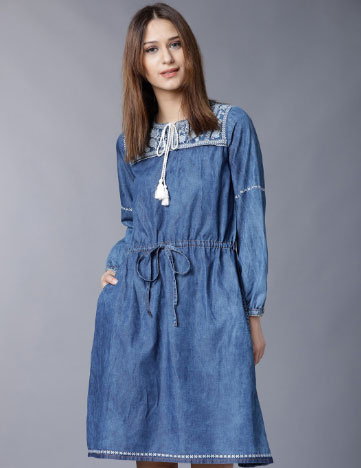 Denims have always been in fashion during the summer season. Denim pinafores, skirts, shirts, dresses, tops are all in vogue. You can not only wear them to the office, but while going out for shopping too. Try jeans or cutoffs with a cute denim top. Also when the temperatures rise, nothing looks and feels cooler than a crisp denim pinafore, skirts or a dress.
(Visit: Denim Dress)
Off-shoulder dresses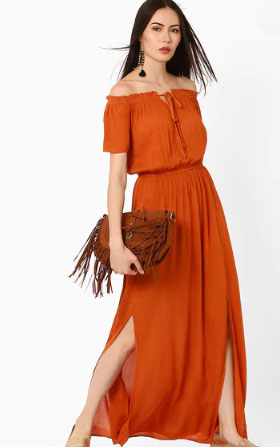 Off shoulder dresses are in vogue this season. Girls look elegant in these dresses and they could be worn while going out with friends, for parties or outings. These flowing dresses are quite a breather because they just don't cling to the bodies. Use the floral prints since they will light up the mood and will also look beautiful.
(Visit: Ajio.com)
Scarves/Stoles
One of the must-carry things for women during summers is the scarves/stoles. Along with a sunblock cream, you should drape stoles/scarves around the face to protect it from the UV rays and from being tanned. Scarves and stoles come in various fabrics and styles and they will certainly add to your fashion persona!
(Visit: Jaypore)
Natural makeup
Do not use the heavy black eyeliner, foundation, and a dark lipstick rather go for a pretty neutral eye shadows, tinted moisturizers and tinted balms. This is especially because during summers we tend to sweat a lot, and too much of makeup can look bad. Also the best way to take care of the skin during summers is to go for the light makeup.
Sandals
It is best to be light on the foot during summers since our feet sweat too. Also, try and avoid closed shoes during summers because the feet need to breathe. Sandals can keep your feet healthy and comfortable all throughout the summer. There are many trendy sandals available in the market that can be paired with all kinds of summer clothing.
(Visit: Jabong.com)
Also read: India's Top 20 fashion design institutes