PW invited parents of ATS Valley School, Dera Bassi (Punjab) to share the learning opportunities they created for their children during the lockdown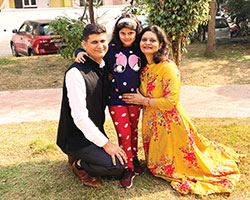 I have devised ways to inject a semblance of routine back into my six-year-old daughter Amayra's life after the outbreak of Covid forced the prolonged closure of schools. Planned mealtime conversations have helped to boost her cognitive and communication skills. To instill a spirit of competition within her, we play indoor games like carrom, chess and cards together. I have also provided her with age-appropriate books to introduce her to the reading habit and enrolled her in online art and dance programmes. To overcome a difficult situation, you need a positive mindset. That's my mantra." — Aditi Sharma, HR professional, Hella India Lighting Ltd.
"We were relaxed and remained positive throughout the lockdown. The unprecedented crisis gave us the opportunity to understand each other better and strengthen our bonds. Our sole strategy was to focus on our sons' — Krishna (class VIII) and Aaditya (class II) — personality development. We introduced them to the simple act of offering daily prayers and to the reading habit, taught them time management and encourage them to spend quality time with grandparents, Sometimes we encourage them to talk on subjects ranging from the stars to life in micro-organisms. We also allocate time for movies on the weekend to help my sons develop imagination and creativity, and helped them choose a lifetime hobby." — Pooja Atri, homemaker.
"First and foremost, we designed a timetable that involved lots of fun games every night and yoga twice a day. These activities helped us all including our children — son Vimarsh (class II) and daughter Krishi (class V) — to calm our nerves in this unprecedented situation. Every day we read together as a family while limiting the children's screen time to online classes only. My focus was on maintaining fitness through yoga, and eating nutritious homemade meals, reading and playing indoor games together. In this way, we have forged strong family bonds which has helped us overcome fear of the pandemic." — Madhura Yale, marketing professional, One BCG, Punjab
"The Covid-19 outbreak has impacted learning of our children in many ways. My six-year-old son Reyansh (class I) has adapted well to online classes picking up the skills of independently handling computers/tablets and apps. I am surprised to see Reyansh type on the laptop and frame small sentences at this age. The lockdown has also been a great opportunity to teach my son life skills such as neatly arranging his toys, watering plants, making his bed and helping in the kitchen. It has also provided Reyansh an opportunity to spend quality time with his grandparents, listen to their inspiring stories and learn some values in the process. Its important to enjoy the extended family time together and make the best of it before schools reopen." — Dr. Vandna Sharma, Director Administrative Services, Indus Healthcare Group, Mohali