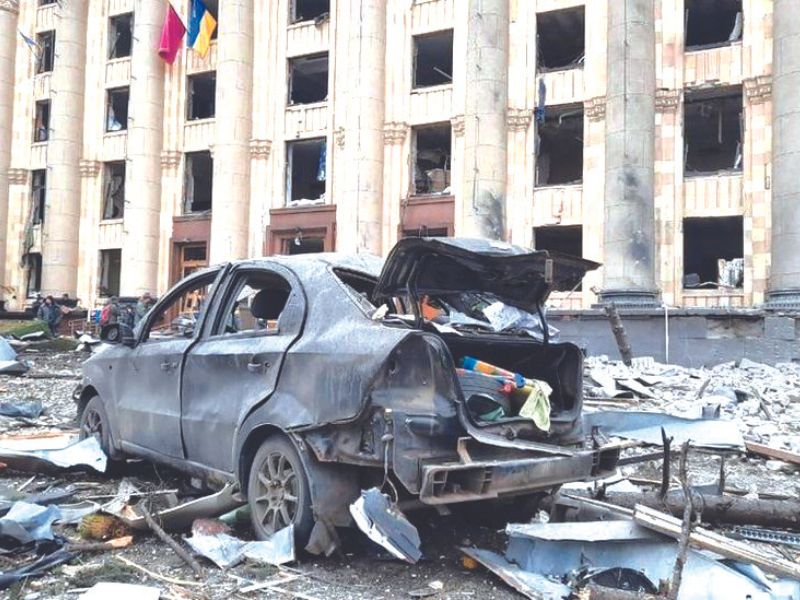 As Russia's invasion of Ukraine nears its fourth month, much of the focus remains on fighting and survival. When can we talk about the reconstruction of Ukrainian higher education? "Now, I think, because we have to understand that reconstruction will be taking place in stages," says Inna Sovsun, professor at the Kyiv School of Economics and the National University Kyiv-Mohyla Academy.
Alongside tens of thousands of deaths and millions forced to flee to the relative safety of western regions, or beyond Ukraine's borders, in the east at least four universities have been destroyed — in Luhansk, Donetsk, Kharkiv and Zaporizhzhia — and 25 damaged.
If thoughts are soon to turn to academic reconstruction, how best can this be achieved? Ukraine could look abroad. Tempus, a precursor to the European Union's Erasmus mobility programmes, proved its worth after the Yugoslav wars of the early 1990s, according to Ivanka Popović, rector of the University of Belgrade.
Projects sought to strengthen institutions and systems, promote international relations and technology transfer offices, strengthen central administration, improve student mobility and develop new bachelors and Masters programmes. "This was a systematic approach of the European Commission. You had people building bridges again, contacts, and exchanging experiences with colleagues from western Europe," says Popovic.
Ukraine dwarfs the western Balkans in the size and development of its higher education system. It is also fighting a very different war. Perhaps instead, lessons should be learned from Russia's 2014 annexation of Crimea and its ongoing occupation of the Donbas. In government at the time, Prof. Sovsun recalls that efforts to relocate universities had mixed results. Donetsk National University has moved successfully, she says, but others had faced the "heart-breaking" prospect of uprooting again as front lines have shifted.
Nevertheless, she believes university reconstruction should begin in cities under Ukrainian control, such as Chernihiv. That will bring tough decisions for many. Buildings are a costly investment for a decimated economy, but people must also return to remake institutions.
After stopping completely in the first weeks of the invasion, by mid-March, universities in most regions have resumed remote or mixed in-person teaching, often building on lessons learned from the pandemic. No one yet knows what enrolment will look like in September. Kseniia Smyrnova, vice-rector for education at Taras Shevchenko National University of Kyiv, says volumes could be less than a third of previous years.
Few expect Ukraine's international students to return without security guarantees, a blow for revenue. In addition, parents of many fee-paying domestic students may have become unemployed, meaning they will have to pause their studies, adds Denys Smolennikov, head of benchmarking and statistics at Sumy State University.
In April, the government estimated the cost of damage to schools, colleges and universities to be more than $5 billion (Rs.40,000 crore) and said the war could eventually cost the country at least $1 trillion, five times the value of all final goods and services it produced in 2021.
(Excerpted and adapted from The Economist and Times Higher Education)