Conferred university status in 1992, UoP is ranked among UK's Top 50 universities by the Times Higher Education and is highly reputed for study programmes in democratic citizenship; sustainability and the environment- Shraddha Goled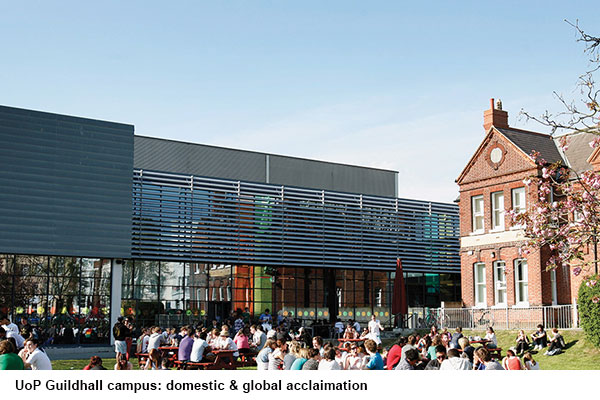 Set within a 52-acre campus in the eponymous port city, the University of Portsmouth (UoP, estb.1908) is a publicly-funded higher education institution widely acclaimed for teaching and research excellence. UoP is ranked #21 in the UK by the Guardian University Guide 2020; #49 in the Times Higher Education UK University Rankings 2019, and among the 'Top 150 Under 50' varsities of the world in the QS Young University Rankings 2020. Moreover, as per the National Student Survey 2018, UoP is ranked among the top 15 percent of UK universities for student satisfaction.
Founded as the Municipal College and Public Library in 1908, UoP was conferred university status in 1992. Currently, the university's five faculties — humanities and social sciences; technology; science and health; business and law; creative and cultural industries — offer over 190 undergraduate and 200-plus postgraduate study programmes to 23,000 students mentored by 2,600 full-time faculty. In particular, the university is highly reputed for its study programmes in democratic citizenship; future and emerging technologies; health and wellbeing; security and risk; sustainability and the environment.
Portsmouth. Spread across Portsea island in Hampshire, an hour's drive from London, Portsmouth (pop. 205,400) is a major naval base of the Royal Navy with a rich nautical history. The Portsmouth skyline features the tall masts of historic warships, the Spinnaker Tower, and Portsmouth Historic Dockyard which houses the National Museum of the Royal Navy, the wooden warship HMS Victory, on which Lord Nelson died in the Battle of Trafalgar, HMS Warrior 1860 and the Tudor era Mary Rose. Other major attractions include the house (now a museum) where renowned author Charles Dickens was born, and Southsea Castle, an artillery fort originally commissioned by King Henry VIII.
The only city in the UK whose population density exceeds London's, Portsmouth buzzes with bars, restaurants, theatres, and shops. Recently the British Broadcasting Corp ranked Portsmouth among UK's best cities for youth under-26 years. Sited on the southern coast of England, this port city is blessed with a mild oceanic climate. Maximum summer temperature is 26°C which drops to -8°C in winter.
Campus facilities. UoP is spread across two campuses — Guildhall and Langstone. The main Guildhall campus hosts state-of-the-art academic, laboratory, sports and performing arts facilities. Campus landmarks include the 24-hour University Library housing 380,000 printed volumes, 600,000 e-books and 55,000 e-journals; the Future Technology Centre for STEM students and researchers; Forensic Innovation Centre, UK's first university-based operational police forensic research facility; recreational student hubs such as The Hub, Student Union Bar & Third Space; and Eldon Building, the university's art and culture centre, among other landmarks. Moreover, there are several students' clubs and societies for art and design, gaming, international development, photography, sub-aqua, theatre and water polo, among other extra-curricular activities
The Langdon campus houses the university's sports arena featuring a full-size hockey astro turf ground; six football fields; two grass rugby grounds; tennis and squash courts and a 100-plus stations gymnasium among other facilities. Students can also access water sports, swimming and athletics training facilities through partnered sports clubs. The internationally renowned Institute of Marine Sciences is also located on the Langdon campus.
Admission. Eligibility criteria for admission into UoP's undergrad programmes are an average score of 75 percent-plus (state boards) or 70 percent (CBSE/CISCE) in Plus Two and English language proficiency (IELTS/TOEFL test scores or a minimum score of 75 percent in English in class XII). Applications for admission into UoP's undergrad programmes must be made through the Universities and Colleges Admissions Service (UCAS). The UCAS code for UoP is P80 and the admission deadline is January 15 for the term beginning September. The completed application form must be accompanied with secondary school exam transcripts, proof of English language proficiency, academic reference letters and statement of purpose. To apply, visit www.ucas.com.
For postgraduate study programmes, the minimum admission requirement is a bachelor's degree with second class honours or related work experience and English language proficiency. For further details, contact the University of Portsmouth Global, 1st floor, Nuffield Centre, St. Micheal's Road, Portsmouth (UK); e-mail: [email protected]; website: www.port.ac.uk.
Accommodation. First year international undergrad students are guaranteed university accommodation. On-campus housing options include 15 residential halls of residence featuring single furnished rooms (majority en-suite), free broadband and WiFi with laundry and kitchen facilities.
Degree programmes. The university's five faculties and 29 academic departments offer a wide range of undergraduate, postgraduate and doctoral research programmes.
SCHOLASTIC OPTIONS AT UoP
Faculty of Business and Law. Accounting and financial management, economics and finance, human resource management, marketing and sales, Portsmouth Law School
Faculty of Technology. School of Civil Engineering and Surveying, School of Computing, Institute of Cosmology and Gravitation, School of Energy and Electronic Engineering
Faculty of Science. School of Biological Sciences, Department of Geography, School of Optometry, Department of Psychology, Department of Sport and Exercise Science
Faculty of Humanities and Social Sciences. Institute of Criminal Justice Studies, School of Education and Childhood Studies, School of Languages and Applied Linguistics
Faculty of Creative and Cultural Industries. Portsmouth School of Architecture, School of Art and Design, School of Media and Performing Arts, School of Creative Technologies
Tuition fee (annual): £14,300-16,400
Living expenses (per academic year): £6,800-8,440
NB: £1=Rs.87