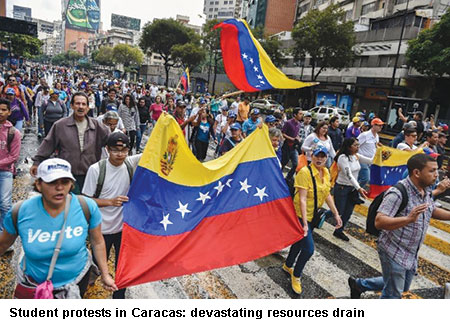 University leaders in Venezuela have called on the United Nations to intervene in the country's political crisis amid warnings that deterioration of the higher education system is approaching the point of no return.
After years of political turmoil resulting in sky-high inflation and scant public investment, some 3 million Venezuelans are said to have left the country since 2014. Many of them are believed to be students and early career professionals, including academics who can no longer afford to live on what they receive from poverty-stricken universities.
Scores of people have died in protests sparked by the stand-off between Nicolas Maduro, who has led the country since 2013, and Juan Guaido, president of the National Assembly, who declared himself national president in January in the wake of 2018's contested elections. University students are believed to be among the dead.
In a statement, the country's rectors' association, Averu, condemned the "impossible violation" of human rights in Venezuela. It urged the UN to intervene, calling on the body to examine "the possibility of taking measures to prevent (further) aggravation". Jose Ibarra, professor of social care at the Central University of Venezuela, says that staff at his institution are living on "very poor salaries" and, in some cases, are not getting paid at all.
Last year, lecturers across the country were encouraged to seek secondary sources of income as institutions warned of an increasing struggle to stay afloat through a deepening economic crisis. But Prof. Ibarra says his university is trying as best as it can to continue teaching.
On January 30, Simon Bolivar University, one of Venezuela's most prestigious institutions, announced that it has been cut off from the main water supply for 65 days. The university campus is rationing the water left in two reserve tanks, and allowing the surrounding community limited access to bathrooms.
Raisa Urribarri, emeritus professor of human and social sciences at the University of the Andes, says this is one of countless examples of how universities are striving to support the community despite all the upheavals. However, she warned that "if a change is not achieved in Venezuela, breaking the cycle of (universities) deteriorating… will be impossible". "It will be a task for the new political leadership to create the right conditions to faculty to return," she says, adding that "universities in Venezuela have been devastated" by a draining of resources.
(Excerpted and adapted from The Economist and Times Higher Education)