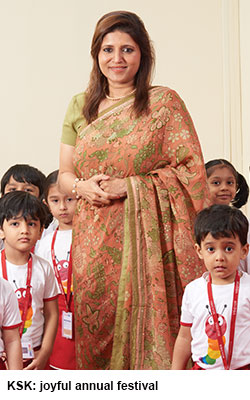 Kavita Sahay Kerawalla is the Mumbai-based vice chairperson of the VIBGYOR Group of Schools (estb.2004), which currently runs a chain of 39 K-12 schools (27 Vibgyor Kids & High and 11 Vibgyor Roots & Rise) in seven states countrywide with an aggregate enrolment of 55,000 children.
Newspeg. Kavita Kerawalla was in Bangalore in December (2019) to inaugurate the grand finale of Vibgyor's two-day festival christened Viva, which attracted participation of over 150,000 students from 1,700 schools, underprivileged households and orphanages in Karnataka.
History. An economics, education and management alumna of Patna University and Mumbai's Narsee Monjee Institute of Management Studies, Kavita Kerawalla began her career in a high-ranked Mumbai school where she acquired a decade's valuable teaching and admin experience followed by a stint as director (schools, academics and human resources) of the VIBGYOR Group of Schools from 2006-14. In 2015, she was appointed as the group's vice chairperson.
Direct talk. "Born out of a dream to provide school students from across the country a platform to showcase and celebrate talent, the annual Viva festival — modelled on the IIT festivals for college students — reflects Vibgyor's commitment to provide students joyful and holistic education. Over two days, children compete at the national level to win trophies and prizes in Western and Indian music, solo and group dance and Viva Nova (male and female) personality competitions. We believe that schooling should be a fulfilling and enjoyable experience. Our teachers work hard to spark students' innate curiosity through experiential learning-by-doing and activities-based pedagogies. The two-day Viva festival is part of this experience," she explains.
Future plans. KSK's action plan is to spread the Vibgyor model of joyful learning countrywide by increasing the number of Vibgyor institutions to 500 over the next ten years. "Also on the agenda is to partner with government schools, anganwadis, balwadis and tribal schools in Maharashtra under the public-private partnership model given our experience of adopting the AdarshVidyalaya, Mohali schools of the Punjab state government. Vocational education and online teacher training certification is another area we are exploring," says Kavita Kerawalla.
Wind beneath your wings!
Paromita Sengupta (Bangalore)