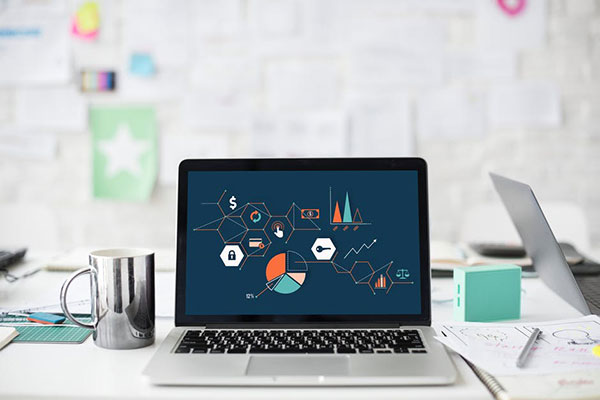 In the internet age it is hardly surprising that there is a greater demand for web professionals than for traditional career professionals.
A 21st century career with awesome potential is web designing. As the world wide web grows, companies are waking up to the potential of the Internet as a powerful and affordable medium of advertising, marketing, and communication. Given the massive valuations made of Internet, particularly dotcom companies and the fat pay packets they offer, its hardly surprising that there is a greater demand for web professionals than for doctors, engineers, chartered accountants, and other traditional career professionals.
A web designer does more than designing a website
Although a good eye for design and layout is essential, the most valued skill of a designer is the ability to communicate persuasively. A designer has to know how to design a page optimally — one in which text, pictures, and graphics load quickly and which is easy to navigate. While a website may be attractive and sport the cleverest animations, more important is the message itself and how well it is packaged.
Educational qualifications
True, there are very successful web designers without formal degrees and qualifications, but the chances of school dropouts hitting the big time are remote. In reputable companies web designers are selected from among graphic designers or computer science, engineering, maths graduates/postgraduates, marketing professionals etc with formal training and/or exposure in web design. An alternative entry route is through acquiring formal qualifications in the fine/commercial arts or in design programmes supplemented by computer training in multimedia/animation. Apart from aesthetic sense and awareness of information architecture, a web designer should build familiarity with computer-based design software such as Adobe Photoshop and web design programmes like Macromedia, Dreamweaver etc. A competent web designer is also expected to have some awareness of scripting languages such as Perl, VB Script and the like.
Web designing institutes
To cater to the exploding demand for web design professionals, a number of computer education institutes offer short and long duration diploma courses in web designing. Zap Digital Design Academy was the first to offer these study courses all over India in 1997. Raffles Design Institute, Mumbai, offers a bachelor of design degree programme with specialisation in multimedia. Other institutes followed suit — Edit Point, Arena Multimedia and Workstation, Aptech, and NIIT have inaugurated study and training centres across the country.
Of these Zap is perhaps the most reputed
A US $200 million company, Zap is one of India's leading infotech conglomerates with several multi-million dollar WAP projects, over 2,000 employees, and one of the finest R&D centres in Bangalore dedicated to emerging technologies. Zap diploma holders, especially those with science, engineering, or graphic design degrees are likely to be snapped up by infotech and dotcoms with sizeable remuneration packages.
The growing popularity of the Internet has made talented and well-trained web designers a hot commodity in the contemporary job market. There is an industry alert for web designers/developers with at least a bachelors degree in any field as well as a few years of work experience. Aspiring web designers should maintain a work portfolio evidencing their creative and technical abilities. This can be in the form of a CD, DVD, or 'live website. If they lack commercial experience, developing and designing a site for a local community group or voluntary agency is a good way to start. Freshers can expect between Rs.8,000–10,000 per month, whereas professional web designers earn Rs.40,000–50,000 depending their experience in this widening field.
Attractive Career
There is an acute shortage of web designers as software companies and new dotcoms continue to split and multiply. A growing number of young professionals are being attracted to this career as IT is a growing field and the e-commerce revolution is in its infancy," says Veena Kunder (31), a web designer who teaches at Zap Digital Design Academy (Mumbai) and manages some of the academy's projects.
A former medical student who dropped out of medical college in 1997 due to some personal problems", Kunder zeroed in on the infotech industry as a promising alternative career option. She signed up for a computer course at NIIT and after graduation worked there for two years. Like everyone of my generation, I was on the lookout for a more exciting and better paying job. I saw a great future in web design," recalls Kunder. She signed up with Zap Digital Design Academy for a six-month course and showed enough promise for the academy to appoint her a teacher and project manager.
After they complete the diploma programme, students are assigned project work which gives them hands-on experience and builds confidence.
"Most qualified web designers start off with jobs in the IT industry. Later some of them branch out into ad agencies, television etc. Many web designers also find employment with portals and dotcoms where there is an increasing demand for their services. With the growing demand for web design professionals, Zap is spreading its wings. Now we have 13 centres in Mumbai and 80 all over India," says Kunder.
"With the e-commerce revolution gathering steam, transactions valued at more than US $850 billion are in the offing on the worldwide web. And not only new economy, but even old economy brick and mortar companies are gearing for a great leap forward in web-related transactions. There is a big future in web design and development for professionals ready to continuously upgrade their skills. For new age kids its becoming increasingly worthwhile to be caught in the worldwide web," adds Kunder.