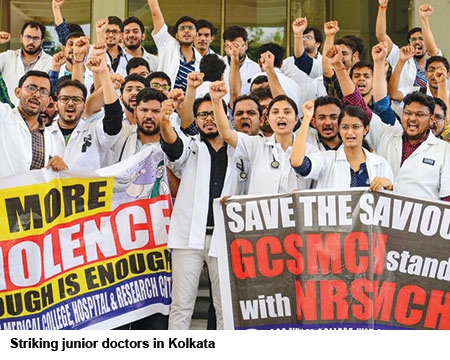 The fallout of general election 2019 in West Bengal in which the Bharatiya Janata Party (BJP) bagged an unprecedented 18 of 42 Lok Sabha seats reducing the 2014 tally of the ruling Trinamool Congress Party (TMC) from 34 to 23, is that the state has become a battleground in the run-up to the state legislative assembly election scheduled for May 2021. Increased street violence in the aftermath of the declaration of the Lok Sabha election results portends a long-term transformation in the political climate of the state.
With BJP cadres high on adrenaline after recording the party's highest ever tally of Lok Sabha seats in Bengal, the political climate has turned so volatile that even minor road-side squabbles between BJP and TMC supporters quickly escalate into lethal hostilities. According to Union ministry of home affairs data, the number of incidents of political violence in West Bengal increased from 509 in 2016 to 1,035 in 2018 with over 773 violent clashes recorded in the first quarter of 2019. Correspondingly, the death toll from political violence rose from 36 in 2016 to 96 in 2018.
Against this backdrop of incremental political violence, a seven-day strike by junior doctors of the state government-run Nil Ratan Sircar Medical College and Hospital, Kolkata (NRSMCH, estb.1873) has added fuel to the spreading fire. The strike was called on June 10 after several junior doctors (fourth and fifth year medical students) were inflicted grievous bodily harm by relatives of a patient who died of cardiac ailments, alleging medical negligence.
The junior doctors' grievance is that the state government has continuously failed to provide security to medical practitioners and personnel despite enactment of the Prevention of Violence against Medicare Persons and Institutions Act, (PVAMP&I). According to IMA (Indian Medical Association) sources, over 200 medicare personnel have suffered mob violence since 2017.
The strike called by NRSMCH junior doctors prompted medical practitioners in all state government-run medical institutions of West Bengal and beyond to make common cause with them. The Indian Medical Association, headed by Rajya Sabha TMC MP Santanu Sen also pitched in and called for a nationwide withdrawal of non-essential medical services for 24 hours on June 17. Chief minister Mamata Banerjee initially ignored the strike describing it as a BJP conspiracy and the protesting doctors as bohiragata (outsiders). However, after resignation letters from hundreds of doctors of government hospitals started pouring into the health ministry, she met with the protesting doctors in her secretariat on June 17 and accepted all their demands and promised prosecution of the accused under the PVAMP&I Act.
With the state's doctor-people ratio of 61:100,000, and hospital beds to population ratio at 86:100,000 cf. the WHO recommended 1:1,000 and 5:1,000, it's impossible for medical practitioners especially in over-crowded public hospitals to provide timely and qualitative medical care to hordes of ailing patients as well as to satisfy their anxious relatives. The CPM (Communist Party-Marxist)-led Left Front government which ruled the state uninterruptedly for 34 years (1977-2011) had repeatedly promised to provide West Bengal (pop.91 million) high quality elementary education and health services. Instead CPM triggered a continuous flight of capital from the state, frittered away tax revenue and completely impoverished West Bengal. Unfortunately, incumbent chief minister Mamata Banerjee, who routed the CPM-led Left Front alliance in the assembly election of 2011 and again in 2016, also hasn't made good her election promises to resurrect the education and health sectors in this benighted state.
In the climate of violence created by continuous political confrontations and clashes, citizens are increasingly taking the law into their own hands. "Overworked junior doctors employed in the state's over-crowded hospitals are under constant threat of violence from angry people who lose near and dear ones. This is a dangerous situation because doctors will refuse to treat critical cases where chances of saving lives are low. Moreover, if violence against medicare professionals is not checked, the number of students entering medical colleges will drop further, exacerbating the state's poor doctor-population ratio," warns Dr. Manish Ghosh, a plastic and reconstructive surgeon at the Columbia Asia Hospital.
As protests and political violence cripple the state, the ground is slipping under chief minister Banerjee and the TMC. Even if the outcome of the 2016 legislative assembly election in which TMC won 211 of the 294 assembly seats with the BJP bagging only three, is unlikely to be reversed in 2021, Banerjee who buried the CPM-led Left Front government in 2011, has a big fight on her hands.
Baishali Mukherjeee (Kolkata)