Baishali Mukherjee (Kolkata)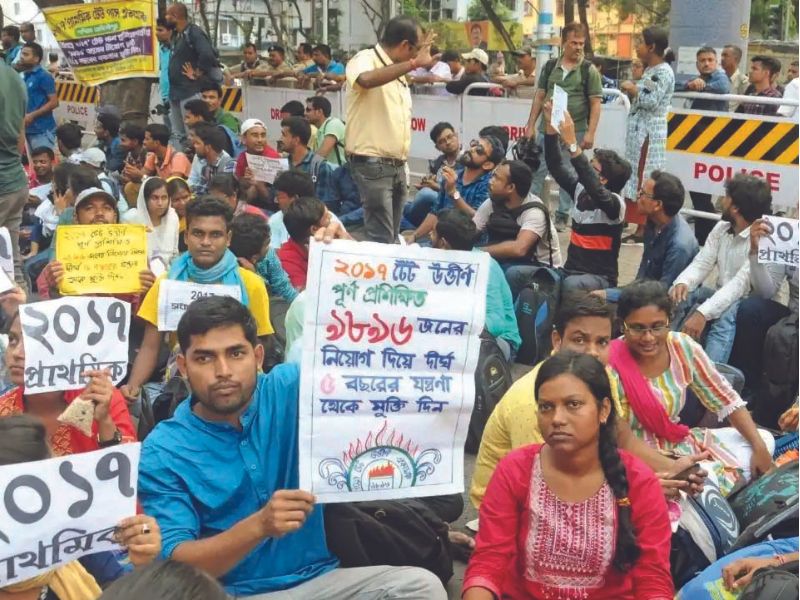 West Bengal's mega Rs.400-500 crore teacher recruitment scandal, which has placed education minister Partha Chatterjee and his actress mistress Arpita Mukherjee in jail cells after nearly Rs.100 crore in cash and title deeds of 12 properties were seized from the latter's four upscale apartments in Kolkata on July 23, is still making headlines in the state.
On October 10, former West Bengal Board of Primary Education (WBBPE) chairman Manik Bhattacharya and MLA of the ruling Trinamool Congress (TMC) party was arrested by the Enforcement Directorate on charges of receiving bribes for appointing teachers in the state's 75,141 government schools. Allegations against Bhattacharya also include selectively increasing marks of candidates in the TET (Teacher Eligibility Test).
On October 20, a two-judge bench of the Supreme Court declined to stay Bhattacharya's arrest. Investigations into West Bengal's teacher recruitment scandals which stretch back to 2014, indicate that a large number of unqualified teachers have been appointed in state government schools. According to the Central Bureau of Investigation (CBI), 8,163 fraudulent teachers including 952 in secondary and 907 in higher secondary schools and 3,481 Group-C and 2,823 Group-D employees have landed jobs in government schools on payment of illegal consideration.
Although the arrest of Chatterjee and Bhattacharya — hitherto heavyweights of the ruling TMC — has severely damaged her image, chief minister Mamata Banerjee is putting on a brave front. While refusing to comment on the arrests of her two lieutenants, she recently announced a new TET scheduled for December 11 to appoint 11,000 teachers and 1,500 para-teachers in 500 government schools to teach in the Alchiki language in tribal areas of the state.
However, immediately after primary education board president Gautam Pal notified that aspiring teachers who have D.El.Ed (diploma in elementary education) and B.Ed (bachelor of education) certification are eligible to write the forthcoming TET scheduled for December 11, the Calcutta high court was flooded with 1,400 writ petitions filed on September 30 challenging the notification.
According to the petitioners, if B.Ed qualified candidates are allowed to write the TET for primary schools, D.El.Ed diploma holders will be disadvantaged. They demand that primary school teaching positions are reserved for diploma holders and that the appointment of B.Ed degree holders should be restricted to upper primary (middle), secondary and higher secondary schools.
"It is shocking that Banerjee, who made education her major election plank while coming to power in 2011, has not yet come up with a political or policy solution to address the betrayal Bengal's youth are experiencing because of pervasive corruption in teacher recruitment. Thousands of West Bengal's youth are unable to obtain jobs despite having the necessary qualifications," says Srijan Bhattacharyya, secretary of the Students' Federation of India.
Aspirant teachers are especially bitter about the recruitment stalemate because after Sixth Pay Commission prescribed salaries became payable in January 2020, the basic monthly salary of primary teachers in Bengal has risen to Rs.28,900. Additionally, they are entitled to 12 percent house rent and medical allowance. Government employees (including teachers) in the state are also entitled to dearness allowance of 3 percent. All this adds up to a starting salary of Rs.33,000 per month for primary teachers in government schools. In West Bengal where youth unemployment (7.6 percent) is pervasive and small and medium-scale industry salaries are rock-bottom, the remuneration of government school teachers is enviable.
Now with the TET scheduled for December challenged in the courts, the possibility of it being stayed will again stall recruitment to fill 80,000 teachers' posts in the state's government schools. Meanwhile, the teacher-pupil ratio in government schools has risen to 1:59 cf. 1:35 prescribed by the RTE Act. Inevitably, the biggest losers of this prolonged stalemate in the teacher recruitment process are the state's 23 million children from EWS (economically weaker section) households obliged to attend government schools. According to the Annual Status of Education Report of the Pratham Education Foundation, the percentage of class VII children in state government schools who cannot read and comprehend class III textbooks has risen from 23.7 percent in 2014 to 31.7 percent in 2021.
With teacher appointments at a standstill because the judiciary has no option but to stay the recruitment and induction of teachers with suspect credentials, the number of students in upper primaries who can't read and/or comprehend primary texts and numeracy is certain to increase. Under s.16 of the 'progressive' Right of Children to Free & Compulsory Education (RTE) Act, 2009, no child in elementary education (classes I-VIII) "shall be held back in any class or expelled from school till the completion of elementary education".
Evidently, well-intentioned liberals who had drafted the progressive RTE Act didn't factor in widespread corruption that's pervasive in Indian education.