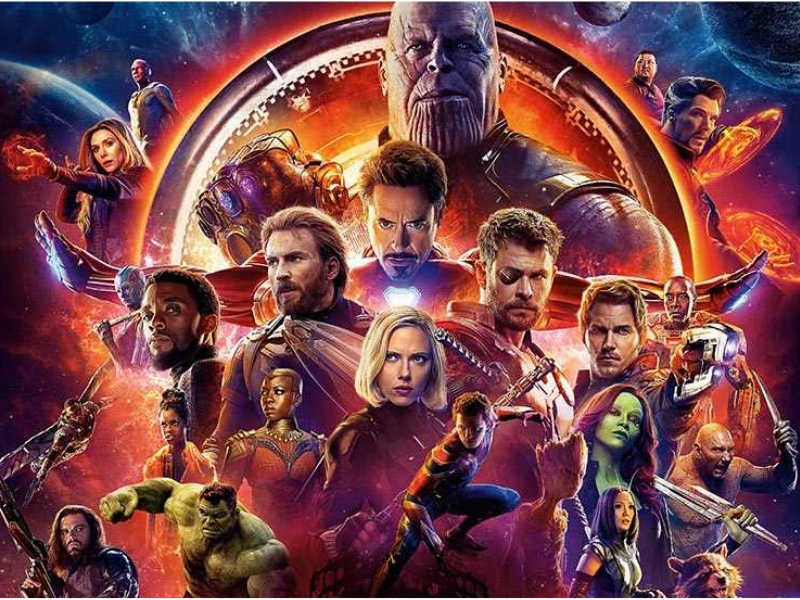 Claimed as the most expensive, most complex and the highest-ever grossing superhero film Avengers: Infinity War is about the team of superheroes uniting to fight against an inter-galactic tyrant – Thanos, who is set out to acquire all infinity stones to complete the Infinity Gauntlet that will help him establish control over the universe.
Treat for super hero loving kids, featuring some of their favourite and mightiest heroes Iron Man, Captain America, Thor et al, however the movie is the most intense of its franchise predecessors and has been classified as PG-13 which means parental guidance is required for children under 13 years of age.
No verbal profanity; thanks to our censor board that has sliced off the mild swear words that occur a couple of times in the original reel aired outside India. Yes there is some kissing exchanged between of Tony Stark-Pepper Potts, Gamora-Peter Quill, Vision-Scarlet Witch which are casual and have minimal screen time of few seconds.
Longest of the Marvel franchise with a duration of 2 hours and 40 minutes but its just few minutes longer than Captain America: Civil War – 2 hours and 27 minutes, The Avengers – 2 hours and 23 minutes and Avengers: Age of Ultron – 2 hours and 21 minutes.
Chockfull with fantasy violence comprising of blows, punches, kicks and shootings but very unlike the action or bloodshed depicted in non-fantasy films. The fantasy violence is least likely to affect children as they know most action shown is not going to happen in the real world. Nevertheless children will feel unhappy on watching their favourite and infallible superheroes being jeopardized by the bad guys and their powers, this paves way for discussion on the greater good the superheroes set out to achieve.
Loss and death in pursuit of good over evil but children can be pacified and reassured about what is yet to come and that good always triumphs, especially in the movies ;).
Funniest of MCU movies, Avengers: Infinity War has humour finely balancing the grisly and gruesome undertones of the film. The screenwriters have strategically used comic timing to compensate with challenging and threatening situations in the story and ease the movie watching experience for the viewer.
Shedding self centricity. The Avengers as individuals do indicate egoism, detachment, hesitation to collaborate and selfishness but eventually they forsake it all and unite to battle against the super villain displaying bravery, solidarity and sacrifice. A great takeaway message for kids on shedding self-centricity and opting for teamwork.
Spectrum of heroes of different colors, ages and genders, instating courage, mettle and heroism are not stereotypical characteristics that are bound to only some.
But if you think your child is too young and of a sensitive temperment we recommend you to avoid the big screen and wait for Avengers: Infinity War to premiere on your home screen.
Also read: Marvel mania: what makes it so popular?