As a prelude to International Women's Day 2022, observed on March 8, EducationWorld is publishing a series of interviews with inspiring women in the field of education and parenting.
One such is Shukla Bose, founder, Parikrma Humanity Foundation (estb.2003) — a non-profit organisation that offers quality education to children from Bangalore's orphanages and slums. A TED speaker, she has helped shape education policies through her various roles at the Karnataka Knowledge Commission and the national CII Education Committee among others.
Here are excerpts from her interview where she talks about girl child education, women's empowerment, her journey from the corporate world to the helm of an NGO and more..
What inspired you to set up schools for children from poor households?
There is a huge gap in the education delivered to children from marginalised backgrounds and those from privileged backgrounds. I felt the need to do something about it so I gave up a fairly lucrative corporate career and started schools for the poor by investing my life's savings. Starting with a batch of 165 children on a rooftop in the slums of Koramangala, Bangalore, we now have four schools and a college with 2,000 children from 90 slums across the city. Our graduates have gone on to become software engineers, lawyers, medical professionals, hoteliers and even teachers.
What were some of the challenges you faced while changing course from the corporate sector to education?
When I first announced my decision to start schools for the poor, I faced some skepticism from people who didn't know me well. Some veteran educators scoffed at my lack of experience and winning the trust of the communities that I was working with was also a challenge. However, my inexperience in the field helped me to listen more and when people realised I was passionate about education, they rallied around me.
How do you balance your personal and professional lives?
I have managed well all these years because I created a symbiotic relationship between my personal and professional lives by including my family in everything I do. I believe my professional and personal lives need not be distinct but rather part of a continuous flow.
Which women specific issue/issues in education would you highlight?
I think women should snap out of the mantle of roles they carry around – that of a daughter, a wife, and a mother and recognise themselves as an individual. They should not be afraid to express their point of view even when considered pushy or aggressive. Women can get over their feeling of helplessness by gaining education and financial independence. I think as educators we must also sensitise boys in gender issues because it is as much the responsibility of the male to create a gender and diversity sensitive environment.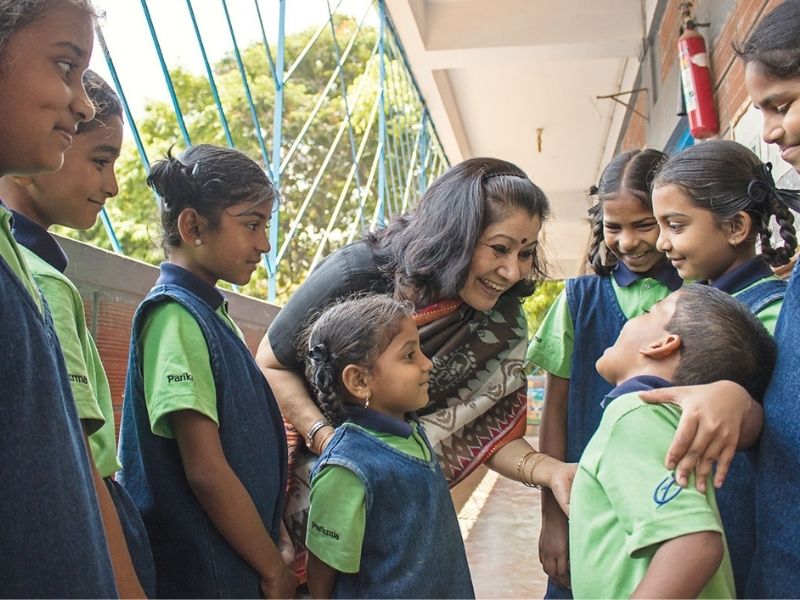 What according to you is the biggest challenge for the girl child in gaining education?
The biggest challenge is the prevailing attitude towards girl's education. This intergenerational perspective of irrelevance and inferiority of girls has influenced the collective consciousness and most families we interact with only want to educate their sons believing the sons will care for them during their old age. We have shown with enough evidence that even in the slums, it was the Parikrma educated girls who took care of their families. Such positive role models are bringing about a change, albeit slowly. Many well-meaning parents get their daughters married early worrying about their safety in the slums. To address this concern, we have started a girls' hostel for those wanting to pursue studies but are living in non-conducive neighbourhoods.
Are you satisfied with the current role of women in the field of education? How can more women take up leadership roles?
Despite more than 60 percent of teachers in our country being women, most decision makers in education are men, be they government officials, cluster resource people or even school principals. We need more women leaders to usher in positive changes in our education system. Women get caught in trying to establish a clear cut balance between personal and professional lives which impacts their career growth but we must establish norms where both can work simultaneously.
Please share your plans for future projects.
The pandemic taught us the importance of physical space for development. I am keen to develop a unique learning environment in close proximity to nature and follow an open-air outdoor curriculum; where students can pursue their interests and prepare themselves for life. This will be an environment sensitive project where nature will be the teacher.
How do you define feminism and what is your message for women on Women's Day?
I think true feminism is the discovery of one's inherent strength and power. Often women create challenges for other women by sheer lack of empathy and compassion towards each other. Also, while Women's Day is about underscoring women's rights and recognising their talents, I believe women should celebrate Women's Day every day. Being aware of one's potential and power should not be confined to one day in the year but rather become a way of life.
Also read: 30 Eduleaders weathering covid tsunami: Shukla Bose