-Baishali Mukherjee (Kolkata)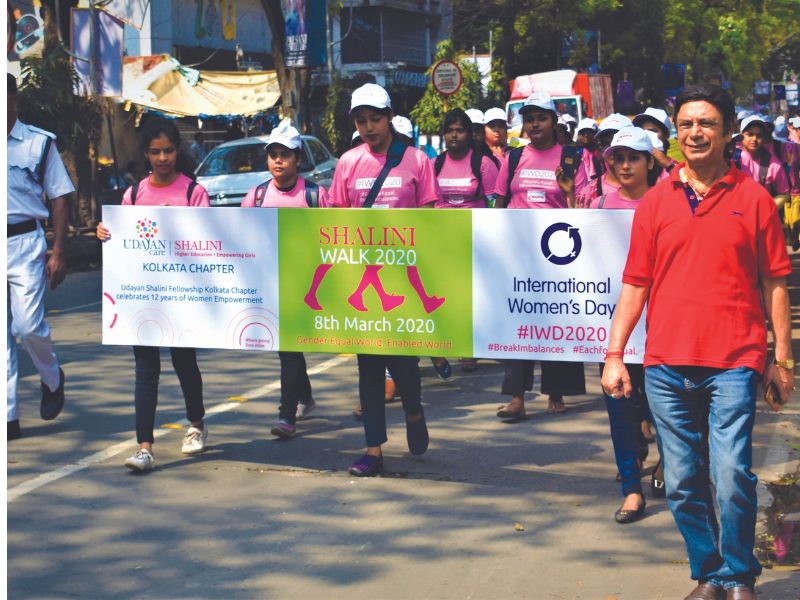 KUSUM BHANDARI and PARIMAL DAS are joint conveners of Udayan Care Kolkata (UCK), the regional chapter of Udayan Care, an NGO founded in Delhi in 2002 by social activist Kiran Modi. Udayan Care provides shelter, education scholarships and vocational training programmes to homeless children. In 2007, philan­thropist-educationist Bhandari and Das, former president of the Rotary Club of Kolkata and banking profes­sional, promoted UCK, with funding support from industrialists Suresh Neotia and B.D. Sureka. Currently, the parent Udayan Care has 28 chap­ters countrywide.
Newspeg. In November, UCK is all set to induct 400 girl students into the Udayan Shalini Fellowship Programme — the NGO's flagship initiative that prepares meritorious underprivileged girl students in the age group 16-22 for higher educa­tion and the job market. Fellows are selected through a careful evaluation process which includes a written test, interview and home visits. Appli­cants should be girls/women from households with monthly incomes below Rs.15,000 with 60 percent-plus average in class X or XII school-leaving board exams.
History. Introduced in 2002, the Udayan Shalini Fellowship Pro­gramme (USFP) has provided scholarships and job-readiness programmes to 13,000 girl students countrywide with the Kolkata chap­ter contributing 2,600 beneficiaries.
"Once selected for USFP, women students are provided extensive training in English, computer and communication skills. Managers and executives from blue-chip companies such as PwC, Genpact, CTS, Exide, Infinity Info­tech, Tata, and EY conduct regular programmes to identify skill gaps and we address them with specially designed training programmes," says Das, an alumnus of Calcutta, Guwahati and Dibrugarh universities and former assistant general manager at Allahabad Bank, who co-founded UCK in 2007.
UCK conducts 12-15 month programmes in its state-of-the-art learning centre in Kolkata which houses two classrooms, auditorium, computer lab, mentoring and confer­ence rooms.
Direct talk. "Most of our young women fellows are first generation learners from underprivileged homes in Kolkata who haven't received any career counselling and mentoring, especially in government schools. Our fellowship programme fills this lacuna, by providing them profes­sional guidance, training and coun­selling as well as monetary support to pursue higher education," says Das.
Future plans. The duo believes that women's education and emancipa­tion is the prerequisite of national development. With the UCK experi­ment having proved successful in Kolkata, they have finalised plans to roll out the fellowship programme in smaller towns such as Shantiniketan and Siliguri. "Both UCK and our par­ent Udayan Care have been receiv­ing excellent support from reputed corporate houses because over the past two decades, we have demon­strated transparency and credibility by way of learning outcomes. I am sure we will be able to expand this programme into rural Bengal and empower a substantial number of underprivileged girl children," he says.