The University of Auckland has topped a pioneering new ranking that assesses the social and economic impact of universities based on the United Nations' Sustainable Development Goals (SDGs). The Times Higher Education University Impact Rankings is the world's first global attempt to document evidence of universities' impact on society, rather than just research and teaching performance. Metrics include universities' policies on academic freedom, their use of secure employment contracts and their share of senior female academic staff and are based on 11 of the 17 UN SDGs.
The results of the first edition reveal a new hierarchy of diverse global institutions compared with research-focused rankings, with New Zealand's Auckland and two Canadian institutions — McMaster University and the University of British Columbia — forming the overall top three, alongside the UK's University of Manchester. The rest of the Top 10 is completed by King's College London, Sweden's University of Gothenburg and KTH Royal Institute of Technology, Canada's University of Montreal, Italy's University of Bologna and the University of Hong Kong. The overall ranking includes 462 universities from 76 nations.
Phil Baty, chief knowledge officer at THE, says the rankings "offer an alternative view of university excellence" and "develop an unprecedented picture of the extraordinary impact that universities have across a huge range of activities".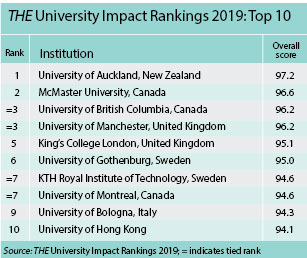 Auckland tops the league table thanks largely to its top scores for two of the goals: good health and well-being, and "partnerships for the goals". It also achieves a high score for gender equality — 43 percent of its first-degree graduates in STEM and 78 percent of its first-degree graduates in medicine in 2017 were women.
Auckland vice chancellor Stuart McCutcheon has also led a successful proposal for all of New Zealand's universities to collaborate on SDGs at a national level, while the institution contributed a guide Getting started with the SDGs in Universities, which includes developing and sharing information on measuring research and teaching contributions to the SDGs (see table).
(Excerpted and adapted from The Economist and Times Higher Education)