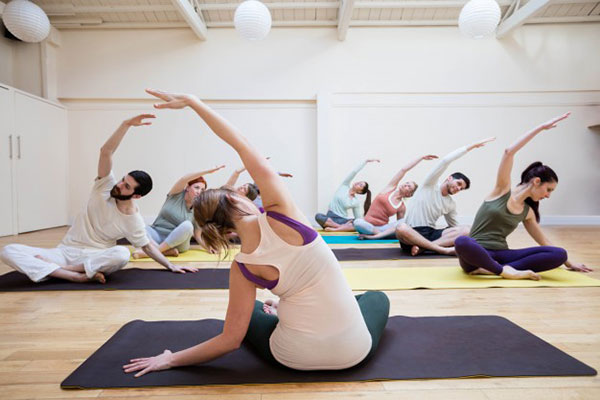 The demand for yoga professionals by far exceeds supply. And a career as a yoga trainer is fast emerging as a new vocation offering glitz, glamour, and upward mobility. Thanks to the global communication revolution, yoga — the ancient Indian science of mind and body therapy — has become a wonder science for people around the world. Increasingly it is acquiring a magical reputation for its therapeutic values and as a cure for stress conditions.
Consequently, the demand for yoga trainers and exponents by far exceeds supply. And a career as a yoga trainer/therapist is fast emerging as a new generation vocation offering glitz, glamour, and upward mobility.
With yoga gaining popularity around the world, theres a huge global shortage of trained yoga instructors. In the absence of a statutory body for regulating education in this field, the Central Council for Research in Yoga and Naturopathy (www.ccryn.org) has designed the syllabus of a one-year diploma in yoga and naturopathy (DYN), approved by the Union ministry of health and family welfare. This study programme aims at supplying skilled paramedics to the yoga and nature care industries to assist full-fledged physicians of the system. The council currently subsidises 28 universities imparting certificate, diploma, degree, and Ph D programmes in yoga.
One of the most renowned institutes for yoga education is Kaivalyadham at Lonavala, 90 km from Mumbai. Its one of the few private institutes to be recognised by the government of India and empowered by the Union ministry of human resource development to discharge the duties of a national nodal agency to impart yoga education by licensing a network of yoga institutions and conducting periodic workshops. Its diploma in yoga education is recognised by the National Council for Teachers Education.
Established in 1924 by Swami Kuvalayananda, the institute enjoys an international reputation for its excellent training programmes and research activities. During the past four score years, Kaivalyadham has been able to harmonise yogic culture with contemporary sciences. For the first time, asanas, bandhas, mudras, kriyas, and pranayamas have been subjected to laboratory experiments with the help of hi-tech equipment.
The G.S. College of Yoga (a consitituent of Kaivalyadham), which is accredited by the Central and Maharashtra governments as a research institute, also offers numerous training courses. Its certificate course in yogic culture (of six weeks duration starting in the first week of May every year) is devised for those eager to learn about the philosophy and psychological underpinnings of yoga — about why and how it affects body and mind. The diploma course in yoga education is of longer (nine months) duration and starts from August 16 every year. It is designed for those who want to teach yoga. On the other hand, the diploma in yoga therapy is for medical practitioners interested in holistic healing and using yoga to complement conventional medical prescriptions. Diploma awardees usually find employment as yoga teachers in schools and universities.
Among other reputed institutes are the Bihar School of Yoga, Munger, which has branches across the country and the Iyengar Institute, Pune, promoted by the legendary B.K.S. Iyengar, a globally renowned exponent of yoga, who has a large following worldwide particularly in the US. Moreover, the University Grants Commission has announced grant of a Rs.20 lakh endowment to any university to establish yoga faculties. At the pre-university level the Central Board Secondary Education — Indias largest pan-India secondary schools examination board — has mandated six months yoga training in all affiliated schools. Therefore the number of yoga practitioners is all set to explode.
On completion of training courses you can work as a yoga and naturopath assistant in a yoga or fitness institute, or in a hospital as a consultant or instructor. You can also start your own classes. Statistics reveal that corporates and business firms suffering stress management problems constitute the prime clientele of yoga schools and instructors.
Yoga is not only the greatest stress buster, but it is also an effective therapy option minus the side effects of allopathic medicines. It prevents and cures diseases and promotes general good health as it imparts mental, spiritual, and physical well being," explains Shiv Kumar Mishra, a yoga trainer, therapist, and founder of Shiv Holistic Yoga, an association of 20 dedicated yoga teachers and experts, which conducts yoga classes for education institutions, leisure clubs, corporates, and individuals.
A commerce graduate of Mumbai's Siddharth College and Government Law College (1992), Mishra also completed a one-year yogacharya diploma programme of the Bharatiya Vidya Bhavan (1994), a certificate course in yogic culture, and the one-year yoga education course of Kaivalyadham.
There's a 30–40 percent annual increase in demand for yoga learning in India following growing media publicity and health awareness. This demand trend will accelerate. Abroad too, there is growing demand for yoga training. Hence, there is a huge demand-supply gap," says Mishra who closed his law practice in 1994 to devote himself entirely to teaching yogic therapy. Teaching yoga is a stress-free, healthy, and honourable profession.
Earnings are good Rs.50,000 per month within three to four years," he says.
Mishra is only too aware that the newly emergent yoga industry has its share of imposters. Therefore he is in favour of mandatory academic qualifications for teachers and trainers.
Looking ahead, Mishra is confident there is a bright future for the teachers of this magic mantra which is now a proven panacea for physiological and psychosomatic ailments. Yoga helps you think clearly, sharpens intelligence, improves learning ability, helps cope with problems calmly and rationally, produces better job performance and satisfaction, and infuses peace and harmony. So it makes good sense to plan a career in yoga if you have the yen for it," he says.
Pranam!