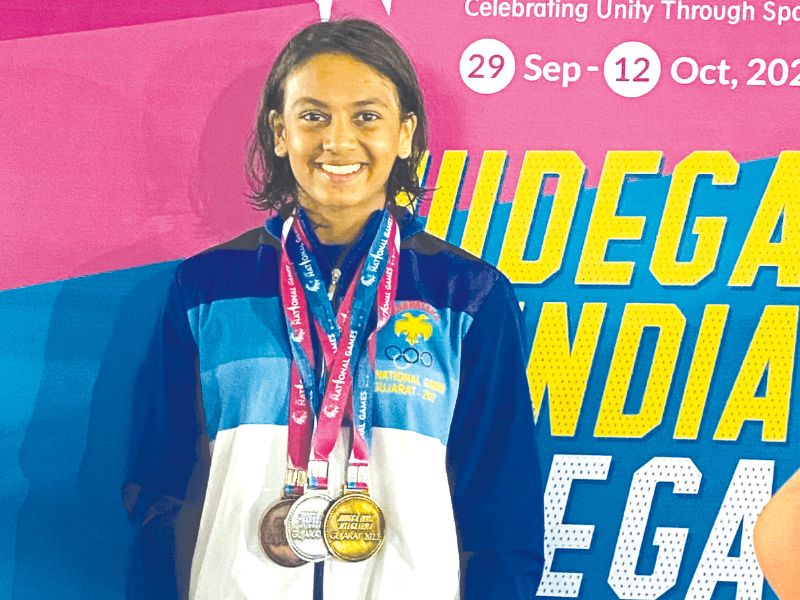 -Paromita Sengupta (Bengaluru)
Bengaluru-based pre-teen Tanishi Gupta is a promising competitive swimmer who already has 50 medals of state and national aquatic championships adorning her mantelpiece at home.
Late last year at the National Games of India staged in Gujarat, this sprint mermaid who specialises in the 50 and 100 metres freestyle and butterfly stroke events, was the youngest competitor to represent Karnataka in four open category events. And she returned with gold, silver and bronze medals. Earlier at the 48th Junior Nationals Aquatic Championship in Bhubaneswar, held last July, in the 50m butterfly, Tanishi clocked 29.37 seconds breaking the national record (women's world record: 24.1 seconds).
The elder of two daughters of IT professionals Ritesh and Anjali Gupta, and a class VII student of Bengaluru's top-ranked Inventure Academy, Tanishi first took to water in her apartment complex pool. Inspired by top swimmers Sajan Prakash, Srihari Natraj, and Shivani Kataria who donned India colours, Tanishi plunged into competitive swimming in 2018 at age eight, signing up for training at Bengaluru's Nisha Millet Swimming Academy under the tutelage of coach Abhinav Prakash.
In 2021 she signed up with the Dolphin Aquatics School of the Padukone-Dravid Center for Sports Excellence. Under coach Madhu Kumar BM, Tanishi's training has intensified to a rigorous five- hour daily regime, a carbs and protein rich diet, and two days of strength and muscle conditioning routines per week. "I attribute my latest success in the National Games to my coaches — Madhu Sir, Yaqoob Sir and Bhaskar Sir — at Dolphin Aquatics, fitness trainer (Jyoti ma'am), parents, and teachers at Inventure who have given me great flexibility to train for championships," acknowledges Tanishi.
Though pleased with her progress, this young flying mermaid is far from satisfied. "I am a long way behind international timings. Therefore, I'm determined to continuously improve my training and timings. In 2022, I have set myself the goal of 10 percent timing improvement in 100m freestyle and 50m butterfly.
This means cutting 3-4 seconds in each event," she says. Power to your strokes!
Also Read: Young Achiever: Sayani Das