If India's K-12 education system hasn't collapsed completely, its due to the efforts of the country's private schools and estimated 2 million NGOs engaged in providing direct or supplementary education and health services to millions of children neglected by government schools, hospitals and other institutions: Dilip Thakore & Summiya Yasmeen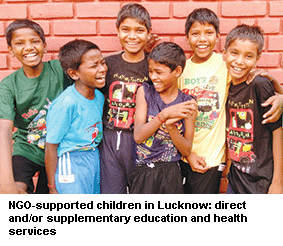 To say that India's public school education system is in deep crisis is an understatement. Although there's a rising mountain of evidence — the Annual Status of Education Reports of the highly-respected Pratham Education Foundation, the mint-fresh National Achievement Survey 2015 of NCERT, and the report of the high-powered T.S.R. Subramanian Committee appointed by the Union human resource development (HRD) ministry to advise the latter on the new National Education Policy, 2016 to cite a few recent reports — governments at the Centre and in the country's 29 states are neither ready, willing nor able to stem the rot even as inert, time-serving intellectuals who have overrun the country's academy, are mute spectators.
This mountain of evidence is supplemented by reports of international development agencies of the World Bank and United Nations. According to the UNDP's Human Development Report 2015, only 62.8 percent of India's population above 15 was literate in the period 2006-13 and only 42 percent of citizens over 25 years has received "at least some secondary education".
And while primary school enrolment in the period 2008-14 averaged a commendable 113 percent, only 69 percent of the secondary education age population was in school and tertiary enrolment is a mere 25 percent. Health indicators are even worse with infant under-5 mortality at 52 per 1,000 live births (cf. 9.6 in Sri Lanka) and the India statistic for children under-5 suffering severe malnutrition averaging a shocking 47.9 percent in the period 2008-13.
Open, continuous and uninterrupted neglect of education — specially early childhood and primary education — is rampant in the states where quasi-literate rural politicians with little time or respect for education began to rule the roost immediately after independence, running teacher appointment and transfers, and textbook commissioning and printing rackets with impunity.
Education was inserted into the concurrent list of the Constitution which brought it under the jurisdiction of the Centre and states in 1975 during the Emergency, but even so is primarily administered by state politicians who have succeeded in plunging it to unprecedented depths.
Over the past 16 years since EducationWorld (estb.1999) was launched with the mission to "build the pressure of public opinion to make education the #1 item on the national agenda", the accumulated evidence testifying to the pathetic condition of Indian education from KG-Ph D and ways and means of upgrading the country's schools, colleges and universities to global standards have been exhaustively detailed in this publication (see educationworldonline.net archives). Regrettably, despite it being self-evident and globally proven that provision of quality education by the State and private citizens ('edupreneurs') is a non-negotiable prerequisite of national development, your editors have not yet succeeded in arousing sufficient enthusiasm within the establishment or parent and teacher communities for the radical reforms the country needs.
Thus annual government expenditure (Centre plus states) on education has averaged a mere 3.5 percent of GDP for six decades since independence despite the high-powered Kothari (1966) and several other commissions having recommended 6 percent. Consequently, contemporary 21st century India presents a depressing picture of a few hundred globally comparable pre-primaries, few thousand (among 1.4 million) primary-secondary schools and some two dozen among 800 universities dispensing education to the worlds largest child and youth population (500 million).
Nevertheless, post-independence India;s education system — particularly the K-12 school system — hasn't collapsed completely. This is due to the sustained efforts of the country's estimated 319,000 private schools, much reviled because in the Left lexicon despite providing arguably the cheapest pre-primary, primary and secondary education worldwide, they are engaged in the "commercialisation of education", and the country's estimated 2 million civic voluntary organisations aka NGOs, most of whom are engaged in providing direct or supplementary education and health services to millions of children neglected and/or short-changed by government schools, hospitals and primary health centres.
But NGOs, always under pressure for showing up government ineptitude and propagating liberal and secular value premises, have become an endangered species after the Bharatiya Janata Party (BJP), an avowed subsidiary of the Rashtriya Swayamsevak Sangh (RSS) — a militant, self-styled cultural organisation aspiring to transform India into a Hindu majoritarian nation — was swept to power in New Delhi in General Election 2014.
Ever since the BJP government assumed power at the Centre, NGO funding and sources have come under increasing scrutiny with human rights activists such as Teesta Setalvad persecuted on frivolous, trumped-up charges. In addition, restrictions have been imposed on foreign funding of Indian NGOs (14,000 NGOs have been proscribed from receiving funding from abroad since 2014), even as the number of churches and clergy suffering vandalisation and physical attacks has increased substantially during the past two years. The Central governments latest salvo against NGOs has been to club their trustees, promoters and managers with politicians, ministers and government servants in the new anti-corruption Lok Pal Act, 2016, under which the top brass of all NGOs are obliged to post details of their own and family assets online. The inclusion of NGO trustees and managers in the Lok Pal Act has been widely criticised because the purpose of this much-awaited legislation is to investigate corruption charges against government employees, and NGO personnel are the very antithesis of government servants.
"With government and the market having failed to sufficiently deliver a host of services, particularly in education and health, NGOs discharge a very important role in delivering direct and supplementary education and healthcare services to the public.
Voluntary organisations such as Pratham, CRY and the Azim Premji Foundation help in the formulation of government policies by researching and debating critical issues in education, health and socio-economic development apart from providing direct, supplementary and remedial education and health services. Therefore, they need to be given full government and societal encouragement and autonomy", says Pratap Bhanu Mehta, the highly-respected president of the Delhi-based think tank, Centre for Policy Research.
Against this backdrop of NGOs under siege and/or struggling in a sea of troubles, we present a mix of summaries and interviews which highlight the contribution of 26 of the country's most well-known NGOs which are slowly — perhaps too slowly — transforming Indian education for the better.
Pratham Education Foundation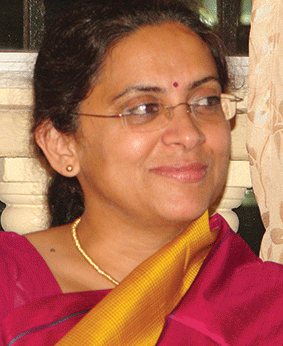 A highly-qualified alumna of the Delhi School of Economics, Oxford and Chicago universities, Rukmini Banerji worked as a programme officer at the Spencer Foundation, Chicago for several years before returning to India in 1996. Currently, she is chief executive of the Delhi-based Pratham Education Foundation (estb. 1994), Indias pioneer and premier education NGO that was co-founded by Madhav Chavan 22 years ago. Excerpts from an email interview with Banerji:
What are the prime objectives of Pratham?
To work on scale to improve the basic literacy and numeracy skills of children; create low-cost, replicable programme models that can impact policy and practice at the Central and state government levels; raise awareness about the importance of children's learning outcomes among all stakeholders in education, and provide vocational and skills training leading to job opportunities for youth from socio-economically disadvantaged backgrounds.
What in your opinion are the major achievements of Pratham during the past two decades since it was founded ?
Pratham's main initiatives of the past two decades are its flagship Read India programme to improve the literacy and numeracy of children between ages 3-14 by devising innovative pedagogies; publishing the Annual Status of Education Report (ASER), a citizens-led assessment of learning outcomes of children in the 5-16 age group in rural India; the Pratham Institute, vocational training arm of Pratham which provides rural and semi-urban unemployed and underemployed youth access to certified skills training, and provision of subsequent employment or entrepreneurship opportunities. We have also launched the Pratham Open School of Education (POSE) in 2011, which helps girls who have dropped out of school, to complete secondary school education.
Please share details of the reach and impact of Pratham's initiatives.
At the end of the academic year 2015-16, Pratham's programmes were operational in 23 states and Union territories countrywide. Our own teaching-learning programmes have reached 900,000 children and our partnership programmes with state governments and other NGOs have reached 4.5 million. Moreover, the Pratham Institute has skilled 22,000 youth and POSE has re-inducted 4,500 girl children into secondary education.
Child Rights & You
With an annual disbursement budget of Rs.24.9 crore, five offices countrywide and 182 full-time employees, Child Rights and You (hitherto Child Relief and You) is one of the country's largest child welfare NGOs. Since its promotion in 1979, CRY has defined its role as a funding agency for downstream NGOs to enable them to implement on-the-field education/child-centric projects. It currently funds over 100 voluntary organisations countrywide.
History. In 1979 Rippan Kapur, a young Air India purser, and six friends registered CRY with the minimally mandated capital of Rs.50. Instead of working directly at the grassroots level, the CRY promoters resolved to connect with millions of Indians ready, willing and able to make modest financial contributions for educating the country's millions of underprivileged children denied their fundamental right to survival, participation, protection and development. Despite Kapur's premature demise in 1994, his idea lived on and CRY continued to grow steadily.
Prime objectives. "CRY's experience of working for children for over three decades has taught us an important lesson: that lasting change is possible only when we look at the big picture. Hence the prime objective of CRY is to prompt the public to assume the responsibility of changing the lives of underprivileged children", says Suma Ravi, regional director (South) of CRY.
Initiatives. CRY funds the education/child rights/health/welfare projects of over 100 voluntary organisations, 20 networks/alliances and seven individual fellows, and has improved the lives of 1.1 million children in 820 villages and districts countrywide.
Future plans. "CRY is committed to continue its mission of reaching out to the most marginalised children of India and enable their access to education, health and protection. We will also step up our advocacy campaigns with the Central and state governments and policy makers to make larger education and health budgetary provision for children", says Ravi.
Teach For India
Founded in 2007 by Shaheen Mistri, an alumna of St. Xavier's College, Mumbai and Manchester University, UK, and promoter of Akanksha Foundation (see p.65), Teach For India (TFI) is an NGO which recruits top-ranked, idealistic college graduates and professionals to teach for two years in under-served, low-income schools to reduce inequity in education. Since 2008, when it placed its first batch of 80 'fellows' (teachers) in 33 low-income schools in Mumbai and Pune, TFI has recruited and deputed 1,250 college graduates to teach in 357 municipal and private budget schools in seven cities across the country.
Excerpts from an interview with Shaheen Mistri:
What was the motivation behind TFI?
Teach For India was started in 2007 when I became aware that a new initiative was needed to reduce — if not eradicate — educational inequity, and scale up the impact we had seen in Akanksha. By researching existing models, including Teach For America, and discussions with local leaders, we developed the TFI programme.
What are the prime objectives of TFI?
India has 7 million teachers. So our idea is not to put a TFI fellow in every classroom but to develop a stream of leaders aware of the importance of equity in education. Our aspiration is that one day, all children in India will receive excellent education.
Please detail the impact of the TFI fellowship programme.
The TFI programme is divided into two parts. The first is a teaching fellowship, a training ground for leadership and commitment, and the second is our alumni movement. The fellowship is a two-year, full-time, salaried (Rs.17,500 per month) teaching programme in municipal or low-income private schools. The selection process is rigorous, with typically less than 7 percent of applicants being selected. The second component of our model is the alumni movement. We hope our alumni will rise to positions of power and will use their influence and power to meaningfully better children's lives.
Over the past five years, TFI fellows have made significant impact on the learning outcomes of their students — a longitudinal study conducted in association with Columbia University's School of International and Public Affairs reveals that students taught by TFI fellows achieve four times the growth in English language learning, and twice the growth in maths learning compared with children schooled by other teachers.
What are the foundations future plans?
Our plan is to expand geographically and we expect our fellows to teach 1 million students by 2022.
Agastya International Foundation
The Bangalore-based Agastya International Foundation (AIF, estb.1999) has provided experiential science and technology education to 8 million children and 200,000 school teachers in 18 states across India over the past 16 years.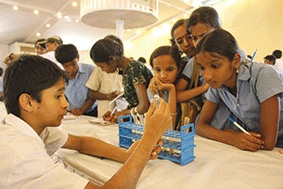 History. AIF was founded by a group of educationists and scientists led by Ramji Raghavan, a former investment banker (Citibank and Cedel), to arouse the interest of rural school children in science. In 2000, the foundations first initiative — a unique, state-of-the-art science experiential learning centre for rural children established on a 172-acre campus in Kuppam, on the Karnataka-Andhra Pradesh border to which students from surrounding villages are bussed in daily to experience hands-on science education — became operational.
Major objectives. To provide experiential science teaching-learning to 20 million children and 1 million educators by 2020; create a cadre of 1 million Young Instructor Leaders (student teachers) and become a leader in teacher training for the sciences.
Programmes & initiatives. AIF's state-of-the-art science labs in Kuppam provide 750 rural children and teachers bussed in daily from neighbouring village schools high-quality, hands-on learning programmes in science, art and ecology. Moreover, Agastya has established 74 subsidiary science centres in 13 states, which provide lab and experiential learning facilities for government schools, as also 175 mobile science labs which tour remote villages and under-resourced urban schools. Similarly, 57 lab-on-bikes visit far flung, less accessible rural schools and 300 night village school Operation Vasantha Centres provide supplementary education to 1,000 children everyday.
"This is the largest private science education programme for school children in India and perhaps worldwide", says Ramji Raghavan, founder-chairman of AIF, which has over 1,000 employees on its rolls, and is majorly funded by the Mumbai-based Rakesh Jhunjunwala Foundation.
Future plans. Over the next 12-24 months, AIF plans to add an interactive Bio Discovery Centre and provide residential teacher training facilities on its Kuppam campus. Moreover the foundation will train 6,000 government schoolteachers in new science pedagogies and establish a vocational skills training centre.
Bachpan Bachao Andolan
Started in 1980 by child rights champion Kailash Satyarthi, awarded the Nobel Peace Prize in 2014 for sustained activism to end child labour in India, the Bachpan Bachao Andolan (BBA, 'Save Childhood Movement') has emerged as Indias pioneer mass national movement against child labour and trafficking. Since its inception, BBA has rescued over 85,000 children from trafficking and forced labour, and supported the education of 200,000 rescued and vulnerable children countrywide.
History. An electrical engineering graduate of the Samrat Ashok Technological Institute, Vidisha (Madhya Pradesh), Satyarthi transformed into a child rights activist in 1980 and promoted BBA to create a child-friendly society. Initially, BBA conducted raids and rescue operations to free child workers forcibly employed in brick kilns, stone quarries and the carpet industry. It has since expanded the ambit of its operations to cover all industries. It also manages two child rehabilitation centres which provide education to rescued children, raises public awareness about child rights and works with government and policy makers to frame and implement anti-child labour and trafficking laws.
Prime objectives. BBA's main objective is to create a child-friendly society where all children are free from exploitation and receive free quality education. It identifies, liberates, rehabilitates and educates children through direct intervention, community participation, coalition building, consumer action and by promoting ethical industry practices.
Major programmes. BBA's direct action teams in 12 states have rescued and rehabilitated 85,049 children from illegal forced labour and modern-day slavery. In 2001, BBA developed its Bal Mitra Gram ('child-friendly village') model, notable for its elected children's assembly with linkages to the village panchayat and local schools. This model has been adopted by 459 villages countrywide. The foundations two child rehabilitation centres — Mukti Ashram (Delhi) and Bal Ashram (Rajasthan) — provide care and protection to 7,052 children. BBA also runs India's first All India Legal Aid Cell on Child Rights (estb.2009) for dispensing free legal aid and other support to children.
Future plans. "We are determined to spread our Bal Mitra Gram project to all villages and rural habitations and educate communities to fulfil our mission of creating a child-friendly society", says Deeksha Gautam, Delhi-based project officer of BBA.
Central Square Foundation
A maths and business management alumnus of America's top-ranked Yale and Harvard universities, Ashish Dhawan returned to India in 1998 and co-promoted Chrys Capital Pvt. Ltd, the country's pioneer private equity investment company. In 2012, after a highly successful stint with Chrys Capital, Dhawan stepped down to promote the Delhi-based Central Square Foundation (CSF, endowment corpus: Rs.50 crore).
Summiya Yasmeen interviewed Dhawan by email.
What are the prime objectives of CSF?
Our aspiration is that all children in India, regardless of their social and economic status, will receive high quality school education that prepares them to become responsible and productive citizens. We hope to attain this objective by dispensing grants to support early-stage organisations through capital and capacity building; developing a research ecosystem focused on devising collaborative platforms for knowledge-building and sharing, and engaging with the Central and state governments to strengthen policy formulation and implementation.
What are some of the major initiatives of CSF?
We have supported 27 early-stage organisations with an aggregate investment of Rs.22.6 crore. Most of them initiated their operations in collaboration with us. For instance, the India School Leadership Institute, an organisation which we incubated in 2012, has mentored 400 school principals countrywide. For teacher training and development, we support organisations using technology for building scalable and effective professional development programmes. We also have a collaboration agreement with the Khan Academy, USA to translate their math videos and exercises into Hindi, and to launch the Khan Academy India.
Moreover, we have participated in the deliberations of the Union HRD ministry and the Subramanian Committee to draft the New Education Policy 2016. More recently, together with the HRD ministry we launched Prashikshak, an online portal for strengthening teacher education institutions. We also have active engagements with several state governments.
What are CSF's future plans?
We will continue to seed-fund innovative ideas and work with edupreneurs to build high-impact NGOs. We will strengthen our engagement with governments at all levels so that we can work with them to improve the country's education system.
Deepalaya
Established in 1979 with an enrolment of five children and two teachers and an annual budget of Rs.17,500, Deepalaya has grown steadily into a model education NGO which provides school education to 100,000 children in Delhi, Haryana and Uttarakhand, with an annual budget of Rs.8.5 crore.
History. In 1979, a group of three friends led by T.K. Mathew registered Deepalaya "to make education accessible to the poorest of poor children". "We were parishioners of the St. Thomas Marthoma Parish in Janakpuri, Delhi, from lower middle class families and had risen in our professions because we were educated. Therefore, we resolved to serve and uplift society by providing education to poor and deserving children. We identified children in a neighbouring slum and began dispensing elementary education. Today, Deepalaya is the largest operational education NGO in Delhi", says Mathew, an architecture postgraduate of Sardar Vallabh Bhai Patel University of Agriculture and Technology, Meerut with 20 years of work experience including a 14-year stint with DLF Ltd, who quit the corporate world in 1979 to work as honorary secretary of Deepalaya.
Major initiatives. Deepalaya's eight learning centres/schools including a mobile bus ('Education on Wheels) provide education to 100,000 socio-economically disadvantaged children in Delhi. Moreover, its three vocational training centres in Delhi, Uttarakhand and Haryana have an enrolment of 508 students. And in partnership with the Mewar Dev Agency, Deepalaya has promoted 1,173 self-help groups for 13,523 women in 84 villages of Haryana.
By any yardstick, this largely unsung NGO's track record is impressive. It has schooled 291,071 children, enabled 11,158 of its school-leavers to enter higher education, provided vocational education and training to 12,131 individuals, placed 10,988 in employment, supported 4,390 differently-abled persons through community-based rehabilitation programmes and rescued and schooled over 1,400 runaway children.
Future plans. "Our objective is to transform India into a society based on citizens rights, equity, justice, honesty, social sensitivity and to inculcate a culture of service in all citizens. We will continue to improve and expand our initiatives to reach quality education to as many children as possible", says Mathew.
Asha for Education
Founded in 1991 by three Indian students at the University of California, Berkeley, USA, Asha for Education (AfE) has since increased its footprint to 50 chapters around the world, and supports 200 projects providing education to socio-economically disadvantaged children in India.
History. AfE was conceptualised as an action group to work for the educational upliftment of India's poor and under-served children at the UCal, Berkeley campus in 1991 by three Indian undergrads — Deepak Gupta, currently professor at IIT-Kanpur, the late V.J.P. Srivatsavoy and Sandeep Pandey, the well-known Lucknow-based social activist and Magsaysay award winner. In the first year, the trio raised $10,000 mainly from the Indian community in Berkeley and the San Francisco Bay area to support four-five schools in India. Pandey returned in 1992 and established AfE's Lucknow chapter.
Prime objectives. The mission of the US-registered AfE is to "catalyse socio-economic change in India through the education of underprivileged children". The Asha Trust, registered in India in 2003, is committed to the empowerment of marginalised sections of society, with education being it main focus.
Major programmes. AfE funds and supports 200 projects promoted by NGOs in India. "Most Asha chapters play a supporting role rather than undertaking projects themselves. What the 400 NGOs have achieved with AfE's funds is credited as their achievement. Right now, we directly support the education of about 150 children in Lucknow, 50 in Varanasi, run a hostel for 30 children of brick kiln workers in Kanpur and a school in Ballia with 50-100 children", says Pandey.
Unsurprisingly, despite working closely with NGOs countrywide, AfE advocates radical improvement of the country's government school system.
Future plans. "We want a common public school system so there wont be any need for NGOs and private institutions to deliver education. It is the governments responsibility to reach education to all children. No NGO can do this. That is why I'm personally involved in a campaign to implement an August 2015 Lucknow high court order, making it compulsory for all individuals receiving government salaries to send their children to government schools. Once this happens, the quality of these schools will automatically improve and children will receive high quality free-of-charge education in government schools", says Pandey.
Parikrma Humanity Foundation
An alumna of Jadavpur University and IIM-Calcutta, Shukla Bose quit a high-flying 26-year corporate career (Oberoi Hotels, Dalmia Resorts and Resort Condominium of India) to promote the Parikrma Humanity Foundation (PHF) in 2003. From a single school with 165 children in 2003, the foundation has grown to four free-of-charge English-medium K-12 schools and a junior college schooling 1,700 children attracted from four orphanages and 70 slums of Bangalore.
Summiya Yasmeen interviewed Shukla Bose.
What was the motivation behind the promotion of PHF?
After 26 years in the corporate world, I was unfulfilled. As a student while working as a volunteer with Mother Teresa at the Missionaries of Charity for seven years I became aware of the huge social and education inequities that hold our country back. I quit my corporate job in 2000 and accepted the position of CEO of a large multinational NGO (Christel House). After working there for four years, I realised that I preferred to do something more grounded and less bureaucratic. In 2003 I registered PHF.
What are the prime objectives of PHF?
The prime objective of Parikrma is to provide children from economically weak households high-quality education to enable them to rise into the middle class and become global citizens. Therefore, we provide our children English-medium CBSE education while also schooling them in secular ethics and citizenship values.
What are the foundation's major initiatives?
Parikrma has promoted four schools, one junior college and an Education Transformation Centre where we train teachers of over 200 government schools. Under this 360 degree education model, our teachers not only teach in interesting ways but ensure our children are provided adequate nutrition — three meals in school — and healthcare from immunization to hospitalization to enable them to learn to their full potential. After Parikrma students complete Plus Two, we also fund their higher studies and help them find employment.
What are your future plans?
Our latest initiative — the Parikrma Education Transformation Centre, promoted in 2014 — has already trained 1,643 teachers and 80 headmasters of 200 government schools. This programme is working well and we are planning to expand it. We are also looking at helping government schools in Maharashtra later this year.
Eklavya
Since its inception in 1982, Eklavya, a Bhopal-based NGO, has focused its attention on curriculum and pedagogy reform — a grossly neglected area in Indian school education. Eklavya traces its origins to the breakthrough Hoshangabad Science Teaching Programme — a unique, low-cost, inquiry-based approach to teaching science in middle school (classes V-VII), started in 1972.
Since then, Eklavya has developed its own upgraded Social Science Teaching and Primary Education programmes for government schools in Madhya Pradesh, and actively collaborated with the Delhi-based National Council of Educational Research and Training to develop the landmark National Curriculum Framework 2005. Other activities include textbooks/magazines publishing, teacher training, inventing low-cost teaching-learning tool kits, and organising science popularisation programmes.
History. Over three decades ago, two MP-based voluntary organisations — Friends Rural Centre and Kishore Bharati — joined forces in 1972 to upgrade science teaching in 16 rural government middle schools in the market town of Hoshangabad. Ten years later (1982), the Hoshangabad Science Teaching Programme (HSTP) acquired its current title: Eklavya.
Objectives. "For most children in India, school education is a daily drudgery. In Eklavya, we are committed to making the education process a meaningful and cherished experience through researching and developing innovative curriculums, learning materials, new pedagogies and teacher training," says Arvind Sardana, the Bhopal-based director of Eklavya.
Major programmes. Eklavya's research and materials development division has developed maths and language (primary school), science and social science (high school) curriculums and textbooks. It has also set up 100 community-based learning centres which provide after-school remedial support to government primary students in five districts of Madhya Pradesh. Moreover, this pioneer education NGO has established 130 libraries in government primaries in Jharkhand and Madhya Pradesh, and publishes 30-35 new book titles per year.
Future plans. "We want to deepen our involvement with teacher training and education and make our curriculum and learning materials available online to reach the entire student and teacher communities," says Sardana.
Pardada Pardadi Educational Society
The Pardada Pardadi Educational Society (PPES, estb.2000) has transformed Anupshahr (pop.23,000) in the backward Bulandshahr district of Uttar Pradesh into a model township offering a blueprint for the upliftment of the status of women and empowerment of girl children. In this socially and educationally under-served town, PPES runs the free-of-charge K-12 Pardada Pardadi Girls Vocational School (PPGVS) which has an aggregate enrolment of 1,376 girl children mentored by 60 teachers.
History. PPES was founded by Virendra ('Sam') Singh, an engineering graduate of Panjab University with a Masters in textiles engineering awarded by the University of Massachusetts, USA, who served in various capacities with the US-based megacorp DuPont Inc for over 35 years. After his retirement, Singh returned to Anupshahr, his hometown, to establish PPES. "I had to wait for my retirement in 2000 until I had enough savings to start a girls school," says Singh.
PPES mission. Rural development through education, empowerment and employment of girl children and women.
Major programmes. The first initiative of PPES, the Pardada Pardadi Girls Vocational School was started in 2000 with 45 girl children and two teachers in a makeshift classroom. To prevent children from dropping out of school, Singh devised an innovative scheme of crediting Rs.10 per day into newly opened bank accounts of girls who attended class, on condition of no withdrawals until completion of the class X school-leaving exam.
This scheme has proved a great success as evidenced by the number of girl students in the school having risen to 1,376, and five admission applications for every available seat in the school. Moreover, PPES runs a health centre, and textiles, cell-phone covers and incense sticks manufacturing units which employ 130 women. The society has also constructed two community toilet complexes which serve 136 families.
Future plans. Renuka Gupta, chief executive of PPES, believes the society's initiatives have had a "huge multiplier effect" on the economy of this once somnolent and backward Bulandshahr district. "With large cohorts of students leaving class XII, our new focus is on facilitating admission of our girl students into higher education institutions. We are also planning a computer skill development centre in collaboration with the Nettur Technical Training Foundation, Bangalore," says Gupta.
Akanksha Foundation
From one learning centre with 15 children in Mumbai, the Akanksha Foundation (estb.1991) has grown to 21 primary schools (run in partnership with local municipal corporations) in Mumbai and Pune, educating more than 6,500 children. Dipta Joshi interviewed Vandana Goyal, an economics graduate of Claremont McKenna College, USA, who signed up with Akanksha Foundation in 2006 and was appointed CEO in 2010.
What is the history of the Akanksha Foundation?
Driven by the belief that education has the power to dramatically transform the lives of the most vulnerable children, in 1991 Shaheen Mistri (also founder of Teach For India, see p.58), then a student of St. Xavier's College, Mumbai, started providing supplementary after-school education to 15 slum children in a classroom of the Holy Name High School. Thus the idea to use underutilised capacity of schools, colleges, and offices after work hours as learning centres staffed by volunteer teachers, to provide remedial teaching and life skills education to slum children, was born.
What are the foundation's major programmes?
Our main programme is the School Project which is administered in 21 schools in Mumbai and Pune. Under agreements with the municipal corporations these schools adopt Akanksha-designed curriculums, and we provide in-service training to teachers to improve students' learning outcomes. We also work closely with the local communities of these schools, providing vocational training to parents.
In addition to providing life skills and remedial education to 100 children in our three centres in Mumbai, we also run the Akanksha Mentorship Programme for adolescents, and a Scholarship Programme under which all students of Akanksha partner schools who complete class X are given five-year scholarships to fund their junior and degree college education.
What are the foundation's future plans?
All our plans for the future centre on ways and means to provide high-quality school education to an ever-increasing number of underprivileged children in government schools. Moreover, in our endeavour to bring about systemic reform, we are sharing our best practices with other schools.
STIR Education
A highly-qualified economics and management alumnus of Cambridge University, UK and INSEAD, France, and a former fellow of the US-based Ashoka Foundation, in 2012, Sharath Jeevan quit a decade-long corporate career with Google, eBay and Booz Hamilton to launch STIR (Schools and Teachers Innovating for Results) Education — a London-based NGO committed to improving the learning outcomes of children in India and abroad through teacher-led initiatives. Over 27,000 STIR-trained teachers currently teach 1 million children in Delhi, Uttar Pradesh, Karnataka and Uganda.
Paromita Sengupta interviewed Jeevan over email:
What is the history of STIR Education?
STIR Education was founded with the belief that empowered and motivated teachers can bring about radical improvements in children's learning outcomes and force education systems to change for the better. To achieve this, we needed to solve the crisis in teacher motivation and reignite the spark within teachers. The initiative started in Delhi and has now expanded to partnerships with the governments of three Indian states, and Uganda.
What are the prime objectives of STIR Education?
Our focus is on building teacher networks in India and Uganda. First, member-teachers are asked to submit micro-innovations — small ideas of how they, if given free rein, would upgrade teaching-learning in their classrooms. Teachers who submit good ideas are invited to join STIR Teacher Change Maker networks — typically 30-40 teachers who meet once a month in their local areas to ideate on new, creative pedagogies and practices for effective learning outcomes. Teachers who come up with bright, innovative ideas gain recognition, peer validation and are awarded certificates. We don't give money awards.
Please share details of the foundation's major programmes and initiatives.
Under our Teacher Change Maker programme, we encourage teachers to build collaborative networks to brainstorm and innovate to improve the narrative of teaching-learning. Moreover, STIR trains and assists local government officials to create similar teacher networks in public schools. STIR also offers government block education officers a three-year leadership programme.
What are the foundation's future plans?
In India, our target is to establish 5,000 Change Maker networks by 2022. This will improve the learning outcomes of 20 million children.
Bharat Abhyudaya Foundation
Founded by Samina Bano, an alumna of IIM-Bangalore and Vinod Yadav, a Harvard alumnus, in 2012, the Lucknow-based Bharat Abhyudaya Foundation (BAF) is an advocacy NGO working closely with civil society groups and the Uttar Pradesh government to reform school education in India's most populous (215 million) and educationally backward state. Effective implementation of the Right of Children to Free and Compulsory Education (RTE) Act, 2009 in the state is the foundation's major focus area.
History. BAF was registered in 2012 by Bano and Yadav who believe that every citizen is entitled to equal opportunity in accessing quality education.
Prime objectives. "We are committed to uniting educationists, researchers, think tanks, the Central and state governments as well as civil society organisations to formulate good education policies and ensure delivery through effective monitoring mechanisms. Currently, promoting social inclusion through effective implementation of the RTE Act and building accountability systems are our prime focus areas. Given the geographical vastness of UP and severity of social and development problems of the state, our efforts are focused on its 75 districts," says Bano, chairperson of BAF.
Major programmes and initiatives. Through its Mission RTE 500, BAF has enabled the admission of over 4,400 underprivileged children into private schools under s.12 (1) (c) of the RTE Act, which requires non-minority private schools to reserve 25 percent of capacity in primary school (classes I-VIII) for socio-economically disadvantaged students in their neighbourhood.
Against this in 2014, a mere 54 children were admitted under s.12 (1) (c) in UP's 66,983 private unaided schools. The foundation's other two initiatives include the 'My School My Voice' campaign which encourages government school students to actively participate in the development of their own schools, and promotion of the ILM (Innovative Learning Model) Academy to provide career and life-oriented training and counseling.
Future plans. "We hope to increase the number of s.12 (1) (c) admissions in UP to 15,000 during the next two years. But our target is to fill all the 600,000 s.12 (1) (c) seats available in the state. We are also cooperating with the state government to amend its RTE Rules to ensure effective implementation of s.12 (1) (c) and introduce an online admissions process and grievance redressal mechanism," says Bano.
Vidya
A history postgraduate of Lady Shri Ram College, Delhi and a former administrator at the Austrian Embassy, Rashmi Misra taught German at the Modern School, Vasant Vihar, for over a decade before promoting the Vidya Integrated Development for Youth & Adults (VIDYA) in 1985. Since then, this NGO has promoted a role-model day-boarding CBSE-affiliated English-medium K-12 Vidya School for slum children in Gurgaon, a primary school (Bal Vihar) in Delhi and offers English, life skills, IT training and vocational courses to underprivileged youth and women in Gurgaon, Pune, Mumbai and Bangalore.
Swati Roy interviewed Rashmi Misra, founder-chairperson of Vidya in Delhi:
What is the history of Vidya?
Back in 1985, while witnessing children playing in a sewage pool near the IIT-Delhi campus, I was struck by the deep inequality of the education system. I invited the five girls playing there to my home for tutoring. That's how Vidya began. Subsequently, I started conducting informal classes for children from nearby slums with the help of a few volunteers. Today, Vidya has 350 full-time employees and 950 volunteers working in Delhi, Gurgaon, Mumbai, Pune and Bangalore.
What are the prime objectives of Vidya?
Educating and empowering underprivileged children through integrated pedagogies and initiating progressive social change. We are working towards an India where every child gets an education, every youth an opportunity to succeed, and every woman the right to equality.
What are the foundation's major programmes?
Our flagship programme — the Vidya School in Gurgaon — admits children of parents with a monthly income below Rs.10,000. Currently, we have 550 children, with capacity to accommodate another 450. Other programmes include the Bhavishya-yaan and Beyond School programmes, in which we augment the syllabus taught at 15 government schools with after-school classes providing computer education, life skills and spoken English classes.
Our community-based programmes focus on providing informal education and vocational training to women and youth living in slums. Over the past 30 years, Vidya has improved the lives and livelihoods of more than 220,000 families. Our major donors include the Punjab National Bank Housing Finance Ltd, Deloitte, HDFC, and Sir Dorabji Tata trust.
What are the foundation's future plans?
We have plans to adopt 15 more government schools across Mumbai and Bangalore.
Educate Girls
Launched in 2007, Educate Girls is a Mumbai-based NGO whose mission is to enroll the country's estimated 3 million out-of-school girl children back into the education system. Currently, its operations are focused in 8,000 government primary schools in ten remote districts of Rajasthan.
History. The foundation was registered by Safeena Husain, a London School of Economics alumna who served with several international development agencies (Child Family Health International and International Development Exchange, San Francisco) before returning to India in 2004. In 2005, while on an assignment in Nainital accompanied by her father some women commiserated with him for having a daughter as his only child. "That's when I resolved to empower girl children through education, by building a scalable high-impact model for girls' education in the remotest rural districts of the country.
Following a 50-school test project in Pali, Rajasthan, Educate Girls was started a decade ago," recalls Husain.
Objective. To work in the most educationally backward regions of India with a three-pronged focus to increase enrolment, retention/attendance of girl children, and to improve learning outcomes of all children in primary education.
Major programmes. In less than a decade, Educate Girls has grown from a 50-school pilot project in Pali to cover 12,000 schools in ten districts of Rajasthan and Madhya Pradesh. The foundation's 8,000 Team Balikas (community volunteers) engage with local communities to ensure girl children are encouraged to complete primary-secondary education. Since inception, the foundation has enabled the enrollment or re-enrollment of 120,000 girl children into government schools in these two states.
Moreover in 2014, Educate Girls together with the Switzerland-based UBS Optimus Foundation (UBSOF) and UK-based Children's Investment Fund Foundation (CIFF) launched the world's first Development Impact Bond. Under the terms and conditions of this tripartite social impact investment agreement, Educate Girls has agreed to attain enrolment, retention and improved learning outcomes targets of girl children in 166 designated government schools in Rajasthan's backward Bhilwara district. "In the very first year, we have enrolled 44 percent of out-of-school girls and improved female literacy and numeracy levels by 30 percent in the district. And we still have two years to go," says Husain.
The Akshaya Patra Foundation
Promoted in 2000 by the Bangalore unit of the New York-based International Society for Krishna Consciousness (ISKCON), The Akshaya Patra Foundation (TAPF, estb.2000) is the world's largest not-for-profit non-government provider of mid-day meals serving wholesome mid-day meals to 1.5 million children in 11,360 government and aided primary schools in ten states of the Indian Union. The foundation has built 26 state-of-the-art mass meals production kitchens and supportive logistic infrastructure.
History. In the millennium year, after 126 nations signed the United Nations Millennium Declaration and enunciated its five Millennium Development Goals which included eradication of child malnutrition by 2015, Madhu Pandit Dasa and Chanchalapathi Dasa, and the trustees of ISKCON (including some of Bangalore's most prominent business leaders) promoted The Akshaya Patra ("inexhaustible vessel" in Sanskrit) Foundation to provide free cooked mid-day meals to 1,500 government school children in Bangalore. Since then, the foundation has steadily expanded its mid-day meals programme to reach 5.7 percent of Karnataka's government primary schools.
Prime objective. "Our objective is to inspire 230 similar public-private partnerships with state governments so that all children in primary education receive nutritious, hygienic and empowering mid-day meals," says Madhu Pandit Dasa, chairman of TAPF.
Other programmes. Apart from funding and managing the world's largest unofficial mid-day meals programme, TAPF has introduced a new 'Giving Every Dream a Chance' initiative which will provide continuous support to 100 selected mid-day meal beneficiaries and conduct mentorship programmes to fund their continuous education. The foundation also provides nutritious meals to anganwadi preschoolers, expecting and lactating mothers, runaway children and residents of old-age homes and also assists in disaster relief.
Future plans. "We plan to build three new mass-meals production kitchens and refurbish our 26 kitchens by 2017. In addition, we will expand our footprint across the country by partnering with as many states as possible for successful implementation of the mid-day meals scheme to reach 5 million children by 2020," says Madhu Pandit Dasa.
Magic Bus
Former chief operating officer of the leisure and travel tours operator Cox & Kings Ltd and co-founder of the travel portal cleartrip.com, UK-born Matthew Spacie founded Magic Bus, an NGO working on poverty alleviation in India, in 1999. Currently, Magic Bus has over 1,500 full-time employees in over 30 offices in five countries and an additional 10,000 volunteer mentors providing supplementary education to 400,000 underprivileged children in India through a widely-acclaimed activity-based curriculum. Jeswant M interviewed Spacie over email:
What's the history of Magic Bus?
I volunteered to work with Mother Teresa's Missionaries of Charity in Kolkata after completing my graduation in humanities at Nottingham Trent University, UK, in 1989. Eight years later, I was appointed Cox and Kings COO in India and subsequently co-founded Cleartrip in 2006, one of India's largest online travel companies.
I was also a member of the Indian rugby team which practised on Mumbai's Azad Maidan. At that time, I became friends with several street children from Fashion Street and one day, I invited them to join our game. From that first interaction, was born the idea of Magic Bus.
What are the prime objectives of Magic Bus India?
The prime motivation of Magic Bus is to help children and youth break out of the vicious circle of poverty and low literacy, and acquire livelihood skills. To this end, we make sure children get educated and acquire the skill sets they need to be able to fully access the job options available to them in this fast-changing world.
What are the foundation's major programmes and initiatives?
Magic Bus is one of the largest poverty alleviation programmes in India, working on 100 percent school enrolment, preventing children from dropping out of school and enhancing learning outcomes. We do this using an activities-based curriculum delivered through a cadre of volunteers in 2,500 poor neighbourhoods. When these children pass out of school, our youth-centred Livelihoods Programme helps build their employability skills. Most of our youth are first-generation salary-earners.
Women and girls on our programme often go on to have their own careers. We work towards ensuring that girls are also in the Magic Bus programmes and don't get drawn into child labour or child marriage, finish school and have a secure job when they grow up.
What are the foundation's future plans?
We want to ensure as many children as possible in India have access to this model of personal development.
Akshara Foundation
Founded at the request of the state government, Akshara Foundation was promoted in Bangalore in 2000 by former journalist Rohini Nilekani, to raise teaching-learning standards in government primary schools of Karnataka. Since then, through its supplementary literacy and numeracy programmes, it has improved learning outcomes of 1 million children in government schools across the state (pop.64 million).
Objectives. Akshara's prime objective is to ensure "every child in school and learning well". "To attain this objective, our efforts started by preparing children for education through a school readiness programme. Subsequently, we started to focus on the literacy and numeracy skills of children in government primary schools especially in rural Karnataka, which is now our focus area," says Ashok Kamath, an alumnus of IIT-Bombay and former IT professional (managing director (India) of the US-based Analog Devices), who quit his corporate career and was appointed chairman of Akshara Foundation in 2003. Currently, the foundation has a headcount of 110.
Major programmes. Through its preschool education programme for underprivileged children in the 3-6 age group, the foundation focuses on several domains for developing children's language and numeracy skills. Thus far, it has established libraries in 3,500 classrooms of government schools statewide to encourage children to develop the reading habit without teacher intervention.
According to Kamath, the foundation's current flagship programme is numeracy as "maths is one of the most feared subjects among children", with Pratham's Annual Status of Education Report (ASER) 2014 indicating that more than half of class V children in government schools countrywide are unable to solve maths problems of class II level.
"In an effort to bridge this growing learning gap, Akshara Foundation is involved with implementation of the state government's Ganitha Kalika Andolana (GKA) programme initiated in June last year, to improve numeracy of class IV-V children in government schools in six districts of the Hyderabad-Karnatak region. We have also developed new math teaching-learning materials and teacher training programmes," says Kamath.
Future plans. With the encouraging response to the GKA programme, Akshara intends to cover all government primary schools in the state impacting nearly 2 million children by 2020.
IIMPACT
Registered as an NGO in 2003 by Class of 1978 graduates of the Indian Institute of Management, Ahmedabad (IIM-A), IIMPACT addresses the challenge of educating girl children in remote, backward rural areas of the country. In 2013, IIM-A's Class of 1988 grads also signed up to take IIMPACT's mission forward. Currently, this Gurgaon-based NGO (annual budget: Rs.15 crore) runs brick-and-mortar Village Learning Centres provided by village communities for 53,000 girl children in 1,500 villages across 11 states countrywide.
Prime objectives. IIMPACT is wholly focused on dispensing primary education (K-V) to out-of-school girl children in the 6-14 age group. Its objective is to equip girl children with reading, writing and maths competencies.
Village learning centres. Over the past 13 years, IIMPACT has operationalised 1,500 learning centres in rural Rajasthan, Uttar Pradesh, Bihar, Haryana, Jharkhand, Odisha, West Bengal, Uttarakhand, Madhya Pradesh and Chhattisgarh. "We have devised a multi-grade multi-level pedagogy which allows children to enjoy the learning process. Over five years, we teach girls to read, write and calculate — from kindergarten to class V level in achievable stages — and students are also taught Hindi, environment science and English. In 2003, when IIMPACT started its first learning centre, it cost Rs.2,500 per year to educate a girl child. Thirteen years later, the cost has risen to Rs.3,500," says Nirmala Tandon, an alumnus of Allahabad University and former faculty at DPS, Gurgaon and honorary CEO of IIMPACT since 2012.
Over a decade IIMPACT has helped 17,000 girl children to complete primary school with most continuing their education in local government schools. "Our internal surveys indicate that our girl children are better prepared for upper primary schooling, have greater self-confidence, are less likely to marry early and a substantial number have become economically independent," adds Tandon.
Future plans. Expand operations within the 11 states in which IIMPACT is active by building more village learning centres, invest in capability building, especially teacher training, increase technology usage to streamline operations and improve efficiency, and aggressively tap CSR (corporate social responsibility) funds.
NGO Snapshots
ADAPT
Established. 1972 as the Spastics Society of India by Dr. Mithu Alur.
Objective. "To establish rights and entitlements for children, youth and families with disability. To introduce reformative action in policy and legislation so that all existing laws and services of education, health, welfare and employment are inclusive, thereby ensuring that the disabled who today suffer massive exclusion in the country are mainstreamed and employed and improving the quality of their lives."
Major programmes
Special education and inclusive educational services. Four education/therapy centres and a Skills Development Centre in Mumbai; autonomous Spastics Society regional centres in 24 states countrywide.
Community service. ADAPT's six anganwadis provide care and support to youngest children from 1,500 households in several Mumbai slums.
Training & pedagogy. ADAPT conducts training courses for teachers, therapists, community workers, parents and government officials — over 85,000 primary school teachers and 900 teachers and supervisors of the Central government's ICDS programme have been trained in Maharashtra.
Skills training. Over the past two decades, the National Job Development Centre has trained over 700 students — including students with disabilities — of whom 500 are gainfully employed.
Impact. Over 3,000 children and 10,000 families in Mumbai and over 100,000 countrywide have benefited from ADAPT initiatives.
AID India
Established. 1996 by a group of IIT and BITS alumni.
Objective. "To bring quality education to every child in Tamil Nadu".
Major programmes
• Paddipum inikkum ('learning is sweet'). Tamil reading skills programme introduced in 10,000 government schools with an aggregate enrolment of 450,000 children across Tamil Nadu.
• Eureka SuperKidz. After-school programme for 20,000 classes I-VIII children in 500 villages of 20 districts in Tamil Nadu.
• Eureka nursery and primary schools. Two schools established in Kanchipuram and Thiruvannamalai districts.
• Training of 500 teachers under the Eureka Teacher Training Programme.
• Eureka Books produces and distributes educational materials including books, practical learning kits, story cards and DVDs.
CARE India
History. First promoted in India in 1946 under the aegis of the Atlanta (USA)-based CARE International Confederation. In 2008, CARE India was registered as CARE India Solutions for Sustainable Development.
Objective. "To alleviate poverty and social exclusion by facilitating empowerment of women and girls from poor and marginalised communities."
Major programmes
CARE India's education programme is being implemented in 1,500 villages in ten districts of four states (Bihar, Odisha, Rajasthan and Uttar Pradesh). Direct intervention in over 1,000 government schools and 50 Kasturba Gandhi Balika Vidyalayas.
Over 6,000 teachers, anganwadi and government functionaries, and 200 community mentors have been trained by CARE India.
The GEP (Girls Education Programme) enables girl children to access community learning centres. The Udaan Residential Bridge programme is open to girl children from backward rural communities.
Digantar
History. Started as an alternative school in 1978 on the outskirts of Jaipur, subsequently registered as Digantar Shiksha Evam Khel Kud Samiti in 1987.
Objective. "Digantar was established with the belief that the purpose of primary education is to make children self-reliant and motivated learners."
Major programmes
Digantar Vidyalaya. Two Digantar Vidyalayas (schools) provide primary education to 488 children from the Kho Rabariyan and Bhawgargh Bandhya villages near Jaipur.
Teacher training. Digantar offers four-month residential training programmes and residential workshops for school teachers.
Shiksha Vimarsh (estb.1998) is a bimonthly Hindi language magazine focused on issues related to contemporary education pedagogies and practice, policies, problems, case studies, etc.
Room to Read
History. Established in 1999 by former Microsoft executive John Wood and Dinesh Shrestha in Nepal. Began India operations in 2003.
Objective. To create "a world in which all children can pursue quality education, reach their full potential and contribute to their community and the world."
Major programmes
Libraries. Established 7,311 libraries in government primaries in ten states (Andhra Pradesh, Chhattisgarh, Delhi, Himachal Pradesh, Jharkhand, Madhya Pradesh, Maharashtra, Rajasthan, Telangana and Uttarakhand). Trained teachers in these schools in library management.
Literacy Programme. Focuses on developing the reading skills of government primary school children in seven states countrywide.
Girls Education Programme. Supports school-going, adolescent girls from economically backward areas with life skills education, mentorship, learning materials and academic support. Thus far, 8,400 girl children have benefited from the programme.
Books. 175 book titles published in several Indian languages for children.
SMILE Foundation
Established. 2002
Objective. "To empower underprivileged children, youth and women through education, innovative healthcare and market-focused livelihood programmes."
Major programmes
Mission Education. Provision of basic education and healthcare to underprivileged children. Since 2002, the programme has positively impacted 200,000 children.
The Smile Twin e-Learning Programme. STeP is an employability initiative for underprivileged youth residing in urban slums and rural areas. Thus far 16,000 youth have been trained and 11,550 placed in over 140 businesses countrywide.
Smile on Wheels (SoW). A national mobile hospital programme for urban poor and under-served villagers which benefits 310,000 people annually. This NGO also runs child development programmes in 265 remote villages and urban slums countrywide.
Swabhiman. Focuses on girl children and women's empowerment — 150,000 girls and women covered.