Category: Acoustical Ceilings
Mumbai-based Armstrong World Industries India Pvt. Ltd. (estb. 1996) was a subsidiary of Pennsylvania (USA)-based Armstrong World Industries Inc, a global leader in designing and manufacturing innovative Acoustical Ceilings and Wall Solutions. Recently, the company's Europe, Middle East and Africa (EMEA) & Asia-Pacific (APAC) business was acquired by the Iphofen (Germany)-based Knauf Group.
Armstrong World Industries (India) Pvt. Ltd provides education institutions and corporates a wide portfolio of acoustical walls and modular ceilings in mineral, metal, wood and soft fibre which eliminate intrusive noise, increase concentration and create a relaxed environment conducive to teaching-learning. Currently, its products are installed in more than 500 education institutions across the country.
Leader, Armstrong Ceilings Solutions — India
P. V. Somasundaram
Executive Director and Head of Business in India & SAARC
"An engineering alum of Bangalore University, P.V. Somasundaram is Executive Director and Head of Business in India & SAARC for Armstrong World Industries (India) Pvt. Ltd. He has more than 25 years of experience in sales and business management, projects and product management, and channel network management with Indo Asian Fusegear Ltd, 3A Composites India Pvt. Ltd, and Moeller Electric GmbH."
Parameters
Product quality
Acoustical ceiling panels are certified in high sound absorption, attenuation and light reflectance value standards.
Assured product durability.
Products certified and compliant with global environment and fire safety standards.
Customer support
On-site hassle-free product installation by specially trained support staff.
Collaborative design and layout options.
Pre-construction budgeting and planning services.
Continuous project installation quality inspection.
Design
Mineral fibre ceilings with high recycled content of up to 74 percent.
Armstrong products offer a blend of aesthetics, functionality and sustainability.
Impact assessment
Acoustical ceilings and walls eliminate intrusive sounds and noise.
Quiet and tranquil environments enhance learning.
Noise reducing, light enhancing products are stress relievers.
First company to have its modular ceiling tiles listed in the 'Green Rating for Integrated Habitat Assessment' (GRIHA) product catalogue.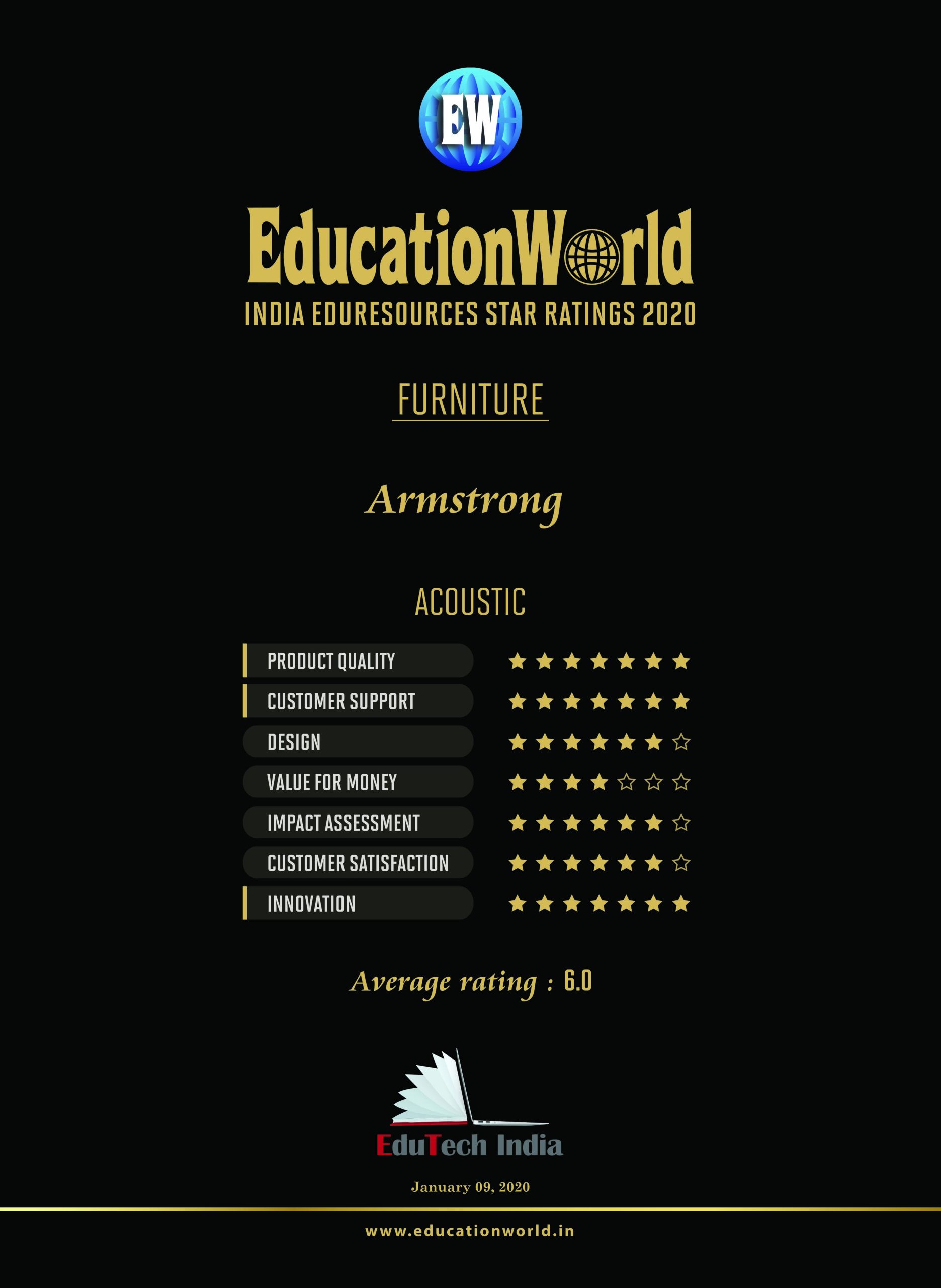 Customer satisfaction
"If we pay proper attention to acoustics of classrooms and auditoriums while designing educational institutions, we can greatly improve teaching-learning and student outcomes." – Prof. Neeraj Gupta, dean, department of architecture, Central University of Rajasthan.
"Good acoustics is fundamental to design of excellent auditoriums, classrooms and lecture halls, and greatly enhances academic instruction and stage performance." – Rajiv Mishra, director, Sir J.J. School of Architecture.
Value for money
Extensive design options and choice of materials.
Customer service networks across the country.
Durability of up to 20 years and cost-effective.
Innovation
Ceiling tiles ensure high sound absorption, attenuation and light reflectance.
Ceiling tiles made from eco-friendly raw materials.
Decreased carbon footprint through durable products.
Improves construction efficiency through energy and labour-saving solutions.
Contact details
www.knaufarmstrong.in
helpdeskindia@knaufarmstrong.com
Phone: 1860 266 7080; +91-22-6285 0800 (Board Line)
Also read: Life Educare | EWIER 2020 Series