In this booming metro which retains some of its charm in several wards and suburbs, a multiplying number of new genre internationally benchmarked preschools have sprung up to meet the demand of its expanding middle class population. Here are Bangalore's best preschools 2018-19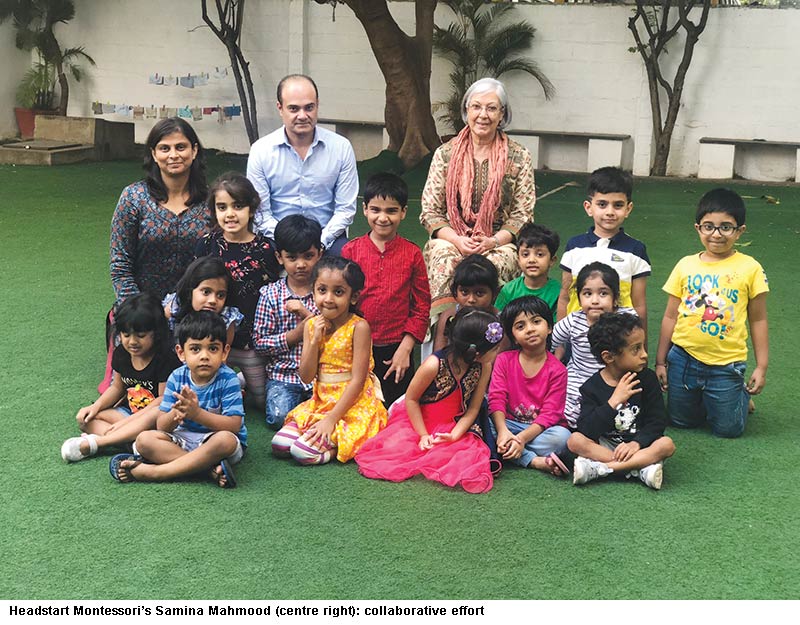 Widely known as the Silicon Valley of India for the several large multinational IT (information technology) software and hardware companies it hosts, once salubrious Bangalore, hitherto known as the garden city, from where this struggling advocacy publication with the mission to "build the pressure of public opinion to make education the #1 item on the national agenda" is published, has rapidly transformed into a traffic-choked, misgoverned metropolis (pop.12 million) which has earned it the pejorative sobriquet of garbage city.
Nevertheless its cluster of IT companies continues to attract a stream of well-qualified technical professionals intent on making it big in established IT firms and technology start-ups, which are mushrooming in this beleaguered metropolis. Consequently, a large and multiplying number of new genre internationally benchmarked preschool to university education institutions have sprung up to meet the demand of its expanding middle class population.
Given the low age profile of the majority of IT professionals who have set up home in the booming city, a host of pre-primary schools delivering globally benchmarked early childhood care and education (ECCE), which is exempt from the graft-ridden regulatory supervision of the state's education ministry, have proliferated in all neighbourhoods of this bustling metropolis. Intense competition between them has raised the standard of privately dispensed pre-primary education to unprecedented levels of excellence. Inevitably, ECCE delivered by the Central and state governments to children of bottom of the socio-economic pyramid households through government anganwadis is an area of darkness.
Proprietary preschools
In the annual EW Bangalore proprietary preschool league tables for the past five years, competition for the top spot has been limited to the vintage Head Start Montessori, Koramangala (estb. 1984) and new new genre Neev, Indiranagar and Indus Early Learning Centre (IELC), Whitefield. Currently five upscale Neev preschools promoted by Harvard Business School alumna Kavita Sabharwal, and two IELC pre-primaries promoted by the Indus Trust (estb. 2003) constituted by Silicon Valley entrepreneur Kumar Malavalli and Bangalore real estate magnate Sushil Mantri among others, which has also promoted the IB (Geneva)-affiliated Indus International Schools in Bangalore, Pune and Hyderabad, are ranked among Bangalore's 42-strong proprietary preschools.
Typically, Samina Mahmood, an alumna of North Bengal and Northampton universities and London Montessori Centre — who promoted Head Start Montessori, Koramangala (HSMK) which has 400 children (in two shifts) nurtured by 30 teachers on its musters, and enjoys a 5:1 applications-admissions ratio, 34 years ago — is unenthused about HSMK regaining its #1 ranking in Bangalore. "There are a large number of children in this city that need early childhood education and every school is doing its bit. We prefer to regard them as collaborators who need to encourage each other," says Mahmood, who nevertheless admits to deriving special satisfaction that HSMK is ranked #1 under the parameters of teacher competence and teacher welfare and development because it's "their commitment to children that keeps our institution going."
With three Neev and two Indus Early Learning pre-primaries catering to the upper crust households of the SEC (socio-economic category) 'A' voted to the Top 10 table, the 790 sample respondents of Bangalore have allotted the other seats at top table to Greenwood High, Whitefield ranked #4 (3), Oi Playschool, HSR Layout #6, Vidyasagar Preschool, Bhoopasandra #7 (8), Legacy Early Years, Whitefield #8 (unranked), Fun & Learn, RT Nagar #8 (7), KLAY Prepschool & Day Care, Prestige Pegasus #9 (6), and Green Dot Montessori, Hosur Road #10 (11).
"We are very pleased that your sample respondents drawn from Bangalore's informed public have voted us to the EW Top 10 table of preschools in the city this year. In Legacy Early Years (LEY) we focus on providing our children individualised education through active collaboration between parents and teachers and our innovative curriculum. We believe the early 0-6 years are very important. It's the period when children's brains are thought to be like sponges, soaking up and taking in information very quickly. At two-plus a child has around 1,000 trillion brain connections aka synapses — the most they will ever have in their life. Therefore, youngest children need to be actively engaged in meaningful experiences, 'hands-on, minds-on'," says Lalitha Chacko, an English literature and education management alumna of Delhi and Annamalai universities and former senior manager in the Taj group of hotels (1981-1997) who switched tracks to teach at the Manovikas School, Margao, Goa (1997-2001) and was appointed founder-director of LEY, Whitefield in 2014. Currently, this upscale preschool has 65 children and six teachers on its muster rolls.
Further down the 42-strong list of Bangalore's sufficiently well-known proprietary preschools, most have ceded rank because of the promotion of new, avant garde pre-primaries to the Top 10 table. Among the few which have improved their ranking in 2018-19: Kara4 Kids, Indiranagar #18 (23), Safari Kid, Whitefield #20 (21) and First Steps, Cunningham Crescent Road #21 (24).
Franchised preschools
Although this year's franchised preschools Top 5 table has three new entrants, the #1 rank has been retained by Seed International, OMBR Layout (SIOMBR) for the third year in succession. A franchisee school of the Chennai-based SEED Group of 40 pre-primaries which dominate the Chennai preschools league table 2018-19, SIOMBR, promoted by R.K. Deepalakshmi, an alumna of NIT, Trichy and former Citibank, Tokyo manager, heads the Bangalore franchised preschool league table by a wide margin. It is ranked #1 under eight of the ten parameters of early childhood care and education excellence, viz, teacher competence, teacher development, infrastructure, individual attention to students, value for money, parental involvement, safety and hygiene and leadership.
"We are very encouraged that your well-informed sample respondents comprising preschool parents, principals and teachers in Bangalore continue to have high regard for SIOMBR. Our efforts to provide our children the best early childhood care and education pedagogies in a safe and nurturing environment are driven by the adage 'Believe in what you do and do what you believe in' spirit. We truly believe in gifting every child a memorable early childhood experience. I presume that word about our preschool education has spread. Hence our consistently high ranking," says Deepalakshmi, who adds that the parameter she accords highest value to is 'individual attention to students'. "If full attention is given to this best practice, high scores under all other parameters are inevitable," says Deepalakshmi.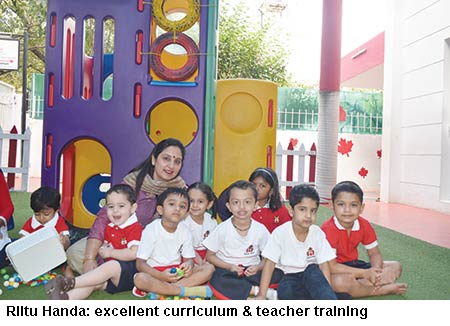 Currently SIOMBR whose applications to admissions ratio is 3:1, has 100 children nurtured by eight teachers. Riitu Handa, a home science and HRD postgrad of Bangalore University who acquired over 15 years of teaching experience in the Navy and Air Force schools in Mumbai and Delhi prior to promoting the Maple Bear Canadian Preschool, Dollars Colony, RMV Extension (MBCPDC) in 2013, is thrilled with the great leap forward in public esteem of MBCPDC, which has been promoted from #7 in 2017-18 to #2 this year. "I would like to convey my deep sense of gratitude and thanks to your Bangalore sample respondents for recognising and honouring us," says Handa, who attributes this vote of confidence to the five-year-old pre-primary to "a stress-free and joyful learning environment, parental involvement, high quality teachers who receive continuous training, and utmost importance to safety and security". "However the prime factor is the excellent and easy to implement curriculum and teacher training programme that we receive from Maple Bear Canadian," she adds.
Recommended: Hyderabad's most admired preschools
The mix of jubilation and gratitude is even greater in the previously unranked Podar Jumbo Kids, Frazer Town which has been given a place of honour at the Top 5 table in 2018-19. "We are elated that PJKFT is ranked among the
Top 5 franchised preschools of Bangalore. It is indeed a great leap forward for us. This high ranking and widespread recognition will surely motivate all of us at PJKFT to continue to improve the quality of early childhood education that we provide to our children. However, a substantial share of the credit for our high debut ranking needs to be accorded to our franchisor Podar Jumbo Kids, Mumbai for providing us its well-researched curriculum based on the Early Years Foundation Stage Practice (UK) which promotes inquiry and experiential learning, aesthetic and creative development, outdoor learning experiences, science, information and communication technology," says Shara Chellani Sawhney, a commerce graduate of Bangalore University with an MBA from the London Business School and former managing director of the Bangalore-based Sharavathy Petrochemicals Pvt. Ltd. In 2006 Sawhney switched tracks and promoted PJKFT. Currently, this high-potential preschool has 85 children nurtured by eight teachers on it muster rolls.
Beyond the Top 5, there's also a major rejig in this year's table of Bangalore's most admired franchised preschools. EuroKids, RMV Extension #6 (12), Oi Playschool, HRBR Layout #8 (25), Podar Jumbo Kids, Jayanagar #9 (29), Podar Jumbo Kids Plus, Whitefield #10 (30) and PJK, BTM Layout #10 (30) have all advanced in estimation of the informed Bangalore public. Ditto PKJ Plus, Vijaynagar #11 (24), EuroKids, 7th phase, JP Nagar #14 (15), Maple Bear Canadian, Kasavanahalli #16 (28) and PJK, Kanakapura Road #15 (unranked) who have all risen substantially in the EW franchised preschools league table 2018-19. Overall, 15 PJK, four Maple Bear, nine Oi and six EuroKids preschools are included in the 39-strong franchised preschools league table of this year.