With its liberal outward looking culture and capability to quickly adopt best industry and business practices, India's commercial capital was also quick to take to professionally administered early childhood care and education
India's commercial capital and the country's most respected epicentre of business and finance, the western seaboard city of Mumbai, aka Bombay (pop. 18 million), which prides itself on its liberal, outward looking culture and capability to quickly adopt best industry and business practices, was also quick to take to professionally administered early childhood care and education (ECCE). Pioneer proprietary preschools such as West Wind, Breach Candy (estb.1947) and Besant Montessori, Juhu (estb.1948) among others, began offering professionally managed ECCE long before the critical importance of pre-primary education had impacted the collective conscious of educators and the public.
Proprietary Preschools
Although a large number of new-age pre-primaries promoted by well-qualified young professionals have mushroomed in Mumbai whose population has ballooned to 18 million, it reflects well on the city's hugely expanded middle class that it hasn't abandoned its pioneer pre-primaries in favour of the new. Thus for the past four years, the vintage Besant Montessori, Juhu (estb. 1948) has been voted this go-getting metropolis' #1 proprietary preschool followed by the new Alpha Kids International (estb. 2009) which has risen substantially in the esteem of Mumbai's informed public and is ranked #2 (4) this year.
"We are delighted to learn that Besant Montessori has again been adjudged Mumbai's #1 pre-primary in the proprietary category. I would like to thank EducationWorld and your sample respondents for once again trusting our work and effort to provide high-quality age-appropriate education to our children. We attribute our success to the exemplary cooperation between our parents and teachers and appreciation and encouragement from our trustees. Besant Montessori was founded 70 years ago by educationist Tehmina Wadia. I am very pleased that we have been able to build on the strong foundation she provided this school, and have maintained the high standards of early childhood education that she set for us," says Dolly Wadia who started as a teacher of this pioneer preschool in the 1950s and was appointed director in 1991 after the demise of Tehmina. Currently, this top-ranked pre-primary has 150 children and 15 teachers on its muster rolls.
Although Besant Montessori has steadfastly retained its #1 ranking, there is a substantial reordering of seating at the Top 5 table. This year's 704 sample respondents in Mumbai have double promoted Alpha Kids International (AKI),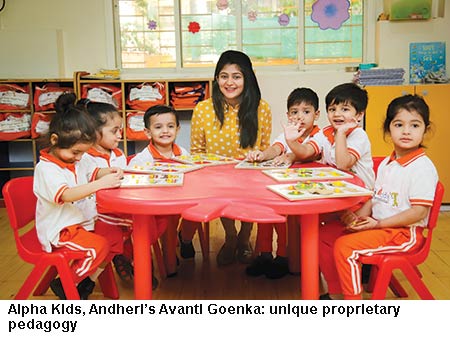 Andheri (W) ranked #4 last year, to #2 in 2018-19. "Being ranked among the top two preschools of Mumbai is a tremendous morale booster for our management, teachers, staff and parents. It will definitely motivate our entire team in AKI to maintain the momentum to reach great heights in Mumbai and five other cities in which we have over 20 affiliated preschools. The credit for this achievement should accrue to our management team which has stood with us for the past ten years," says Avantika Goenka, director of AKI.
Goenka ascribes the steady rise of AKI in the Mumbai league table to this pre-primary's unique patented, proprietary pedagogy branded Asteria ("of the stars" in Latin). "Our Asteria pedagogy is based on the philosophy that all children are stars and should be given every opportunity to shine. This pedagogy enriches the IQ (intellectual quotient), EQ (emotional quotient) as well as the SQ (spiritual quotient) of children. The objective is to teach the qualities of empathy, gratitude and responsibility to children in the youngest age group, to give them a good start towards becoming responsible citizens of our rapidly globalising world. Our improved ranking is primarily because of the good reputation of our Asteria curriculum," says Goenka, an alumna of Emory University (USA) who promoted AKI in 2009. Currently, this fast-rising preschool has 100 children and 25 teachers on its muster rolls.
Star players in the 2018-19 Mumbai league table of proprietary preschools are Kookaburra, Juhu Road and WittyWorld, Goregaon (W) whose reputation for excellent globally comparable pre-primary education has zoomed upward in recent years. This year, Kookaburra, ranked #9 in 2016 and #6 in 2017-18, is ranked #2 while Witty World, Goregaon which was unranked in 2016 and #8 in 2017-18, is ranked #3 this year. Widely reputed for their superb infrastructure and excellent play-learn facilities, these avant garde proprietary preschools have also been awarded high scores under the parameters of teacher competence, innovative teaching and safety and hygiene.
"I am very pleased to learn that Witty World, Goregaon (W) has been promoted from #8 in 2017-18 to #3 this year by your well-informed sample respondents. While we have invested heavily in infrastructure development to make our four preschools in Mumbai child-friendly and welcoming institutions, it's a pleasant surprise to learn that there is growing public appreciation of our well-trained teachers, innovative teaching of global best practices and maintenance of safety and hygiene. This sharp promotion in the EW rankings is highly motivational and an indicator that we are progressing on the right path. It will encourage us to aim for the top position in coming years," says Dr. Raina Jain, co-founder (with the well-renowned educationist and motivational speaker Dr. Vinay Jain) of the 10 Witty World schools, including seven preschools in Mumbai and Rajasthan which have 4,900 students and 550 teachers on their muster rolls. Witty World, Goregaon (W) has an enrolment of 200 children nurtured by 45 teachers.
With the dramatic rise in public esteem of Alpha Kids, Kookaburra, WittyWorld and also Spring Buds International, Juhu ranked #4 (6), there's been a major shuffling of seating in the Top 10 table of Mumbai's proprietary preschools this year. Podar Jumbo Kids, Khar at #5 (3), Kangaroo Kids, Bandra #5 (2), West Wind, Gamdevi #6 (2), Little Bo Peep, Khar (W) #6 (4) and Saifee Nursery, Malabar Hill #7 (5) have been obliged to cede considerable ground. SIS Prep, Churchgate #7 (16) and SNDT Laboratory Nursery School,, Santa Cruz #8 (13) have been promoted to the Top 10 table which also includes The Courtyard, Tardeo #9 (10) and Budding Blossoms, Malad which has retained its #10 rank. The previously unranked Just Kiddin International, Powai #10 and Kids 'N' Krayons, Lokhandwala (Andheri) #10 (14) complete the top table.
Further down the 51-strong league table of Mumbai's sufficiently well-known pre-primaries, several have improved their rankings this year. Among them: Witty World, Borivali (W) ranked #14 (20), Ryan Shalom, Kamothe #15 (17), Happy Minds International, Bhandup at #18 (22) and Youngin International, Vikhroli (W) #19 (27).
Moreover, a host of newly-promoted preschools have debuted in the EW India Preschool Rankings 2018-19 league table albeit in the bottom half. This means that they are sufficiently well-known by the educationally aware Mumbai public. This augurs well for the spread of professional early childhood care and education at all price points and will intensify public pressure on the state government to also focus on the improvement of ECCE in anganwadis and local government schools of India's commercial capital.
Franchised preschools
Following liberalisation and deregulation of the Indian economy in 1991 when internationally benchmarked preschool chains such as Kangaroo Kids and EuroKids entered the Indian market, it was natural for them to establish their head offices in Mumbai. Subsequently indigenous franchisors of preschool education such as Kidzee (1,900 franchisee preschools) and Podar Jumbo Kids (102) also established their head offices in Mumbai.
Therefore it's unsurprising that the Top 10 table of Mumbai's most respected franchised schools is crowded with pre-primaries franchised by these chains most of whom also run their own preschools and provide licenced franchisees well-developed and tested curriculums and teacher training programmes. Licensee preschools are permitted to use their well-established brand names and are spared the pains of curriculum and teacher development on payment of negotiated annual fees.
This year's Top 10 table of franchised preschools in the country's commercial capital is headed by Kangaroo Kids (KKC), Chembur which has been voted Mumbai's #1 pre-primary in this category for the third year consecutively. It is followed by EuroKids, Lokhandwala (Andheri) promoted to #2 (from #4 in 2017-18), Podar Jumbo Kids, Andheri (E) ranked #3 (2), Kangaroo Kids, Kandivali (E) #4 (3) and Kangaroo Kids, Parel #5 (6).
The remaining places at top table are also distributed among franchisees of these four chains. In this year's franchised preschools league table which comprises 18 schools, Kangaroo Kids has four licensed affiliates, EuroKids four, Kidzee three and Podar Jumbo Kids five.
"Several decades ago, Dr. Maria Montessori said: "The goal of early childhood education should be to activate the child's own natural desire to learn". This has been our watchword from the day we admitted our first batch of children ten years ago. The culture at KKC isn't 'education' of our children but promotion of their health and well-being and inherent desire to learn. We are provided an excellent curriculum by our franchisor who also provides excellent teacher training. Moreover for our Joeys (baby kangaroos) to learn joyously at their own pace in a nurturing well-equipped environment, we maintain a teacher-pupil ratio of 1:6. Quite obviously, KKC has been given excellent references by our satisfied parents because we never advertise ourselves. This is the secret behind our success," says Reshma Kukreja, a commerce graduate of Mumbai University, who promoted Kangaroo Kids, Ghatkopar in 2003 and KK, Chembur in 2008. The two pre-primaries have 95 children mentored by 18 teachers and 80 children mentored by 13 teachers respectively.
Priya Mittal, an English postgraduate of Mumbai University and franchisee of EuroKids, Lokhandwala, Andheri (EKL estb. 2003) is "delighted and overwhelmed" that her preschool ranked #4 in 2017-18, is runner-up this year. "This promotion is the result of our additional effort to improve our ranking during the past two years. This additional effort has been appreciated by our parents body and the subsequent positive word-of-mouth publicity we have received from them has been acknowledged by your sample respondents. In EKL we nurture tiny tots to develop their social skills, deal with separation anxiety, inculcate moral values and encourage them to improve their communication skills in a joyful, non-stressful environment. Moreover, we have designed enjoyable outdoor play activities and organise field trips to develop the motor skills of our children. Our teachers accord prime importance to individual attention to every child, and safety and hygiene as reflected in the top rating given to EKL under these parameters," says Mittal.
And further down the 18-strong league table of Mumbai's sufficiently well-known franchised preschools, the previously unranked Chip & Dale Preschool, Mulund (W) has made an impressive debut at #11. "Our inclusion in EducationWorld's list of Mumbai's best franchised preschools has come as a pleasant surprise. We are encouraged by this recognition and will strive to improve our ranking year by year. We describe Chip & Dale Preschool as a nurture school in which the highest priority is accorded to providing personal attention and care to each child. We ensure that each child learns and develops holistically in an exciting and caring environment," says Pooja Haria, a commerce postgraduate of Mumbai University and centre head of Chip & Dale, Mulund (estb. 2007) which has an aggregate enrolment of 102 children nurtured by 15 teachers.