In the recently published EducationWorld India School Rankings 2017-18, BCGS, which has an enrollment of 4,100 students mentored by 150 teachers, was ranked the #1 girls day school in Bangalore and Karnataka, and #11 nationally – Sruthy Susan Ullas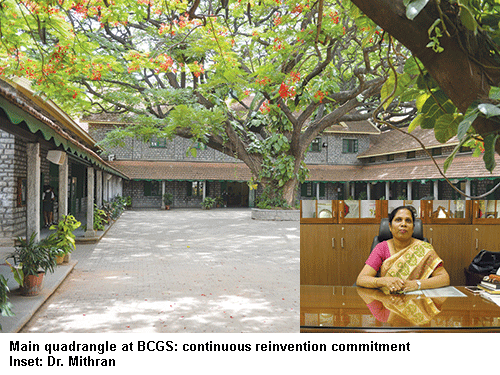 Long before the IT revolution put the sleepy city of Bangalore on the global technology map, and new age international schools transformed its education landscape, quaint olde world Christian missionary schools dominated this once garden city. Among them, the 152-year-old Bishop Cotton girls and boys schools in the heart of Bangalore, were acknowledged as model K-12 institutions for delivering high-quality academic, co-curricular and sports education. Though over the past quarter century, several co-ed high-end international schools have stolen the thunder of single sex education institutions, there's no shortage of parents who vouch for the excellent holistic education offered by the Bishop Cotton schools.
And with many conservative households in the city still preferring to send girl children to all-girls schools, the Bishop Cotton Girls School (BCGS, estb.1865) is a much sought-after institution, with the ratio of admission applications to vacancies at 3:1. Over the past 152 years, this K-12 school, affiliated with the Council for the Indian School Certificate Examinations (CISCE), has acquired an enviable reputation for offering wholesome education combining time-tested traditions and pedagogies with contemporary technologies. In the recently published EducationWorld India School Rankings 2017-18, BCGS is ranked the #1 girls day school in Bangalore and Karnataka and #11 nationally. Currently, the school has an enrollment of 4,100 girls and 300 staff including 150 teachers.
"BCGS has a rich legacy of education excellence. For over a century, we have delivered academically rigorous, well-rounded education to girl children. While we value our established traditions, the schools management has been receptive to 21st century pedagogy and technological advances. For instance, our school was one of the first in the country to establish a multi-media centre with overhead projectors, audio-visual systems and networked computers. Our commitment to continuously reinvent ourselves to nurture competent, sensitive and responsible young women has enabled us to provide foundational K-12 education to hundreds of thousands of school-leavers who have risen to high office in business, industry and public life", says Dr. Lavanya Mithran, an alumna of Sri Venkateswara University, Tirupathi, who served as principal of the Modern English School and RJS group of Institutions, Bangalore before being appointed principal of BCGS in 2015.
Although this pioneer girls school prides itself on dispensing balanced holistic education, academic excellence is given high importance. In the 2017 ICSE class X exam, the schools students averaged 80.5 percent while the average in the class XII ISC exam was 81 percent. The alumni roll call of the school is equally impressive and includes strong can-do women such as the late J. Jayalalithaa, former chief minister of Tamil Nadu, biotech entrepreneur Kiran Mazumdar Shaw, acclaimed gynaecologist Dr. Kamini Rao, and Indira Jaisingh, former additional solicitor-general of India, among others.
Founded in 1865 as a co-educational school by the Rev. S.T. Pettigrew, then chaplain of the imposing (Anglican) St. Marks Cathedral, for the education of European and Eurasian children, this archetype British public school was named after the then Bishop of Calcutta, the Rt. Rev George Edward Lynch Cotton, who mooted the idea of building a chain of quality public schools across the country. In 1911, the girls section was separated from the co-ed school and buildings were constructed on the then thickly wooded 8.8 acres of land within walking distance of the boys school.
Since then, successive managements of BCGS have gradually built a sturdy infrastructure for the school which has steadily expanded operations. Today, the school's still green campus in the heart of Bangalore which hosts heritage buildings reminiscent of the British era, offers 120 classrooms, a 200-seat lecture hall, an 800-seat auditorium, a library housing 30,000 books, separate physics, chemistry, biology and home science labs and an ultra-modern biotechnology lab with equipment for DNA extraction, isolation of protein, bacterial culture and blood grouping. Moreover the school boasts a computer lab with 275 desktops of which 100 have Internet access, apart from a Science Park.
The school also offers limited board and lodging for girls from India and abroad. Sports facilities include an indoor swimming pool, basketball court, hockey field and a seven-stage multi-gym. Special coaching is offered in hockey, basketball, aerobics, tennis, karate and athletics with BCGS having nurtured several hundred national level players in hockey, basketball and swimming.
According to Mithran, great emphasis is also given to co-curricular education. The school boasts two choirs, a full-fledged orchestra, theatre, creative writing classes, and students routinely participate in the prestigious Outlook Debate, debates of the British Council and the Albert Barrow Creative Writing Competition.
Though ranked among the country's top all-girls day schools, Mithran believes that to remain "relevant and in step with modern times", BCGS has to continuously improve. "Our next mission is to go global. Every year more than 15 foreign universities come to our campus, and our students have won fully-paid scholarships to the best universities abroad. However, to maintain our excellent reputation, we are well aware that we cannot rest on our traditions and past laurels, but must keep changing with the times", says Mithran.
ADMISSION & FEES
Bishop Cotton Girls School is a K-12 CISCE-affiliated school. Application forms for admission into kindergarten can be obtained online from the first week of January. Admission into other classes is against vacancies.

Fees: Rs.133,000-140,000 per year

For further details email [email protected];

website: www.bishopcottongirls.com
Also read: India's best girls boarding schools 2020-21