-Riya Ganguly
Could you ever imagine watching an extreme ironing tournament? Or perhaps gearing up for a fresh round of chess boxing? Irrespective of how absurd they may sound, these are real sports played in various parts of the world!
We are constantly surrounded by fans of mainstream sports such as cricket, football and basketball. However, the extreme devotion of crazed fans to the sport of their liking often takes the spotlight away from several other unique sports which dominate several other parts of the globe. While lesser known but nevertheless acknowledged sports such as kabaddi, lacrosse and curling have gained popularity over the years due to their emerging representation in media, there is a whole world of games employing equipment as bizarre as snowballs, cheese and iron. Here are some of the most bizarre sports played around the world:
Chess Boxing
Chess boxing is a unique sport which combines the intelligence of chess with the physicality of boxing to create a hybrid sport with its own set of rules. Invented and adapted by French comic book artist Enki Bilal and Dutch artist lepe Rubingh, the sport is conducted within a boxing ring where contestants play 11 alternating rounds of boxing and chess with a 12-minute clock. Played since 1992, the sport has become popular in various parts of the world such as United Kingdom, Russia, India, Germany and Netherlands.
Extreme ironing
Who says ironing has to be a mundane chore? Extreme ironing challenges participants by requiring them to carry ironing boards to remote and unusual locations – such as mountain cliffs, underwater, suspended in the air in skydiving or parachuting – while ironing their assigned laundry. Invented by Tony Hiam in 1980 in England to demonstrate the futility of the household chore, the joko-serious danger sport demonstrates, as put by the Extreme Ironing Bureau, the physical prowess of the contestants amidst the "thrills of extreme outdoor activity" along with the "satisfaction of a well-pressed shirt".
Wife Carrying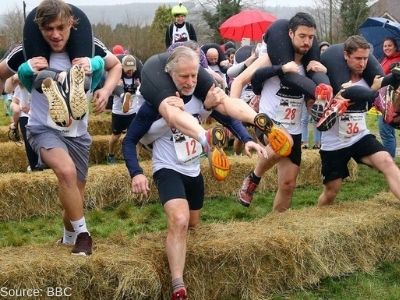 This bizarre sport originated in Finland where the male competitors have to successfully clear an obstacle course while carrying their female partners over their shoulders. First played ever in 1992, the unusual sport is made additionally ludicrous as the winners are awarded with their partner's weight in beer! The sport is played in various European countries, USA and India (as seen in 2015 film Dum Laga Ke Haisha) and has a Guinness Book of World Records entry for "Most Wife Carrying World Championships by a man".
Bossaball
A quirky sport of Belgian origins, Bossaball is the ideal sport of every child glued to trampolines and inflatable castles. The sport is played between two teams propelled on an inflatable court bearing trampolines, as players attempt to keep the ball in the air using their hands and feet to prevent it from touching the court while the "samba referee" plays upbeat music throughout the match. Invented in 2005 by Filip Eyckmans, seven international bossaball championships have been conducted since 2007 as the sport hybridizes elements of volleyball, football, gymnastics and music.
Yukigassen
This beloved Asian sport is a winterland wonder for contestants, as two teams of seven players each battle one other in an epical snowball-fight. Originated in Japan, "Yukigassen" literally translates to "snow battle" and has spread over to other parts of the world. The rules of the sport are governed by the Japan Yukigassen Federation, and World Championships are held annually in Hokkaidō, Japan. A number of other tournaments are also held in countries across the globe including Russia, Australia, Alaska, Canada and Finland.
Competitive Sleeping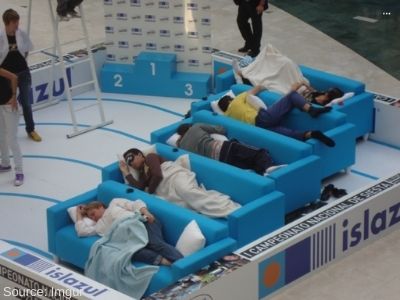 A clinophile's dream come true, competitive sleeping is perhaps the strangest sport to exist which announces winners based on their ability to speed-sleep along with a curious variety of other factors such as sleeping posture, duration and snores. First played in 1988 in California, competitive sleeping spread globally as the first "National Siesta Championship" was held in Spain (2010) right in the center of a bustling and busy shopping mall at midday.
Also read: Animal oracles in sports