Sprawled over 17 green acres amidst the undulating hills and valleys of the scenic town of Sandur, BKG Global School aims at providing quintessential passport to greater opportunities through contemporary English-medium schooling to citizens of north Karnataka.

Bandana Brahmin
Spread over 17 green acres in the picturesque town of Sandur, once the epicentre of Karnataka's mining boom in Bellary district, the mint new BKG Global School (estb. 2018) is a state-of-the-art English-medium day-cum-boarding school set to redefine K-12 education in north Karnataka. The idea of a world class school in Sandur was conceived by Late Shri. B. Kumargouda (1944- 2009) and actualised by his wife Smt. B. Kamalamma, founder, BKG Global School, and his son Shri. B. Rudragouda, chairman and managing trustee of Sandur based BKG Group of Companies with interests in iron-ore mining, granite, heavy earth moving machinery, etc. The school is a tribute to Shri. Kumargouda, founder of the BKG Group, who believed that provision of high-quality education was the prerequisite of economic development. The objective of BKG Global is to provide quintessential passport to greater opportunities through contemporary English-medium schooling to citizens of north Karnataka.
"Founded on timeless old-world values and traditions, BKG Global School is realisation of the dream of a family passionate about giving back to the society. The lack of high-quality English-medium education in north Karnataka has been a serious impediment to the development of human capital in the region. Building upon my father's philanthropic vision, I believed that providing high-quality education is the best way to enable social and economic development. BKG Global is modeled on India's best schools and is committed to providing contemporary pedagogies, world class amenities and sterling teachers. The school's philosophy is based on three questions: Why are we teaching? What are we teaching? How shall we teach? Our objective is to nurture not only academic competence but also responsible and socially committed citizens with respect for Indian culture and values," says Rudragouda, chairman and managing trustee of BKG Global School and BKG Foundation (estb. 2010).
An arts graduate of Gulbarga University, Rudragouda joined the family's mining business immediately after graduation. In March 2006, after obtaining a mining lease from the Karnataka government, he started full-fledged mining operations in the Swamimalai Block of Bellary district's Sandur sub-division, under the banner of BKG Mining Pvt. Ltd. Starting from production of 5 lakh tonnes of iron-ore per year, BKG Mining recorded 2 million tonnes of iron-ore per year in 2010-11. Keeping with its motto 'Sustainable, scientific and eco-friendly mining', the company — recognised as a Category 'A' mine by the Central Empowered Committee appointed by the Supreme Court of India in 2012 — has achieved the highest ISO standards in environment impact, quality, and health and safety of the Bureau Veritas, a global leader in conformity assessment and certification services.
Sprawled over 17 green acres amidst the undulating hills and valleys of the scenic town of Sandur,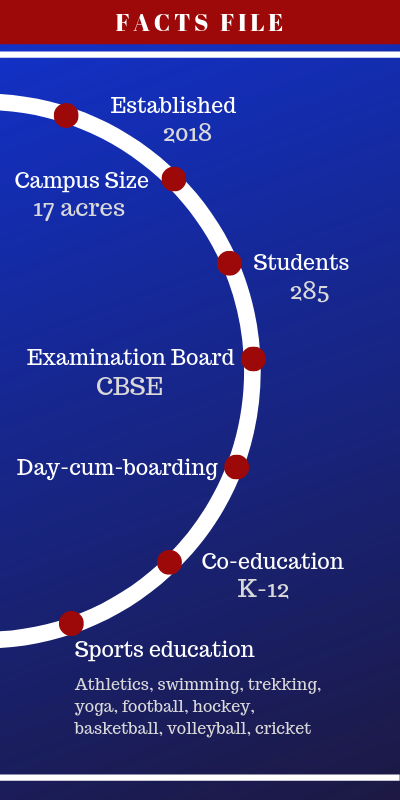 the co-ed BKG Global School hosts globally comparable infrastructure to enable holistic 21st century education. The school's state-of-the-art infrastructure, spread over a built-up area of 3,00,000 sq. ft., includes 98 spacious multimedia enabled classrooms with podiums, a well catalogued library with an impressive collection of print volumes and digital resources, well-equipped modern science, maths and computer labs, a research centre, an astronomy centre, an activity lab, a science park, a life-skills studio, a Montessori lab, among a host of other academic facilities.
The school's equally impressive sports infrastructure includes a half-Olympic size swimming pool, splash pool, 400 metre athletics track, a playground with facilities for cricket, football, throwball, volleyball, basketball, hockey, kabaddi and kho-kho, among others.
Excellent pastoral care is provided to the boarders who are housed in two separate well-designed hostels for boys and girls with a combined capacity to accommodate 520 students of classes VIII through XII, to be scaled up further to 1140 boarders. The school's modern 1,000-seat dining hall offers vegetarian, non-vegetarian and Jain menu options. The school's aesthetically designed campus also houses a 1,200-seat open-air auditorium, a 550-seat indoor auditorium, a heritage centre, zoological garden, nature park, well-appointed staff quarters and guest rooms for parents, guardians and visitors.
The school's academic partners include LIFE Educare, a Delhi and Raipur-based K-12 education consultancy company led by educationist Dr. Dhirendra Mishra which has so far aided the set-up of over 40 greenfield schools in tier II-IV cities across the country.
Over the years, BKG Foundation has been at the forefront of launching several community service initiatives including:
Annual eye-care and operation camp for the local population.
"Swachh Sandur Abhiyaan" – an initiative to provide garbage bins in public places, schools and government offices.
Construction of separate toilets for boys and girls and borewells in government schools and in nearby villages.
Financial assistance for higher and sports education of talented local youth, and medical assistance for senior citizens.
Installation of street lights in nearby villages of Susheelanagar, Jaisingpur, Siddapur and Venkatagiri.
Creation of a medicinal plants garden that nurtures 140 plants species.
Tree protection and plantation drives in and around Sandur, Hampi and Bellary in partnership with the local forest department.
"Over the past decennium, BKG Foundation has led several community service initiatives in the region and the establishment of BKG Global School further underscores our commitment to social welfare. In our very first year BKG Global has admitted 136 pre-primary-class VIII students and the school has received excellent public response and feedback. This is very encouraging and motivates us to continuously improve quality and standards. In the next few years, we plan to add more variety to the sports and co-curricular education menu and also offer career counselling and guidance. Moreover, the foundation has plans to launch a vocational skills centre to impart diploma level training in mining and metallurgy," says Rudragouda.
Campus
,
News