-Bhupinder Gogia, Principal, Sat Paul Mittal School, Ludhiana
The only reason Indian education managed to survive the unimaginable disruption of the pandemic years is because it adapted and changed. With in-person schooling starting in April 2022, we can safely assume that the worst is behind us. There's no denying that the pandemic left a deep impact on students of all age groups but those studying in primary and secondary classes were perhaps the worst hit. While teachers worked hard to maintain learning continuity through digital resources during lockdowns, the fact remains that face-to-face interactions with teachers and peers which is essential for children's all-around development, was missing.
Learning loss is an irrefutable consequence of mass school closures common to all children, regardless of age and socio-economic background as indicated by research carried out by various agencies. A recent study by Observer Research Foundation claims an indisputable regression in learning brought about by the switch to remote learning during the pandemic which means despite our best efforts to adapt, we have failed to effectively impart education. The good news is we can still make amends and help our children catch up.
At Sat Paul Mittal School, we have introduced several initiatives — from reshaping curriculum and pedagogy to emphasise foundational learning and skills development, to coming up with altering assessments from common grade[1]level exams to measuring proficiency and skills — to ensure return to classrooms is smooth sailing for students and teachers alike.
Time to Regroup and Strategize
The pressure of catching up with learning loss can be detrimental for learners and teachers. Therefore, the first 15 days of the new academic year were set aside to regroup and take stock of the learning gaps before a strategy could be effectively put in place. Normal teaching-learning processes were suspended to focus on bridging the learning gaps. It included socio-emotional connect with peers and teachers as well as understanding of concepts that are building blocks of higher learning. Teachers are being empowered to take up the chal[1]lenge of teaching in post-Covid times by organising training programmes and Quality Circle Time sessions to support teachers pedagogically and emotionally.
Teacher-Student Connect
At Sat Paul Mittal School, we have tailor-made an effective teacher-student connect programme to reconnect students with teachers enabling enhanced communication between them. Recently we organised a three-day teacher connect programme where students communicated with teachers in a friendly atmosphere with no impending pressure. They also had a one-to-one session with their class teachers where they were encouraged to share their concerns about returning to classrooms. This was complemented by regular weekly counseling and Quality Circle Time sessions. While our SEL (socio-emotional learning) programme is proving to be a success, our life skills development programs are improving children's self-awareness, self-management, social aware[1]ness, relationship building and problem-solving skills.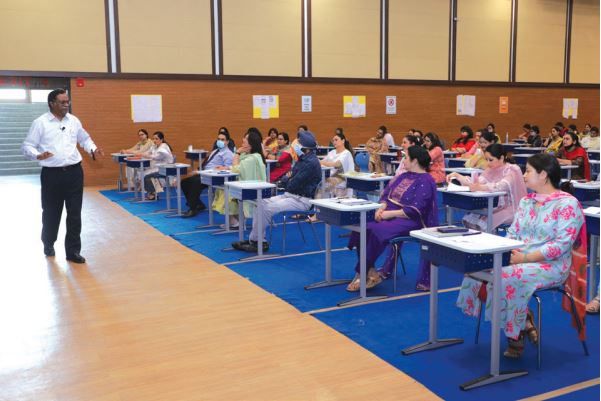 Streamlining Communication
Another causality of online classes has been communica[1]tion. Most secondary school teachers struggled to make students turn on their cameras and microphones. Therefore, added emphasis has been laid on improving communication between educators and students. Towards this end, a number of fun sports activities were conducted by professionals like Rock Sports in school which drew the participation of teach[1]ers and students. The aim was to help students open up and encourage a two-way communication to ensure effective learning.
Assessment Informed Instruction
Progress reports for each subject were prepared so that vital concepts essential for effective learning could be zeroed down on. Then diagnostic tests were conducted to effectively gauge students' understanding of those concepts. On the basis of these tests, teachers were able to draw up a list of topics from previous grades they needed to revisit to bridge the learning gaps and ensure children are provided a solid foundation. Intensive bridge classes based on assessments are scheduled so students lagging behind can be brought up to date with their more advanced peers. This will also ensure that students understand more advanced concepts and their return to classrooms is devoid of anxiety and stress.
Emphasis on Sports
Perhaps what students missed most about school during pandemic lockdowns were sports periods and playgrounds. With children progressively spending more and more time on digital devices for academics and entertainment, physical fit[1]ness and sportsmanship took a back seat. With children back in school now, provision for a larger number of sports periods has been made in their time-table to enable them to enjoy the outdoors with peers. Increasing the number of sports periods has proved to be an added incentive for students to attend school and getting back into the groove.
Experiential Learning
With students bombarded with theoretical knowledge while they were cooped up in their homes in pandemic era, experiential learning comes as a breath of fresh air. Who can deny the effectiveness of experience when measured against theory when it comes to the teaching-learning process? We at Sat Paul Mittal assiduously plan our lessons to ensure students learn through various carefully curated experiences in a controlled environment. This has not only proven hugely popular among students but also quite effective in long-term learning retention.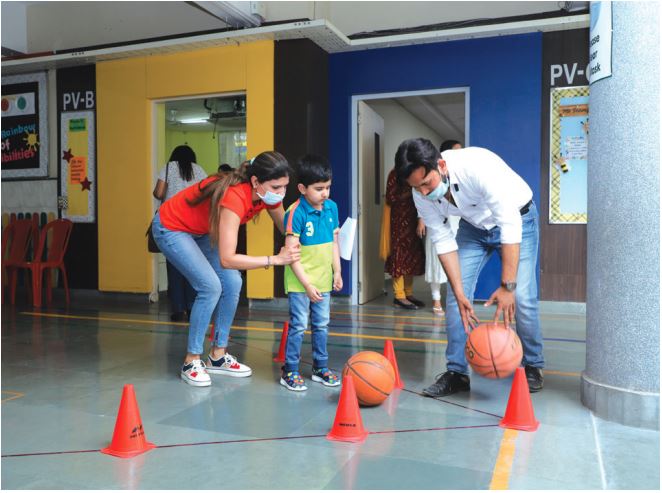 As educators, we envision more confident, competent and happy individuals, in classrooms who are ready to face what[1]ever challenges life may choose to throw their way. We want them to have the resilience to overcome all possible trials. However, let us not forget that learning gaps and consequent trials cropped up over a span of two years and effectively bridging them will take astute planning, sound strategy and diligent execution. We need a multipronged action plan to ensure our students overcome the gaps and it will take both time and patience. It means repeated diagnostic assessments and revisiting the concepts as well as patient revision. But more than anything, it requires willingness of policy makers and educators to go that extra mile. It's time we reimagine the deeper purpose of schooling to ensure a smooth ride for our children in the post-pandemic world.