The demand for professionally qualified geologists with a sense of adventure has increased almost tenfold during the past decade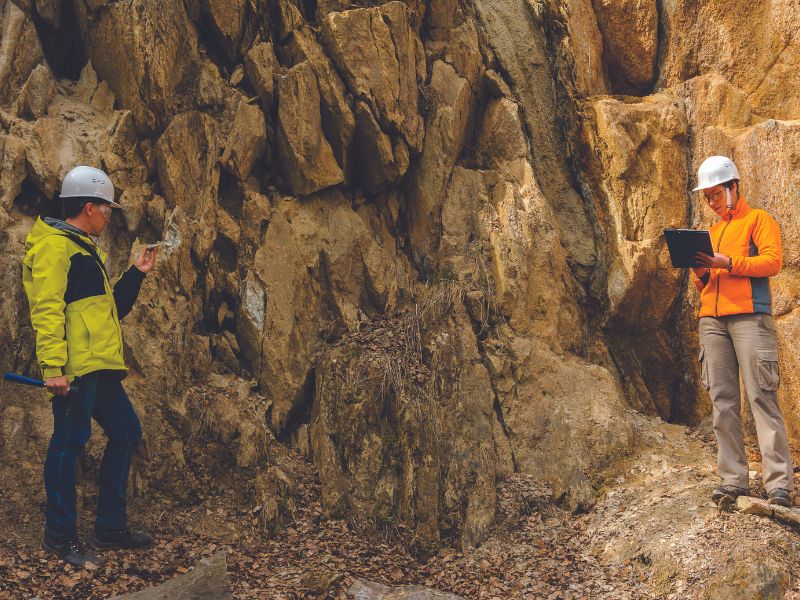 For outdoor types who like to explore the environment and hike through the wilderness, professional qualifications in geology could open up a world of opportunities.
Geology is the science of earth studies. Geologists study geographical data and material collected through seismic prospecting, examine surface and underground rocks, minerals and fossils in search of oil, natural gas and minerals.
A number of universities and institutes offer bachelor, Masters and doctoral degree qualifications in geology. For admission into undergrad study programmes, Plus Two with science and at least 50 percent average is mandatory.
STUDY PROGRAMMES. Almost all major state universities host geology departments and many top institutes offer graduate and postgraduate studies in geology. The most reputed are:
• IITs (Mumbai, Kharagpur, Roorkee, Bhubaneswar)
• IIT-Dhanbad
• St. Xavier's College, Mumbai
• Institute of Science, Mumbai
• Tata Institute of Fundamental Research, Mumbai
• Indian Institute of Geo-Magnetism, Mumbai
• Physical Research Laboratory, Ahmedabad
• National Geophysical Research Institute, Hyderabad
• National Institute of Oceanography, Goa
• Indian Space Research Organisation (ISRO) — Space Applications Centre (SAC) in Ahmedabad and Delhi
Professionally qualified geologists are usually employed in mining, oil, petroleum and ground water exploration; environmental planning and site remediation; geotechnical investigations; ISRO; defence terrain research; academia, and often in banks (as domain specialists for resource evaluation).
Also Read:Floral designers in full bloom
PAY & PERKS. Remuneration packages of geologists are attractive. In academia, an assistant professor with a Ph D can expect an annual pay package of Rs.6-9 lakh; in the oil industry, a postgraduate averages Rs.12 lakh; in mining around Rs.3-11 lakh and in the public sector ONGC, a junior geologist starts at Rs.10 lakh per year. With a few years of experience, professional geologists could take home Rs.20-24 lakh annually.
"The demand for well-qualified geologists has increased almost tenfold in the past decade. That's mainly due to the opening up of the Indian economy and the new natural resources management and utilisation policies enacted by the Central government," says Dr. Hrishikesh Samant, associate professor of geology and vice principal at St. Xavier's College, Mumbai. The department/faculty was established over 90 years ago as an independent school affiliated with Bombay University, and recognised by the varsity as an independent research centre in 1954, offering undergraduate and postgrad degree programmes in geology.
After acquiring Masters degrees in applied geology and geo-exploration from IIT-Bombay, Samant began his career as a geologist with the public sector Mineral Exploration Corporation Ltd (1990-92). After working for the government and acquiring adequate field experience, he re-entered IIT-Bombay, working as a tutor in the faculty of earth sciences, and simultaneously conducting research in the remote sensing photo-geology and geomorphology laboratory, for which he was awarded a Ph D in 1997. Meanwhile in 1996, he began lecturing in the geology department of St. Xavier's College and in 2017 was appointed vice principal.
PROFESSIONAL PROFILE. "Teaching this subject is challenging and exciting and St. Xavier's trained geologists are working around the world. With the support of my college and colleagues, I have served in several government task forces on geospatial education and was appointed member of the coastal zone management authority. I am currently editor of the globally circulated Geospatial World magazine and a consultant to the National Productivity Council, UNDP, and several private sector companies. For me, qualifying as a geologist has proved to be a very satisfactory career path," says Samant.
Exciting developments are taking place in this field with automation, computerisation and remote technologies radically changing the profession. "Many jobs which earlier required work on-site are now being done by specialists located in remote locations. Professionally qualified geologists are likely to be involved in undersea mining, and in future lunar and Martian exploration expeditions," forecasts Samant.
For adventurous youth who love the great outdoors, the geologist's vocation is an ideal option. "Remuneration packages are good and getting better and there's the omnipresent prospect of adventure. But unfortunately, a large number of geologists — especially women — want table jobs and object to the travel involved," rues Samant.
(Excerpted and adapted from 101 Great Careers for the 21st Century by Indra Gidwani, 2016)