In the EW Chennai preschools 2019-20 league tables, 44 proprietary and 22 franchised pre-primaries are rated on 10 parameters of ECCE excellence by 662 parents with children in preschool and 72 principals/teachers based in Chennai.
The port city of Chennai (pop. 9.8 million), the admin capital of the southern seaboard state of Tamil Nadu (pop. 72 million), has an ancient reputation for hosting high-quality education institutions. The city's educationists and edupreneurs have always been quick to embrace innovative pedagogies and education philosophies from preschool to higher education.
Therefore, it's unsurprising that Chennai hosts an estimated 800 pre-primaries delivering professionally administered early childhood care and education (ECCE) and offering diverse pedagogies ranging from Montessori and Waldorf to Reggio Emilia. It's also noteworthy that the incumbent AIADMK state government is in the process of designing a holistic draft syllabus for the state's 150,000 preschools to give ECCE due importance and a place in the sun.
In the EW Chennai preschools league tables, 44 sufficiently well-known proprietary and 22 franchised pre-primaries are featured and rated on 10 parameters of ECCE excellence — competence of teachers, infrastructure, innovative teaching, safety and hygiene, individual attention to students etc — by 662 parents with children in preschool and 72 principals/teachers based in Chennai.
CHENNAI'S BEST PRESCHOOLS 2019-20 – OWNED/PROPRIETARY
Chennai's 2019-20 proprietary preschools league table has witnessed a mild churning. This year, Vruksha Montessori School, Alwarpet ranked #2 in 2018-19, has regained its prime position as the city's #1 pre-primary followed by last year's #1 ranked SEED, Adyar at #2 jointly with the Indus International Primary School, Neelankarai ranked #3 in 2018-19. Vels International Preschool, Neelankarai ranked #3 and Learning Tree, Adyar at #4 have both retained last year's rankings and are obliged to share top table with Sprouts Montessori House of Children, Mylapore, ranked #5.
Promoted by Jayashree Radhakrishnan in 2002, Vruksha Montessori School, Alwarpet (VMSA) is awarded top score in four of the ten parameters of ECCE excellence including teacher competence, individual attention to students, parental involvement and innovative teaching. Jayashree Radhakrishnan, principal of VMSA, attributes this 17-year-old preschool's consistently high ranking to the management's sharp focus on teacher training, welfare and development. "All our teachers are thoroughly trained in Montessori pedagogy and attend regular in-service workshops. We maintain a low 1:10 teacher-pupil ratio to enable individual attention to children. There's growing awareness among parents and educators in the city that inducting youngest children into the education system requires special skills, and that in VMSA we practice them. That's the explanation behind our consistently high ranking," says Radhakrishnan, a Madras University and IMC Chennai alumna with considerable teaching and admin experience acquired at the Chettinad Vidhyashram and Abacus Montessori Schools in Chennai before she promoted VMSA. Currently, Chennai's top-ranked proprietary preschool has 200 children nurtured by 20 teachers on its muster rolls.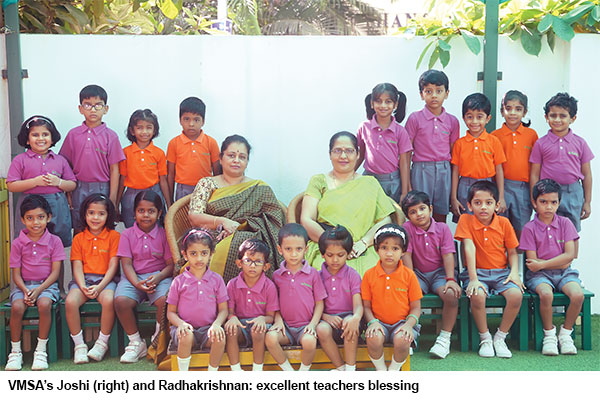 Adds Nandini Joshi, a commerce alumna of Pune University and Indian Montessori Centre (IMC), Chennai, and coordinator of VMSA, "We are delighted to be back at the top again and thank our teachers and parents for their cooperation and support. I am especially glad that we are top-ranked under the all-important parameter of teacher competence. All excellence in ECCE flows from our being blessed with excellent teachers who constantly review our pedagogies and adopt the best practices of Dr. Maria Montessori's early years learning philosophy."
Further down the 2019 league table of Chennai's proprietary preschools, Bamboola, RA Puram (BRAP, estb. 2004) has risen in public esteem to #6 (8) followed by KiwiLearners, Neelankarai #7 (5) and Srishti Montessori, Nungambakkam #8 (7) which have ceded one rank this year. On the other hand, V Kids, Mogappair (W) ranked #8, Seed Academy, Kottivakkam #9 and Magnet Minds, Anna Nagar #9 have retained their 2018-19 rankings while Alphabet International School, Alwarpet has been promoted to the Top 10 from #12 in 2018, co-ranked with debutant Kinder Lounge, KK Nagar.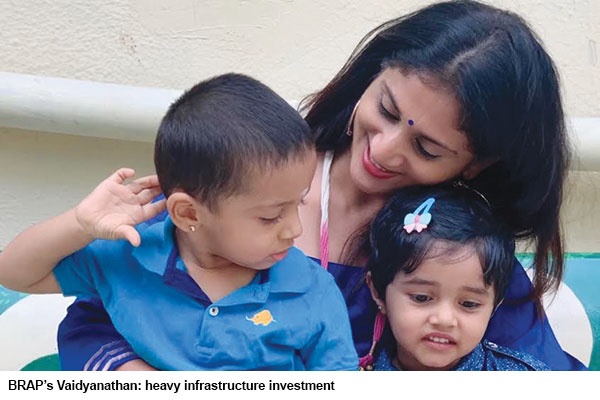 "It's satisfying that after being stuck at #8 for two years, BRAP has been promoted to #6. I am especially pleased that our heavy investment in play and learn facilities for little children is reflected in our high score under the infrastructure parameter. BRAP offers our 240 children mentored by 60 teachers and an equal number of support staff, three large, well-equipped playgrounds and green spaces for sports and gardening. Other facilities include a fitness gym for children and an indoor rock climbing arena," says Sujatha Vijay Vaidyanathan, a humanities, business administration and childcare development graduate of Annamalai and Deanzo, California universities and director of BRAP.
The liberalism of the 734 sample respondents who rated and ranked Chennai's most admired schools this summer has pleased all. Rajini K, centre head of Kinder Lounge, KK Nagar (KLKKN, estb.2017), an affiliate of the Calorx Educational Research Foundation, Ahmedabad, is also satisfied with this pre-primary's promotion to the Top 10 table.
"We are thankful to EducationWorld and your sample respondents for acknowledging our efforts to provide age-appropriate ECCE to Chennai's youngest children. This promotion to the Top 10 table is certain to enthuse our teachers to provide joyful innovative learning to our children. Recently, we introduced computer coding for our little learners through simple games and activities," says Rajini, a botany postgraduate of Madras University with several years of teaching experience in Pon Vidhyashram, Valsarvakkam and Kendriya Vidyalaya, Tirusulam prior to signing up with KLKKN. Currently, this school has 70 children and seven teachers on its muster rolls.
Beyond the Top 10 table, several preschools have lost ground with eight previously unranked pre-primaries debuting in the EW Chennai Proprietary Preschool Rankings 2019-20. Among the debutants are two more Kinder Lounge preschools at #16 and #18; SRM Public School, Guduvanchery at #20, Shine Kids Academy, Guduvancherry #21 co-ranked with Aathichudi, Ramapuram, Arise N Shine, Anna Nagar (E) #24, Touch Sky, Kolathur #28 and Kinder Nest Early Learning Centre, KK Nagar #31.
CHENNAI'S BEST PRESCHOOLS 2019-20 – FRANCHISED
With its flagship SEED School, Adyar consistently ranked first or second in the annual EW league table of Chennai's proprietary preschools, SEED is a big name in early childhood care and education (ECCE) in Tamil Nadu, and indeed in peninsular India. Promoted by Chennai's well-known pioneer of professionally administered ECCE, Jaya Sastri and her Wharton School (USA)-educated daughter Vani, the SEED group comprises 41 owned and franchised preschools including 35 in Chennai, five in Madurai and one in Bangalore.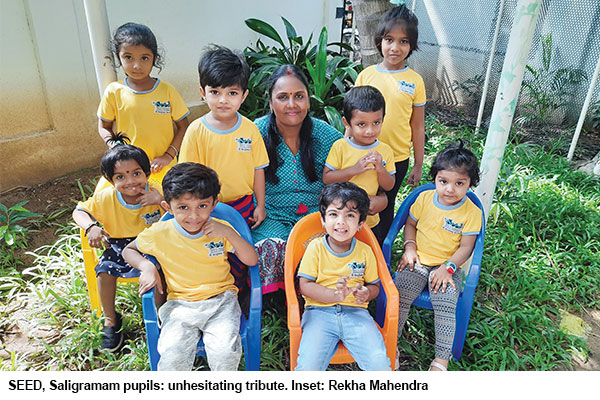 Therefore unsurprisingly, for the second year consecutively, six franchised pre-primaries of the SEED group are in the Top 10 franchised preschools league table with SEED School, Saligramam voted Chennai's #1 for the third year in succession. While most Seed schools have retained last year's rank or moved down a notch or two, SEED School, Pallikaranai at #5 (7) and SEED School, Kotturpuram #7 (10) have risen in public estimation.
Rekha Mahendra, promoter-licencee of SEED, Saligramam (SEED-S, estb.2014), is elated this pre-primary has been voted #1 for the third year in a row. "We are honoured that three different sets of sample respondents from Chennai have voted us #1. However, I have no hesitation in stating that this is attributable to the SEED brand established by Jaya Sastri, our franchisor. We are provided an excellent curriculum and continuous teacher training and development by SEED. This is the reason behind the top scores awarded by your sample respondents under the parameters of teacher competence, teacher welfare and development, and innovative teaching. Our major contribution has been to build excellent infrastructure to enable our well-trained and competent teachers to give their best," says Mahindra, an economics graduate of London University and the top-ranked Mudra Institute of Communication, and former SEED parent.
Similarly, Sangeetha Priya, an arts and education alumna of Madras and Madurai Kamaraj universities, a former school teacher and promoter-licencee of Seed, Pallikaranai (SEEDP, estb.2014), is thrilled this pre-primary unranked until last year when it debuted at #7, has been promoted to the Top 5 table. "We thank EW sample respondents for recognising our institution-building effort and endorsing our skill-sets and capabilities. This promotion will motivate us to persist with our continuous improvement efforts. The curriculum provided by our franchisor is child-centric and child-friendly, and we also receive excellent professional development training from them," acknowledges Priya.
As in the case of Ahmedabad (Gujarat), Chennai's franchised preschools league is dominated by franchisees of local city-based ECCE chains. For instance, the Chennai-based SEED has six franchised pre-primaries included in the 22-strong league table, Arise N Shine has eight while TIME Kids has two.
In sharp contrast with the ground situation in most states of India where national ECCE chains such as the Mumbai-based EuroKids International, Kangaroo Kids, Podar Jumbo Kids dominate, only two franchised schools of Kangaroo Kids and Podar Jumbo Kids and one each of Maple Bear Canadian and Kidzee are sufficiently well-known — preschools ranked by less than 30 sample respondents are not included — to be ranked in the EW 2019-20 Chennai franchised preschools league table.
Although Arise N Shine has eight pre-primaries ranked in this year's franchised preschools league table, its highest-ranked is Arise 'N' Shine, Adyar (ANSA, estb. 2013) at #11 (11). "We were included in the EW Chennai league table for the first time last year, and we expected — and deserve — higher rank because we accord highest priority to safety and hygiene, and faithfully implement the curriculum guidelines and systems set by our franchisor. In addition, we ensure a safe and clean environment for our children," says Karthikeyan Murugesan, director of ANSA.
Also read: Bangalore's best preschools 2018-19