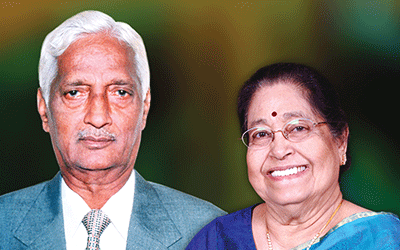 Situated over 76971 sq. ft. in Mumbai's northern suburbs of Malad and Kandivali the Children's Academy Group of Schools (CAGS) represents 50 years of value-driven holistic education. Established in 1970 under the capable guidance of its founder and lifelong educationist, the Late V. V. Bhat, the group expanded from being a single school institution- Children's Academy, Malad (estb. 1970) to having two more acclaimed branches based in Kandivali, another suburb in north Mumbai. Over the past 50 years CAGS has acquired a reputation of promoting learner-centric pedagogies and excellent academic, co-curricular and sports education and routinely figures among EducationWorld magazine's state-wise top co-educational day school rankings. While two of its branches – Malad and Kandivali are listed among the top 10 schools in the EW 2019-20 school rankings, Children's Academy, Malad has been ranked as number one in the North Mumbai zone.
Affiliated to the Maharashtra state board, initially, all Children's Academy schools have retained an impeccable record of 100 percent passing in the state board held secondary school certificate (SSC) exams. However, in 2007-2008, keeping with parents' preference for the Council for Indian School Certificate Examination (CISCE) curriculum the management initiated a phase-wise shift to the new curriculum. All Children's Academy schools received their CISCE certification in 2014.
The journey: 50 years ago, driven by the urge to do something good for society in the sphere of education, the school's founder V.V. Bhat and his wife, E.V. Bhat initiated the school's first avatar by renting out five shops in a residential building. At a time when institutions focused on academics only, the school provided holistic development for students by initiating many first-of- its-kind co-curricular activities including outstation excursions and boxing.
However, the journey wasn't without challenges especially since the school's growing student population required additional space. At one time, V.V. Bhat sacrificed his only residential flat in the city to purchase the rented shops that housed the school and had the school's office double up as home for his family of five. In 1987 students were moved into the new swanky classrooms of Children's Academy in Malad. With growing demand, two state-of-the-art Children's Academy schools were set up in the adjacent suburb of Kandivali. The Ashok Nagar branch was established in 1990 and the Thakur Complex branch in 2002.
Following in the footsteps of V.V. Bhat other members of the Bhat family also played an important role in furthering the group's commitment to education. Sons Rohan and Rohit and their respective spouses, Monica and Charlotte not only took charge of CAGS' operations but also introduced student-centric innovations across the three institutions. In 2013, years after the passing of the school's founder principal, the Children's Academy Group of Schools revamped itself into a full-fledged corporate structure to manage the various arms of the Academy efficiently and in a more co-ordinated manner. Under this new structure, Rohan Bhat, assumed the position of Chairman, CAGS while younger brother Rohit Bhat took over as the CEO and V.Mukundan, one of the school's founding members became the chief coordinator of CAGS.
"Fifty years is a long time and we have a smorgasbord of milestones and achievements to our name. The launch and success of the Ashok Nagar and Thakur Complex branches showed the kind of demand there was and still is for our philosophy of education. We have also proved to ourselves and the world that the quality of education we provide is sustainable over large numbers as well. Our seamless shift from the SSC board to the CISCE board in 2007-2008 was also an achievement since with our flawless record in the SSC, there was some fear that transitioning to CISCE would be difficult. However, no sooner did the first batch hit the ground running our success was evident," says Rohan Bhat, chairman, Children's Academy Group of Schools.
Tech SMART: Always on the forefront of technology in education, Children's Academy won the award for 'Intel-Most innovative use of computer technology in the class room' in 2000. Adopting many futuristic technological innovations the school has digitalised its student lesson plans, fee payments, attendance details, employee payrolls, student documentations and all in-house and external communication circulars etc. ICT enabled classrooms have provided with Wi-Fi, smart boards, projectors and other equipment.
Some common features across all CAG schools are the ergonomically built school structures, ICT enabled classrooms, well-equipped science, language and computer laboratories, well-stocked libraries, resource centres, ramps and other facilities for physically challenged students and professional therapists for remedial counseling.
The school's digital lesson plans encompass techniques like flipped classroom, dramatization, design thinking, project and inquiry based learning. The school's co-curricular activities ranging from fine arts to sports, robotics, literary skills, social actions and philanthropic exercises reiterate the significance of multiple intelligences as well as encourage character- building and value inculcation among students.
Taking its sporting aspirations equally seriously, the school offers a range of sporting options from Karate, table-tennis, skating, volleyball, basketball, athletic to cricket. Recruitment of specialist coaches like Merzban Patel who was felicitated with 'The Dronacharya Award for Lifetime Achievement' this August has ensured that the students participate and win accolades in various local and national sporting events. The school's in-house event, the V.V. Bhat Memorial Trophy Competition has over the years become an interschool competition attracting large number of participants.
Future perfect: Not wanting to rest on its past laurels, CAGS is working out the final modalities in taking its next big technological leap. The school will implement e-textbooks and allow students to make digital portfolio submissions for quicker remediation by teachers.
Technological innovations apart, CAGS is keen on continuing its role of being a thought-leader in the field of education by chalking out several community-based services for the future. It plans to share the group's vast expertise accrued over the last 50 year by improving education beyond CAGS. "We will make our state-of-the-art infrastructure and resources available for use to the underprivileged by teaching them English, computers and providing vocational guidance. We will undertake academic partnerships with schools that needing guidance. We will also rope in our exceptional faculty to launch training centres for teachers and create a generation of empowered teachers which is exactly what the nation needs," says Rohan Bhat.
● The Children's Academy Group of Schools' golden jubilee celebrations started on a high note with the launch of a commemorative stamp and envelope honouring the founder principal, V.V. Bhat and the jubilee year logo.
● A series of 'InSync' forums were held to discuss issues impacting parents, students and school managements in the 21st century. The parent's symposium was a huge success with reputed speakers like Dr. Swati Popat, Rujuta Diwekar and Dr. Zirak Marker sharing their views on raising children in the 21st century. The students 'InSync' forum had a mix of entertainment and information for the huge number of students who attended it and the 'Insync – Futuristic Principals Conclave' saw a gathering of principals, educationists, and thought leaders from around the city of Mumbai exchange ideas and solutions to issues related to the future of education.
● In December, a grand carnival spread over four days will felicitate ex-teachers and have cultural performances by the school's students. The event's finale will be the 'Golden Jubilee Reunion' organized by the Children's Academy Group of Schools' alumni association-'CAXSA'. Over 3000 ex-students are expected to participate and celebrate 50 years of CAGS.