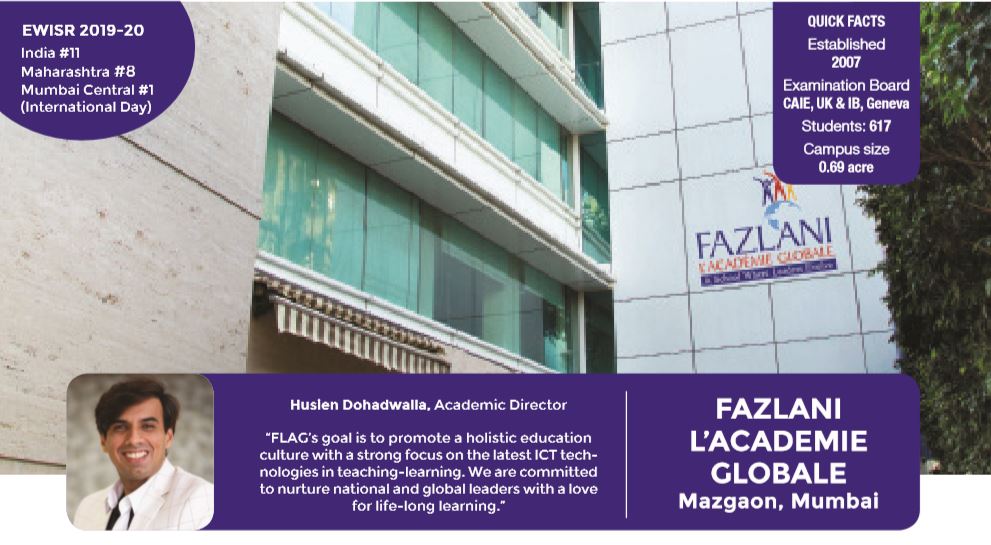 The Fazlani L'Academie Globale (FLAG) is a new-era international school sited in Mazgaon, a former Portuguese enclave in Mumbai Central. Its contemporary, child-friendly campus is designed by celebrity architect Hafeez Contractor. A wholly international K-12 school, FLAG is affiliated with the Cambridge Assessment International Examinations (CAIE), UK and International Baccalaureate (IB), Geneva exam boards. Currently this progressive outward-looking co-ed school has 617 students mentored by well-qualified, trained and experienced international curriculum teachers.
Established in 2007 by Dr. A.K. Fazlani, Chairman of the Fazlani Foundation of the Mumbai-based Fazlani Group, FLAG was promoted as a school where leaders evolve, thus the objective was of nurturing national and global leaders with a "love for life-long learning". Although it was founded only 12 years ago, FLAG is ranked #11 all-India, #8 in Maharashtra and #1 in Mumbai Central among international day schools in the latest EducationWorld India School Rankings 2019-20. The school is also ranked #1 in Mumbai Central for competence of faculty, academic reputation, co-curricular education, special needs among other parameters.
The FLAG campus, designed to facilitate experiential and collaborative learning boasts of aesthetically designed BaLA (Building as Learning Aid) infrastructure, where the emphasis is on the importance of using built spaces and the physical environment as tools for learning beyond classroom walls. The school is wifi-enabled and has temperature controlled Smart classrooms, four well-equipped laboratories, a well-stocked library housing over 20,000 books, journals and magazines and a variety of e-books and a visual art studio. Sports facilities include an indoor multi-purpose court for basketball, throwball and volleyball and two multipurpose areas for roller skating, table tennis, chess and gymnastics. Moreover, FLAG teachers are encouraged to enhance their professional development by attending IB and CAIE workshops.
Given the school's holistic education culture and focus on using ICT as a tool to aid learning, the teaching-learning strategies are also diverse to enhance the multiple intelligences in their students such as the Placemat strategy, Edward De Bono's 6 thinking hats, Tony Ryan thinker keys to name a few. No wonder FLAG students have performed exceedingly well in the class X (IGCSE) and class XII (A level) board exams. In 2019, 40 percent of class X students and 26 percent of class XII students were awarded top grades of A* and A. High priority is accorded to sports and co-curricular education which has paid rich dividends. Class XI student Kenisha Gupta won three gold medals at the Khelo India Youth Games 2019 in the 200m medley, 50 m and 100m freestyle events and class VIII student Shantanu Dwarkadas was selected for training in Taekwondo at Korea.
Unsurprisingly FLAG school students are readily welcomed into top-ranked universities in India (Symbiosis University, Pune, NMIMS, Mumbai) and abroad (University of Texas, New York University, Boston University (USA) University of Warwick, University of Manchester (UK).