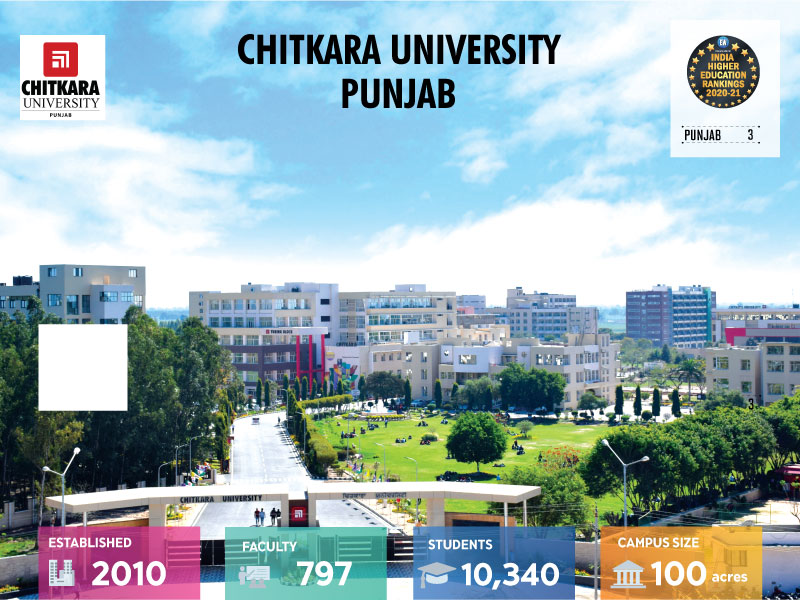 About
Chitkara University was established in the year 2010, by the Punjab State Legislature under The Chitkara University Act. It is a government recognized university with the right to confer degrees under Sections 2(f) and 22(1) of the UGC Act, 1956. Chitkara University is a dream envisioned and realised by Dr. Ashok K. Chitkara and Dr. Madhu Chitkara — two academicians dedicated to the mission of spreading the light of education. It is ranked among the top 3 percent of universities worldwide by Times Higher Education Impact Ranking 2020 and is India's first e-learning ready university declared by QS (Quacquarelli Symonds) I-GAUGE. The state-of-the -art university campus is sited on the Chandigarh-Patiala national highway and is equidistant from Mohali, Panchkula, Ambala and Patiala. Committed to excellence in education, the university boasts a wide menu of study programmes, strong national and international collaborations and a robust on-campus recruitment record.
Major Faculties
Chitkara Business School
Chitkara University Institute of Engineering & Technology
Chitkara College of Sales & Marketing
Chitkara College of Applied Engineering
Chitkara School of Planning and Architecture
Chitkara School of Art & Design
Chitkara School of Mass Communication
Chitkara College of Hospitality Management
Chitkara College of Pharmacy
Chitkara School of Health Sciences
Chitkara College of Education Centre for Global Education
Rankings Parameters
Infrastructure and Facilities
The university offers contemporary state-of-the-art academic infrastructure that includes spacious amphitheatre-style classrooms equipped with integrated audio-visual teaching aids; high-tech laboratories; libraries with spacious reading halls, conference and multimedia rooms; cafeteria and residential accommodation with ample recreational facilities.
Curriculum & Pedagogy
The university offers industry-aligned multi-disciplinary CBCS/Elective based programmes. Students are also encouraged to participate in co-curricular activities through various clubs and societies on campus. A 24X7 Community Radio station 107.8 FM, managed by students, airs programmes related to rural and urban societal issues.
Research & Innovation
To facilitate cutting-edge research, the university hosts many advanced research labs, CoEs in collaboration with industrial houses, a new generation innovation and entrepreneurship development centre, fabrication facility, animal house and central instrumentation facility. The university has filed 350 patents and has 1,000-plus publications to its credit. The university has been approved by SIRO-DSIR for its research endeavours and its incubators are DST and MSME recognized TBIs.
Range/Diversity of programmes offered
The university offers 108 undergraduate, postgraduate and doctoral programmes in engineering, management, pharmacy, architecture, interior design,hotel management, culinary arts, health sciences, mass communication, fashion design, fine arts, visual communication, UX/UI, animation and game design.
Internationalism
Given its partnerships with foreign universities including Deakin University, Victoria (Australia), University of Windsor, Ontario, George Brown College, Toronto and Bow Valley College, Alberta and many more. Chitkara University hosts a large number of international students on campus.
Also read: Hindusthan College of Arts and Science, Coimbatore