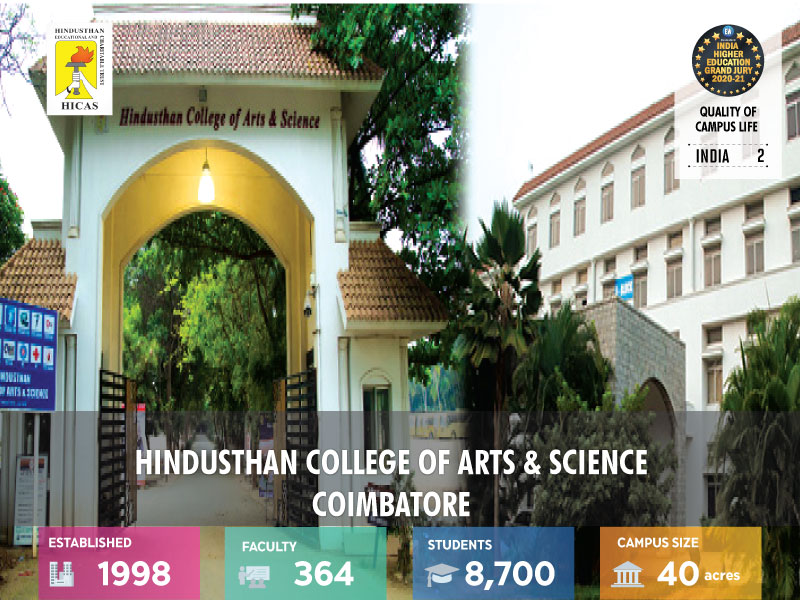 ABOUT
Hindusthan College of Arts and Science, Coimbatore (HICAS) – promoted by the Hindusthan Educational and Charitable Trust in 1998 — is a private autonomous college affiliated with Bharathiar University. HICAS offers its students the best academic facilities, personalised learning and placement opportunities. Apart from rigorous academics, the college promotes values-based education. Its visual communications programme is said to be the best in the country. HICAS is ranked #65 nationally and #19 in Tamil Nadu among private autonomous colleges in the latest EducationWorld India Higher Education Rankings 2020-21. HICAS is the recipient of the TCS Appreciation Award and the Le Platina Royce Award among other awards.
STUDY PROGRAMMES
Bachelor of Commerce
Bachelor of Science
Bachelor of Arts
Master of Philosophy
Master of Science
Master of Commerce
Master of Arts
Masters of Social Work
Bachelor of Business Administration
Bachelor of Computer Applications
Master of Business Administration
Master of Computer Applications
RANKINGS PARAMETERS
Infrastructure & facilities
The 40-acre HICAS campus with a built-up area of 6,00,000 sq.ft. comprises three academic blocks which host 135 spacious and well-ventilated classrooms, hostels, elevators for special needs students and state-of-the-art computer science, microbiology, biotechnology, photography among other laboratories. It also has a well-stocked library with 40000 volumes.
Curriculum and Pedagogy
HICAS follows a curriculum that promotes hands-on experiential learning to help students meet industry expectations. The college is also focused on inculcating traditional values within students.
Research & innovation
HICAS encourages scholars to conduct research and publish papers in reputed journals. The college has signed partnership agreements with companies to keep students abreast of the latest trends in research.
Placement
HICAS is the recipient of the "Best Institution in Tamil Nadu" award by the HR Club, Mumbai for its employability programme. Its placement advisory team provides students guidance and arranges for blue chip companies such as CTS, Infosys, TCS, WIPRO, Tech Mahindra, L&T Infotech etc to visit the campus.
Range/diversity of programmes offered
The college offers 26 Undergraduate, 15 Post graduate,10 research, 3 diploma & 2 certificate programmes in Arts/Science/ Management. The college also offers global internship programmes to students.
Also read: SAI International College of Commerce, Bhubaneswar