The National Policy on Education (NPE) 1986/92 is likely to be updated shortly. Nationwide consultations are reportedly being held with people from every section of society on the shape and contours of NPE 2016. These consultations are being held at a time when the nation is confronted with unprecedented complexities and challenges.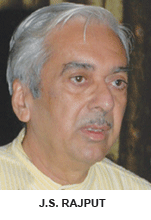 According to one estimate, 300 million Indian youth will enter the job market by 2025. The BJP-led NDA government at the Centre has the tough task of drawing up an NPE at a time when of the 230 million children enrolled in schools at the start of each academic year, only 25 million make it into institutions of higher education. Moreover, the quality of infrastructure and learning outcomes in most publicly-funded schools and institutions of higher education are rock-bottom, causing considerable loss of cognitive capital and creative competence.
Therefore, NPE 2016 has to push greater interaction between higher ed institutions and India Inc through the creation of substantive synergy. Indian youth must be educated and trained to not only improve the productivity of Indian industry and agriculture but also to avail employment opportunities in ageing societies of the Western world and OECD countries. All this requires comprehensive upgradation of school education and also development of vocational and life skills at every stage of the education continuum. These challenges demand a complete break from entrenched structures and practices of the past, and the country's 47,000 colleges and 800 universities must accept responsibility for producing confident, competent and committed teachers and academics for every stage of education. Teacher education cannot continue with century-old practices and must be revitalised.
The time has now come in the history of Indian education when consolidation must be given primacy over expansion, as the quality of education at all levels has plunged precipitously. In this new national endeavour, the major role must be played by institutions of higher education which should be "the driving force of economic development and the focal point of learning in society". India's complacent higher education institutions need to urgently address their weaknesses and, simultaneously, discharge their responsibilities towards the upstream primary-secondary sector by contributing contemporary syllabuses and well-trained teachers.
The traditional functions of tertiary institutions such as knowledge transfer, innovation, training and skills development won't diminish, but the research and new knowledge creation activities of India's moribund universities urgently need to be stepped up. Over the past three decades, faculty recruitment procedures in higher education have created enormous confusion and some mandated processes, such as the current API (Academic Performance Index), have accelerated quality decline instead of checking it. In this connection, it's apposite to recall the words of scholar-statesman Dr. Sarvepalli Radhakrishnan, who remarked that: "intellectual work is not for all; it is only for the intellectually competent".
A professor at Oxford University and vice chancellor of Benaras Hindu University before he was elevated to the office of President of India (1962-1967), Dr. Radhakrishnan had presciently discerned signs of decline in Indian universities half a century ago. "If our universities, which showed so much promise on the eve of independence, now appear to be in a state of disarray, it is because they have been increasingly invaded by masses of people who have no regard for intellectual competence or aptitude for academic work. We have made short work of tests of intellectual competence in order to make peace with every kind of social and political pressure," he observed, stressing that the selection and appointment of adequately qualified leaders is critical for the development of education institutions of all types.
The proposed NPE 2016 will, in all likelihood, endure for the next two-three decades in a world changing unpredictably. Even if belatedly, India has achieved laudable success in enabling access to primary schooling for 98 percent of children. We have also achieved modest success in higher education. But at a critical time in its history, the nation is confronted with formidable quality improvement challenges in all sectors of the education system.
Learning outcomes in government schools are declining despite significant inputs in infrastructure development. This is also true of higher education with several state government colleges and universities surviving with retired faculty members and guest lecturers. While government schools are the last recourse of parents who cannot afford private education, the continuously falling reputation of state universities has intensified the rush for admissions in Delhi University, JNU, BHU and AMU and other Central universities and made entry into IITs and IIMs tougher than ever. However, even Central universities are suffering severe faculty shortages, and consequential loss of reputation and credibility.
These conditions cannot be glossed over and must be addressed. Here's hoping NPE 2016 now receiving its final touches in the Union HRD ministry, won't fail on these counts.
(J.S. Rajput is former director of NCERT and NCTE)