During the past 45 years since it admitted its first batch of students, the reputation of this K-12 school, with 5,240 students and 169 teachers on its muster rolls, has spread beyond the steel city. – Baishali Mukherjee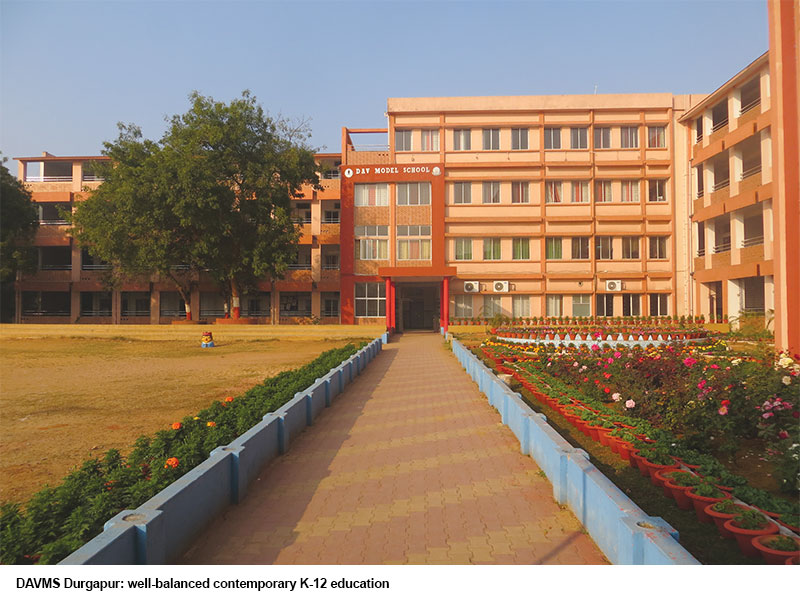 Sited on an eight-acre campus in Durgapur (pop.581,000), West Bengal's steel city, Dayanand Anglo Vedic Model School (DAVMS, estb.1975) is an ISO 9001:2015-certified CBSE-affiliated co-ed day school well reputed for providing nationally benchmarked K-12 education to its 5,240 students mentored by 169 teachers. During the past 45 years since it admitted its first batch, this school's reputation has spread wide. DAVMS has been conferred the International School Award of the British Council for three consecutive terms (2010-2013, 2014-2017 and 2018-2021) and is listed among the 'Future 50 Schools Shaping Success' in India by Fortune magazine (2016-2018). Moreover, it was conferred the Best in Academics (CBSE) and Best in Co-curricular awards in 2014 and 2012 respectively by the Telegraph Education Foundation, Kolkata.
DAVMS is a constituent institution of the nationwide DAV schools chain, founded in 1886 by Mahatma Hansraj (1864-1938), a disciple of Arya Samaj founder, Swami Dayanand, and proclaimed the largest non-government education society of India. The DAV society (estb.1886) runs 900 schools countrywide (including 20 in West Bengal), 75 colleges and a university.
In 1975, Dr. D. Pal, former chief medical officer of the Durgapur Steel Plant, signed up with the DAV College Managing Committee to promote DAVMS with the objective of providing "quality English-medium education" to children of Durgapur, the third most-populous city of West Bengal after Kolkata and Asansol. The school, managed by the DAV College Management Committee (CMC), admitted its first batch of 39 students and three teachers in 1975.
Credit for the excellent public notices, awards and encomiums that DAVMS has received over the past 45 years is universally given to the CMC's commitment to delivery of a balanced blend of contemporary pedagogies, academic rigour and values-based education. "In DAVMS, we provide modern education rooted in Indian values at affordable price. Our curriculum and pedagogies encourage children to develop critical thinking, creativity, problem-solving
and knowledge application skills as well as character development. The DAV model of holistic K-12 education stimulates the mental, physical, social and emotional development of children," says Papiya Mukherjee, principal of the school. An alumna of Ranchi University and a committed DAV educationist, Mukherjee started her career in 1995 in the DAV Public School, Hehal (Jharkhand) and DAV School, Bistupur (Jamshedpur), before she was appointed principal of DAVMS, Durgapur in 2008.
Mukherjee believes this school's excellent reputation in Durgapur and West Bengal is attributable to CMC's high emphasis on training and development of DAVMS' 169 teachers, enabling them to deliver a mix of traditional and experiential pedagogies to boost children's learning outcomes. In 2019, 177 of the 326 students who wrote the class X CBSE exam, averaged 90 percent-plus. Ditto 182 of 454 who wrote the class XII board exam. Moreover, 80 students cleared the IIT-JEE Mains and 20 the NEET exams. And for the past 15 years, the DAVCMC has ranked DAVMS 'outstanding' in the academics category.
"DAVMS, Durgapur has earned an excellent reputation in West Bengal for delivering academic distinction and at the same time encouraging children to participate in an array of co-curricular and sports activities. Our goal is to produce well-rounded children who can succeed in their chosen professions, and also contribute to national development and betterment of society," says Papiya Mukherjee.
A nature-friendly, ecology sensitive institution, DAVMS' eight-acre campus hosts 82 tree species including Ashoka, gulmohar, neem, banyan and mango. With a built-up area of 211,655 sq. ft, its four academic wings — hexagonal shaped kindergarten, L-shaped primary, U-shaped middle and L-shaped secondary/senior secondary schools — house 128 classrooms fitted with smart boards, 11 air-conditioned and wi-fi enabled science and computer labs, an Atal Tinkering lab, 3D, English and mathematics labs, and three infirmaries with trained nurses. The school's four libraries house 22,952 volumes and 33 magazine subscriptions.
Participation in sports and games and co-curricular activities is also given high importance. Facilities for playing basketball, cricket, badminton, volleyball, football, and handball are provided. Co-curricular education includes music and dance halls, and two art studios in addition to a host of student societies such as robotics, ecology, literary, interact, art and dramatics clubs. In 2019, the school was certified as a 'Fit India School' by the Union ministry of youth affairs and sports.
Though satisfied with DAV Model School Durgapur's development and transformation into a role model K-12 school of small town India, Mukherjee believes there's "a lot more to do". "We are committed to enabling children living in small town India to receive high-quality, progressive K-12 education comparable with metro cities. To this end, we are continuously upgrading our infrastructure, facilities and teachers' professional skills," says Papiya Mukherjee.
Admission & fees
DAV Model School, Durgapur is a CBSE-affiliated K-12 co-educational day school. Admission applications for LKG are available in the month of August and for class XI after class X board exams are completed.
Tuition fee: Rs.1,530-2,250 per month
For further information, contact DAV Model School, JM Sengupta Rd, B-Zone, Durgapur, West Bengal; Ph: 0343 256 3500; e-mail: [email protected]