Sited on a green 12-acre campus in Nagpur (pop.2.5 million) — Maharashtra's third largest city — Delhi Public School, Mihan, (DPS Mihan, estb.2018) has quickly established a sterling reputation for progressive K-10 education provision. Within the short span of four years, this CBSE-affiliated co-ed day school has emerged as one of the orange city's premier schools admired for dispensing rigorous academic and excellent sports and co-curricular education to its 1,300 students mentored by 75 teachers.
In the latest EducationWorld India School Rankings 2021-22, DPS Mihan is ranked #4 in Nagpur and among Maharashtra's Top 40 co-ed day schools. Moreover, in the EducationWorld Grand Jury Awards 2021-22, it was adjudged Maharashtra's #1 Emerging High-Potential School.
The promoter of DPS Mihan is the Chattisgarh-based Shri Chiranjilal Bajoria Education Society (regd.2004). In 2006, the society promoted its first school — DPS, Kamptee Road, ranked Nagpur's #1 co-ed day school in the EWISR 2021-22. With the group's flagship school unable to meet the growing demand for admission, DPS Mihan was promoted in 2018. Currently, the two schools have an aggregate enrolment of 4,600 students mentored by 250 teachers.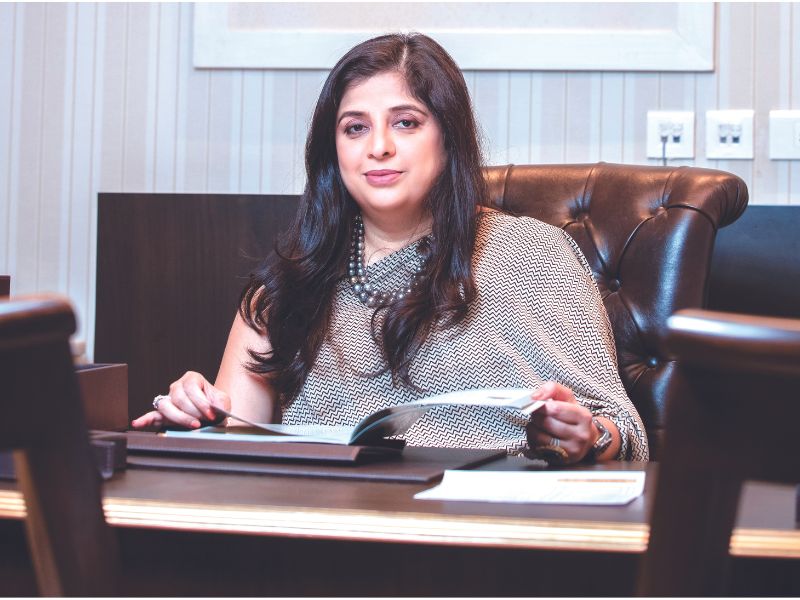 Philanthropist Tulika Kedia, preident of Sri Chiranjilal Bajoria Education Society and pro vice chairperson of DPS Mihan, is delighted with the school's quick growth and acceptance by the public. "Our objective is provision of a safe, stimulating and joyous learning environment where children acquire the skills and knowledge to become successful, sensitive and responsible global citizens. My several years of experience in primary-secondary education has made me acutely aware that we need a renaissance in K-12 education for sustained social transformation and national development. The new generation isn't satisfied with mere regurgitation of information. Today's tech enabled children are anxious to develop higher order thinking skills to solve the nation's problems, and to aid and enable the less privileged. Therefore at DPS Mihan, the curriculum develops students' intelligence and emotional quotient while providing world-class academics and pedagogies supplemented with fine arts, performing arts, culture, environment and sports education," says Kedia, an alumna of La Martiniere for Girls, Kolkata and Delhi University, and a well-known art patron and collector of indigenous tribal art.
To enable DPS Mihan to attain its objective of delivering superior holistic education, the society's management led by Kedia has spared no expense in installing world-class facilities for academic, sports and co-curricular education. The school's verdant 12-acre campus hosts two academic blocks comprising 48 well-ventilated classrooms equipped with Smart boards and latest digital technologies, four modern science, two computer and math labs and a library housing over 10,000 volumes. The campus has been specially designed to provide joyful learning spaces for pre-primary children including theme-based classrooms, jungle gym, sensory botanical garden and child-friendly indoor and outdoor play areas.
The school's state-of-the-art performing arts facility — 'Artist Village' — comprising dance, art and music studios, art gallery, five acoustically enhanced practice rooms and a 400-seat amphitheater, is a unique campus feature. Sports facilities equally mpressive with five acres earmarked for outdoor sports including football, cricket, handball, volleyball, basketball and hockey. Indoor sports facilities include arenas for chess, karate, and roller skating. Six professional coaches mentor children to attain fitness and develop their sports potential, and students routinely win district and state-level competitions. Moreover, the school's curriculum incorporates teaching of 'fine skills' including social etiquette.
"We are fully committed to providing all-round 360 degree primary-secondary education and have taken great pains to develop a balanced curriculum integrating academics with co-curricular and sports education. For instance, we have designed a unique rotational system which exposes students to ten sports with children encouraged to train and excel in one of them. Moreover, we are in the process of constructing a multi-sports complex with swimming pool and other facilities," says Nidhi Yadav, principal of the school since 2020.
According to Yadav, environment conservation and sustainability education is a special focus subject in DPS Mihan. In 2021, the school was acknowledged as a 'School of Excellence under Climate Action Project' by the US-based non-profit Take Action Globally, and honoured with the Green Olympiad Certificate (2019) of TERI (The Energy and Resources Institute) for promoting "environment stewardship at school level". "Our 75 teachers are highly committed and they deserve a major share of the credit for the rapid development and public acceptance of DPS Mihan. On our part, we ensure that they have continuous professional development opportunities and attend training programmes," says Yadav.
Looking ahead, Tulika Kedia is optimistic that the school's first batch of class X students who will write CBSE's board exam in 2023, will excel. "I am confident that the all-round education we provide will pay off handsomely in terms of excellent board results. Meanwhile, to meet the rising demand for admission, we have begun constructing four additional academic blocks to increase our enrolment capacity to 4,800 students," says Kedia.
ADMISSION & FEES
DPS Mihan is a CBSE-affiliated K-12 school. For admission, register online at http://www.dpsmihan.edu.in/enquiry/index.html. Admission is based on interaction with parent and child.
Tuition fees (annual): Rs.60,000-80,000 per annum.
For further information, call 9607855441/9607855442 (9.00 am and 4.00 pm).