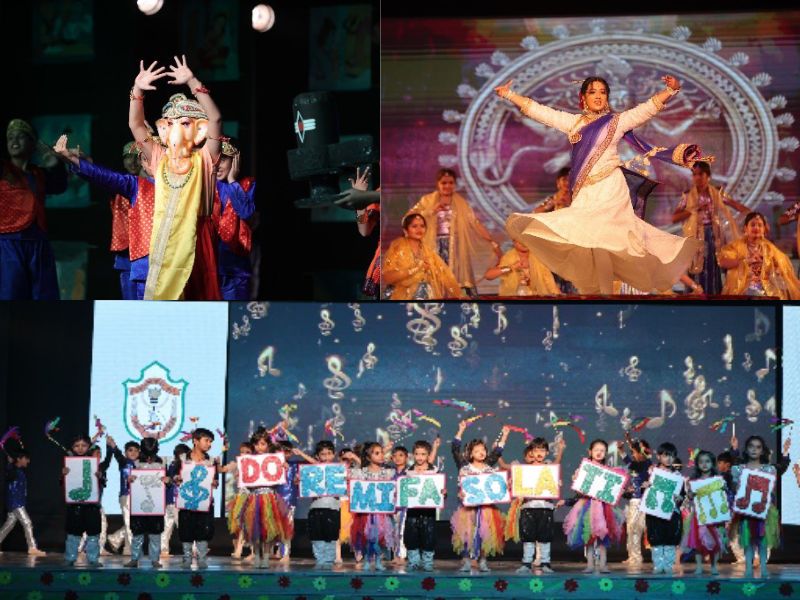 At Delhi Public School Vadodara, the annual concert is not just an entertaining programme of random cultural components, but is a way of rejoicing the art of life. It aims to gently unfold the enchanting mysteries of life and human subtleties. That is why each annual concert is a gargantuan affair which is carefully conceived, executed and presented.
Annual Event 2022-23 was an exclusive bonanza and very special to the DPS family for various reasons. It was the celebration of the school for its relentless efforts in imparting quality education with its core ethos as the cornerstone. It was a proclamation of the faith instilled in the school by students for its support towards their welfare.
The mega event was celebrated on three different days for the three sections – 'Swaranjani' by the pre-primary students, 'Vaktratunda Mahakaya' by the primary students and 'The Guide' by the secondary and senior secondary students. The annual concert witnessed enormous preparations to match the spirit and enthusiasm in the hearts of Dipsites. The events were showcased with unparalleled excellence and presented with impeccable performance.
The dance drama Vakratunda Mahakaya stole the hearts of the audience with its classical notes and spriteful dance by the students of the primary section. The secondary and senior secondary students staged 'The Guide' as a tribute to the humanitarian values found in people who expand their love and understanding of self by helping others.
With great reverence and honour, the two visionaries Gayatri Prakash (Trustee) and Amit Prakash (Pro Vice Chairman) were felicitated by the school for their unflinching support and relentless efforts in making Delhi Public School Vadodara a sanctum sanctorum of education. The dream of the two visionaries steered the school to the forefront of contemporary K-12 education for shaping the young talents into resilient, competent and compassionate citizens.
The core strength of Delhi Public School Vadodara lies in its dedicated and diligent staff. The school celebrated its journey of success by felicitating its teaching and non-teaching staff who stood by the school and delivered their services for over two decades.
A special video showcasing the accomplishments of the school in various fields – sports, academics and other co-curricular activities – was presented before the audience, which was received with a roar of applause. The video showcased a fraction of the school's accomplished alumni including prominent sportspersons, politicians and bureaucrats who became the change which they wanted to see in the society and the world.
It was a proud moment when Gajraj Singh Bachhavat, commissioner, GST, Vadodara an alumni of DPS Vadodara graced the occasion along with Yuvraj Singh Bachhavat, a well-known CA of the city, and also a leading alumni of Delhi Public School Vadodara (batch 2008)