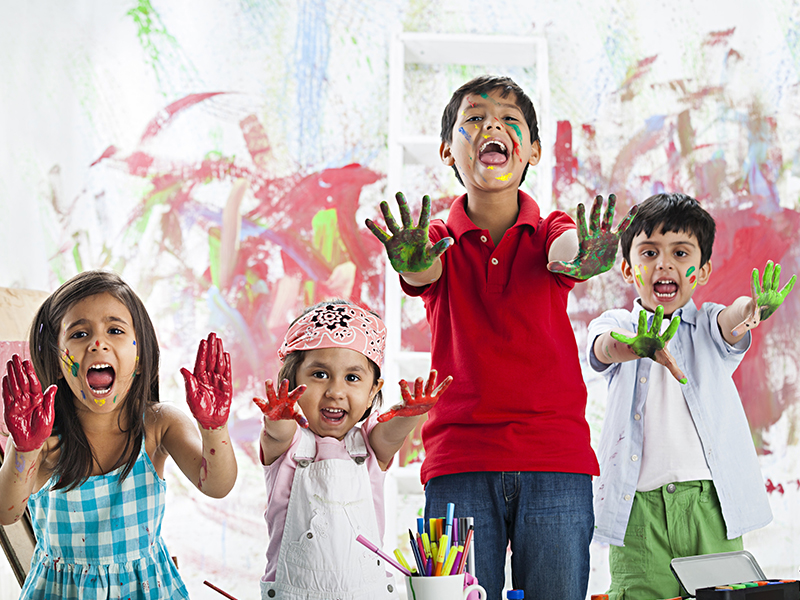 Rainbow-coloured butterflies flying brilliant blue skies, flitting on the wall. Flower-shaped pillows resting on pastel bedsheets. Imaginative children's room decor is available in upscale malls and boutiques. But at upscale prices. Instead with some imagination, together with your kids, you can create your own decor to match any mall display. And it will give you all the fun of doing it yourself.
Make a blueprint
Do some window shopping to get some ideas and pick a theme. Decide how you will arrange the room, and what all you'll need.
Get the room organised
You can't start decorating a messy room. Therefore get stuff in order, and figure out what type of furniture you need. Book shelves, cupboards, toy and clothes bins and shoe racks keeps clutter off the floor.
Craft your pieces
Use thick cardboard and acrylic paints to colour and cut out shapes that can be suspended from ceilings. Make glass paintings and suspend them near the window or door, to allow sunlight to pass through them.
Create eye-catching art works, using a mix of bright colours and imprinting hand or fingerprints. Or even splashing the shapes until you get a satisfactory image.
Alternatively you could choose attractive theme-related images, print them out on photo paper, and display them on a wall.
Add a bulletin board to display your child's art and crafts, and creative writing.
Decorate a wall
A plain wall can be made to look stunning with a row of handprints in different colours (draw erasable straight lines using a measuring tape or scale to make sure they are aligned). Or, impact colourful handprints on a white door.
Another option is potato stampers using acrylic paint to stamp a shape on one wall in colours related to the theme.
Make the right purchases
You might need to purchase furniture or racks to store things. Check out two-three furniture stores or online sites for the best buys. If you are purchasing curtains, buy a few additional metres to be used on tables, and in other places.
Supervise every activity so you achieve a professional effect. Together you can create a unique and unreplicable environment reflecting your children's personalities.
Cynthia John