Though politically it was a significant year with Congress re-emerging as an electoral threat to the BJP in General Election 2019 scheduled for next summer, 2018 was a business-as-usual year for Indian education – Summiya Yasmeen
No news is good news. This aphorism sums up the year 2018 for Indian education. Led by the unassuming Prakash Javadekar, the Union human resource development (HRD) ministry refrained from issuing any controversial diktats or announcing major breakthrough education initiatives in the year that was. With the BJP-led NDA government at the Centre having its hands full dealing with a nationwide agrarian crisis and farmer distress, mob lynching murders over cow slaughter, a renewed campaign for building a Ram mandir in Ayodhya and contesting legislative assembly elections in Madhya Pradesh, Rajasthan, Telangana and Chhattisgarh, the important issue of upgrading early childhood, primary-secondary and higher education was off radar for the Union and state governments, and the country's major political parties. While in Telangana the TRS won a majority, in MP, Rajasthan and Chhattisgarh a resurgent Congress wrested these states from the BJP.
Therefore, although politically it was a significant year with Congress re-emerging as an electoral threat to the BJP in General Election 2019 scheduled for next summer, 2018 was a business-as-usual year for Indian education. Even as Javadekar, unlike his control-and-command predecessor Smriti Irani, remained controversy-free, he failed to make a major national impact.
The nation is still awaiting the new National Education Policy (NEP), deliberations for which began in 2015 soon after the BJP swept to power at the Centre. In June 2017, Javadekar had dismissed the somewhat inconvenient recommendations of the comprehensive 200-page T.S.R Subramanian Committee Report on the National Education Policy 2016, and appointed a reconstituted committee under the chairmanship of eminent scientist Dr. R. Kasturirangan to prepare a new draft of the long-awaited NEP. Though Javadekar promised to present NEP to the nation by end-2017, another year has gone by with more promises. The last the nation heard from the minister is that the NEP is ready and will be made public soon.
Javadekar's major achievement in 2018 is enactment of the RTE (Second Amendment) Bill, 2018 to repeal the Right to Education Act's no-detention in primary school provision (s.16) and introduce exams in classes V and VIII. With several state governments ascribing the drastic fall in student learning outcomes in primary education to s.16, the chorus for removing the no-detention provision was growing louder. Under new provisions of the amended RTE Act, state governments have the freedom to detain children in primary school if they fail in class V and/or class VIII exams.
The higher education sector too, received a boost from the Union HRD ministry. On March 20, the Delhi-based University Grants Commission (UGC) issued a circular granting substantial autonomy to 60 high-performing higher education institutions across the country, including 52 Central, state, deemed and private institutions plus eight autonomous colleges. Henceforth, these 60 institutions will have the freedom to start new courses, establish off-campus learning centres, introduce new skill development programmes and establish research parks without UGC or HRD ministry clearance.
But although welcome, these overdue reforms are unlikely to radically transform the school or higher education sectors — both are confronted with a quality crisis. The Annual Status of Education Report 2017 released last January, which beamed a spotlight on adolescents in rural India, says that the continuous deficits of elementary schooling are carried forward as teens transform into young adults. In higher education, the country's 799 universities and 39,071 colleges are experiencing severe faculty shortage with 36 percent posts vacant even in the premier IITs. Moreover, the spectre of the Rashtriya Swayamsevak Sangh (RSS), the militant Hindu majoritarian cultural organisation which is the ideological mentor of the ruling BJP, and its saffronisation agenda hovers over Indian education, with school textbooks in BJP-ruled states being rewritten with abandon to project the party's hindutva ideology.
With the country now gearing for General Election 2019, there's a perceptible reversal in public opinion about the Narendra Modi-led BJP government which rode to power in 2014 on the promise of sabka saath sabka vikaas (economic development for all). In particular, the BJP has miserably failed to fulfill its promise of doubling the annual government outlay (Centre plus states) for education to 6 percent of GDP, trumpeted in its election manifesto. With rising farmer distress and rampant unemployment set to be the overriding issues of General Election 2019, neither the ruling BJP nor prime challenger, the Congress party, show any signs of having made the connection between India's chronic education deficit and persistent agrarian crisis and unemployment. Unfortunately, if the recently concluded state elections of MP, Rajasthan, Telangana and Chhattisgarh are any indicator, education is unlikely to be a major issue in the coming General Election.
In the following pages, we present the major education highlights of 2018. (EducationWorld's more detailed coverage of almost all the noteworthy events noted below can also be accessed at www.educationworld.in Archives).
ASER 2017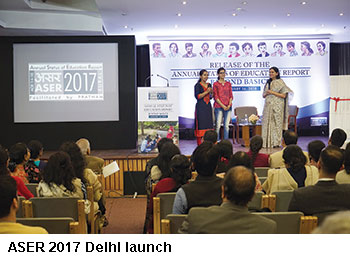 January 16. The 12th Annual Status of Education Report (ASER), published by the Mumbai-based NGO Pratham Education Foundation (estb.1994), was formally released in Delhi. Unlike its predecessor surveys which focused on measuring learning outcomes of children in rural primary schools, ASER 2017 focused its attention on rural adolescents in the 14-18 years age group to assess the impact of primary-secondary education in rural India.
Unsurprisingly, ASER 2017 concludes that learning deficits of pre-primary (if any) and elementary (classes I-VIII) education are carried forward as teens transform into young adults. The survey highlights that a quarter of rural children in the 14-18 years age group cannot read basic texts in their vernacular languages and more than half struggle with simple — three digits by one digit — division sums. The survey also reports that 14 percent of adolescents are not enrolled in any learning programme and only 5 percent are in a vocational course. (Education News, EW February)
Union Budget neglects education again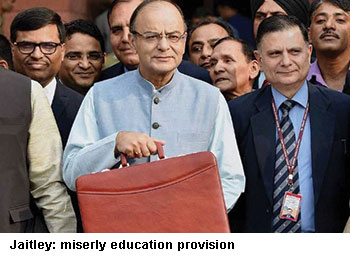 February 1. Arun Jaitley, finance minister of the BJP/NDA government, presented the Union Budget 2018-19 to Parliament and nation. Out of the proposed total expenditure of Rs.24.42 lakh crore of the Central government in fiscal 2018-19, Jaitley allocated a mere Rs.85,010 crore for primary, secondary and higher education — Rs.1,269 per capita per year for the country's 670 million children and youth below age 24. This allocation translates into a mere 0.45 percent of the country's projected GDP of Rs.187 lakh crore next year, and is only marginally higher than the Rs.82,771 crore budgeted (but not spent) by the BJP-led NDA government in 2015-16.
Of the total education outlay, school education was allocated Rs.50,000 crore with Rs.35,010 crore earmarked for higher education. Within school education, the Sarva Shiksha Abhiyan and mid-day meal scheme received token increments. Even allocations to the Central government-owned Kendriya Vidyalayas and Jawahar Navodaya Vidyalayas were slashed and the provision of the University Grants Commission reduced.
A voice in the wilderness amid hollow hosannahs sung for a pedestrian budget, your editors severely criticised the provision of Rs.85,010 crore in the Union Budget 2018-19 as grossly inadequate and completely divorced from the needs of the world's largest child and youth population. We presented a detailed schema suggesting cuts in wasteful establishment expenditure and unmerited subsidies, sale of failing public sector enterprises and modest additional tax imposts to mobilise Rs.5.63 lakh crore for investment in education and human capital development. Alas, to no avail. (Budget 2018-19 Focus, EW March)
Delhi HC quashes CBSE school vendors' circular
February 19. The Delhi high court quashed a CBSE (Central Board of Secondary Education) circular of April 19, 2017, barring private books and stationery shops (aka tuck shops) from operating within campuses of the board's 20,345 affiliated schools countrywide. The circular advised schools to shut down in-school bookshops on the ground that they were conducting "non-permissible commercial activity" on school premises, violating an affiliation bye-law of the board.
However, the CBSE management partially modified its April 19 circular and permitted tuck shops to sell books and stationery published by the government-owned National Council of Educational Research & Training (NCERT) under a modified circular, and in subsequent modified circulars of August 24 and December 18, it expressly prohibited the sale of non-NCERT textbooks. These whimsical and biased circulars prompted the Association of School Vendors to file a writ petition in the Delhi high court.
In its February 19 order, the high court upheld the right of in-school vendors to also sell non-NCERT books on condition that school managements will restrain themselves from coercing students or parents to buy them. (Education News, EW March)
CBSE class X/XII paper leak chaos

March 28. The Central Board of Secondary Education (CBSE), which has 20,345 affiliated schools countrywide, confirmed that the class X math paper and class XII economics paper had been leaked and ordered a retest for both subjects. Subsequently after parent and student protests, CBSE announced it would not re-conduct the class X maths exam but only the economics retest for class XII students. An estimated 1.6 million students wrote the CBSE's class X exam last March.
Following the exam paper leak, the board announced that henceforth, affiliated schools will receive encrypted copies of question papers on e-mail which they would be required to download and print themselves.
RTE Act national compliance abysmal
March 17. The 8th National Stocktaking Convention on the implementation of the Right of Children to Free and Compulsory Education Act (aka RTE), 2009 of the RTE Forum, a coalition of 10,000 civil society groups, NGOs, teachers associations, educationists and activists from across the country, was held in Delhi. The convention expressed disappointment with implementation of the Act and called for a "people's movement" to ensure its rigorous enforcement.
Citing the report of the Comptroller and Auditor General (CAG) 2016, the RTE Forum report commented: "Twenty of India's 34 states and Union Territories fall below the national average of 8 percent compliance with the RTE Act; 13 states have less than 3 percent schools fully compliant with the RTE Act and 18 percent of states do not even have 1 percent of schools compliant with the RTE Act." In this connection, it's pertinent to note that the RTE Forum's annual reports of the two years past had been warning that only 10 percent of primary schools countrywide are RTE-compliant. (Education News, EW April)
UGC autonomy grant to 60 institutions
March 20. The Delhi-based University Grants Commission (UGC) issued a circular granting substantial autonomy to 60 higher education institutions across the country, including 52 Central, state, deemed and private universities plus eight autonomous colleges. Although these select institutions highly rated by the Bangalore-based National Assessment and Accreditation Council (NAAC), will remain under the administrative jurisdiction of UGC, henceforth they will have the freedom to introduce new courses and skill development programmes, establish off-campus learning centres and research parks. They will also have the freedom "to hire foreign faculty, enroll foreign students, give incentive-based emoluments to faculty, enter into academic collaborations and run open distance learning programmes", according to a March 20 press note issued by the Press Information Bureau of the Central government.
Among the higher ed institutions awarded autonomous status are JNU, Delhi, AMU, Aligarh, Hyderabad University (Central universities); Jadavpur, Jammu, Mysore universities (state varsities); Jain, TERI and D.Y. Patil universities (deemed universities); and O.P. Jindal Global University, Sonipat and Pandit Deendayal Petroleum University, Gandhinagar (private universities). (Education News, EW April)
3rd NIRF Rankings
April 3. The third edition of the National Institutional Ranking Framework (NIRF) of the Union human resource development (HRD) ministry which rates and ranks India's Top 100 higher education institutions was released in New Delhi by Union HRD minister Prakash Javadekar.
In the all-important overall category, the Indian Institute of Science (IISc), Bangalore, is ranked India's #1 higher education institution for the third consecutive year followed by the four IITs of Madras, Bombay, Delhi and Kharagpur and Jawaharlal Nehru University (JNU), New Delhi. In the Top 100 universities league table, JNU is ranked #2 (after IISc, Bangalore) followed by Benares Hindu University (#3), Anna (Chennai) and Hyderabad universities. Curiously, Delhi University, which experiences the highest admissions rush every year, is ranked a modest #7 and Mumbai University (estb.1857) is unranked.
In the league table of engineering institutes, seven places at the Top 10 table are awarded to Central government-promoted IITs headed by IIT-Madras. The Birla Institute of Technology & Science, Pilani (estb.1964) — commonly accorded equivalence with the IITs — is awarded a lowly rank of #17, below Anna University, Chennai (#8), IIIT-Hyderabad (#9) and Jadavpur University (#12).
Similar anomalies are to be found in the undergrad colleges league table of NIRF 2018. The country's #1 arts and science college is Miranda House, Delhi, followed by St. Stephen's, Delhi and the almost unknown Bishop Heber College, Tiruchirapalli at #3, ahead of the Shri Ram College of Commerce, Delhi (#7) which stipulates a 99 percent cut-off for admission into its commerce stream. (Education News, EW May)
EW India Higher Education Rankings 2018-19
May 7. Manipal University was ranked India's #1 private university; BITS-Pilani the #1 private engineering university; IIM-Ahmedabad, the country's #1 B-school, and St. Stephen's College, Delhi #1 multi-disciplinary college in the EW India Private Higher Education Rankings 2018-19 commissioned by EducationWorld, and conducted by the Delhi-based market research and opinion polling company C fore.
Over 100 C fore field personnel polled a sample database of 10,264 well-informed individuals including 5,745 academics, 3,095 final year students and 1,424 managers of Indian industry, and persuaded them to rate the country's Top 100 private universities and engineering colleges; B-schools and multi-disciplinary colleges across seven parameters of academic excellence. The scores awarded on a scale of 1-100 under each parameter by sample respondents were totalled by C fore to rank institutions inter se in each category. (Cover story, EW May)
NCERT syllabus pruning
June 2. Union HRD minister Prakash Javadekar announced that the Central government has decided to reduce the NCERT (National Council of Educational Research and Training) syllabus followed by over 20,000 CBSE-affiliated schools countrywide, by 50 percent. "There is a huge load of books and information, and students have no time.
There is no time for physical education, value education and life skills. So, we decided to half the portion (syllabus). There is no need to teach them everything. Students should learn principles and rest of the knowledge they can gain later," said Javadekar, adding that the existing NCERT syllabus is more exhaustive than several undergraduate degree programmes.
Higher Education Commission of India Bill
June 28. The Union Cabinet approved a draft of the Higher Education Commission of India (Repeal of UGC Act) Bill, 2018, subsequently posted on the website of the Union HRD ministry for public comment. The Bill proposes replacement of the University Grants Commission (UGC, estb.1956), the country's apex higher education regulatory authority with a Higher Education Commission of India (HECI), which will focus on promoting the quality of academic instruction and maintenance of academic standards.
However the proposed HECI Bill, 2018 has attracted severe criticism from academics who highlight that the commission will be dominated by Central government bureaucrats and appointees. Moreover, the Bill is silent on the issue of grants sanctioned and disbursed to the country's higher education institutions (HEIs), an important function of UGC. The Bill proposes that the Union HRD ministry will directly fund Central and state universities arousing fears of erosion of autonomy of HEIs. (Education News, EW August)
HEFA expansion approved
July 4. The Cabinet Committee on Economic Affairs (CCEA) chaired by prime minister Narendra Modi, approved a proposal to expand the capital base of the Higher Education Financing Agency (HEFA) by Rs.10,000 crore. Morevoer, it directed HEFA to mobilise Rs.100,000 crore by 2022 for the government's Revitalising Infrastructure and Systems in Education (RISE) project. HEFA will specially focus on upgrading Central universities and Central government schools, health education infrastructure and education institutions established after 2014.
HEFA was established in May 2017 by the Centre as a non-profit non-banking financing institution for mobilising extra-budgetary resources for building crucial infrastructure in higher education institutions. Thus far, funding proposals aggregating Rs.2,016 crore have been approved by HEFA.
RTE Act: No-detention provision scrapped
July 18. The Lok Sabha passed the Right to Education (Second Amendment) Bill, 2018 to abolish the RTE Act, 2009's "no-detention" provision (s.16) under which no student can be detained in classes I-VIII.
The amendment Bill empowers state governments to conduct examinations for class V or VIII students or both. Students who fail these exams will get an opportunity to write a re-examination within two months of the declaration of the result. If they still fail, the state government may detain them.
22 new AIIMS
August 27. Union health minister J.P. Nadda announced the promotion of 22 greenfield AIIMS (All India Institutes of Medical Sciences) across the country. "Twenty-two new AIIMS are coming up across the country under the Pradhan Mantri Swasthya Suraksha Yojana to reduce regional imbalances in the healthcare and tertiary education fields," said Nadda.
The minister also announced several initiatives such as increasing the retirement age of government doctors to 65 years, establishing 20 government-promoted cancer institutes and 50 tertiary cancer care centres, multi-skilling of doctors to overcome the shortage of specialists and upgradation of 70 existing medical colleges by building superspeciality blocks.
EW India School Rankings 2018-19
September 7. Vasant Valley School, Delhi (day co-ed), DPS, R.K. Puram, Delhi (day-cum-boarding), J.B. Petit School for Girls, Mumbai (all-girls) and Campion School, Mumbai (all-boys) were ranked India's most admired day schools in their categories in the tenth EducationWorld India School Rankings 2018-19. Rishi Valley School, Chittoor (co-ed), Welham Girls, Dehradun (all-girls), and The Doon School, Dehradun (all-boys) were ranked #1 in the traditional/legacy boarding schools category.
Among international schools, Dhirubhai Ambani International, Mumbai (day), Indus International, Bangalore (day-cum-boarding), and Woodstock School, Mussoorie (wholly residential) were top ranked. Moreover, Top 10 government day and residential schools, special needs and budget private schools were separately ranked inter se in the most rigorous and largest primary-secondary schools rating and rankings survey worldwide.
A total of 11,837 SEC (socio-economic category) 'A' fees-paying parents, teachers, principals and educationists in 27 cities countrywide were interviewed by 127 field researchers of the Delhi-based C fore. (Cover story, EW September)
DUSU/JNUSU students union elections
September 12/14. Results of the student union elections of Delhi University and Jawaharlal Nehru University were declared. The 135,000 (44 percent turnout) members of Delhi University Students Union (DUSU) who voted on September 12, returned candidates backed by the RSS-affiliated Akhil Bharatiya Vidyarthi Parishad (ABVP) to three key positions of president, vice president and joint secretary. Congress student wing NSUI (National Students Union of India) nominee bagged the secretary's post in the 11-member executive council of DUSU.
In JNUSU elections held on September 14, a United Left alliance comprising the All India Students Association (AISA), Students Federation of India (SFI), Democratic Students Federation (DSF) and All India Students Federation (AISF) swept the polls by huge margins.
These contrasting results are being interpreted as forerunners of General Election 2019. (Education News, EW October)
NUEPA report on teacher productivity
September 21. Teachers spend a mere 19.1 percent of their working hours teaching, reveals a report titled Involvement of Teachers in Non-teaching Activities and its Effect on Education authored by the National University of Educational Planning and Administration (NUEPA), Delhi.
The report states that of the 220 working days mandated by the Right to Education (RTE) Act, 2009, just 42 days were spent on teaching in 2015-16. On the remaining days, teachers were on election duty, conducting surveys, pulse polio campaigns and maintaining mid-day meal registers.
Aadhaar not mandatory for public exams
September 26. The Supreme Court ruled that it is not mandatory for students to possess the Aadhaar identity card to register or write the National Eligibility cum Entrance Test (NEET), University Grants Commission (UGC) and Central Board of Secondary Education (CBSE) exams. The apex court added that Aadhaar cannot be made compulsory for school admissions either.
Pronouncing the verdict, Justice Sikri said: "CBSE, NEET, UGC making Aadhaar mandatory is bad in law and they cannot do so. For enrollment of children, it would be essential to have the consent of parents." Earlier last year, a Constitution Bench of the Supreme Court had stayed a CBSE notification that made Aadhaar or proof of application for the card, mandatory to register to write NEET 2018.
Global Hunger Index Report
October 10. The Global Hunger Index (GHI) Report 2018 authored by non-profit organisations Welthungerhilfe (Germany) and Concern Worldwide (Ireland), was formally released. India is ranked #103 among 119 countries on the index, with the report stating that India is among 45 countries that have "serious levels of hunger". GHI, now in its 13th year, ranks countries based on four key indicators — undernourishment, child mortality, child wasting and child stunting. India is ranked below several neighbouring countries including China (25), Nepal (72), Myanmar (68), Sri Lanka (67) and Bangladesh (86).
CBSE class X pass criteria eased
October 12. The Delhi-based CBSE issued a circular stating that students writing the board's class X exam will have to score a minimum 33 percent in every subject (internal assessment and board exam) rather than pass in the board exam and internal evaluation separately. In the circular, CBSE emphasised this waiver will continue for all board exams conducted henceforward. In 2017-18, a similar assessment model was followed that CBSE had described as "a one-time measure".
The circular, issued by controller of examinations Sanyam Bhardwaj, says the board has decided to "extend the same passing criteria for the students of secondary classes i.e, candidates writing the class X examination in 2019 onwards will have to secure overall 33 percent (both taken together) in the subjects to be eligible to pass that subject".
Centre withdraws IIM board nominees
November 12. The Union government approved a new process of constituting the Board of Governors of the country's 20 Indian Institutes of Management (IIMs) in accordance with the IIM Act, 2017. "This will pave the way for complete control of the institutions by reputed academicians and alumni," says a statement issued by the HRD ministry.
Under provisions of the IIM Act, 2017, three ex-officio members of the board will select the chairperson who will select five alumni members, four eminent persons and two faculty members for a full new term. "The process of constitution of Boards for the IIMs, which have been given full powers of running the institutions, is a major development which signals complete autonomy for quality institutions in higher education and will ensure quality expansion of higher education," said HRD minister Prakash Javadekar.
HRD ministry puts cap on homework
November 26. The Union HRD ministry issued a directive to the country's 29 states and seven Union territories to place restrictions on homework and reduce the weight limit of children's school bags. According to the order, the HRD ministry has "instructed all the states and Union territories to formulate guidelines to regulate the teaching of subjects and weight of school bags in accordance with Government of India instructions".
Under the directive, schools cannot assign homework to students of classes I and II. "Schools should not prescribe any other subjects except language and mathematics for classes I and II and language, EVS and mathematics for classes III to V students as prescribed by NCERT," the order said. The order also prescribed weight limits for school bags — for students of classes I and II, it should not exceed 1.5 kg, class III-V (2-3 kg), class VI and VII (4 kg).
Delhi nursery admissions put on hold
December 17. The Delhi state government ordered 105 private schools in the national capital to put their nursery admission processes on hold for failing to make their admission criteria public within the prescribed deadline. All private unaided schools in Delhi were directed to make the admission criteria public on their websites by December 14.
However, a large number of schools failed to abide by the Directorate of Education (DoE)'s order, and continued their admission processes despite the order of the DoE. Therefore, the Delhi state government has advised parents not to apply to non-compliant schools.
400 new Eklavya Model Schools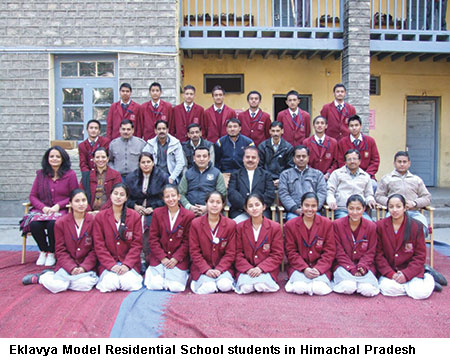 December 18. The Cabinet Committee on Economic Affairs (CCEA) announced the promotion of 400 Eklavya Model Residential Schools (EMRSs) by 2022 for tribal communities nationwide. Every district block with the tribal population exceeding 50 percent of the total, or hosting at least 20,000 tribal people will have an EMRS. Currently, 102 EMRS schools are operational countrywide.
Under the new scheme, the construction cost of EMRS has been increased from the current Rs.12 crore to Rs.20 crore. Moreover, sports facilities will also be constructed at a per unit cost of Rs.5 crore by 2022 in 163 tribal-dominated districts of India.
The schools will be administered by an autonomous society of the Union ministry of tribal affairs on the lines of the Navodaya Vidyalaya Samiti which manages the country's 598 Jawahar Navodaya Vidyalayas.
NITI Aayog's education recommendations
December 19. NITI Aayog — the think tank of the Central government — released its Strategy for New India @75. The report strongly recommends that national spending on education is increased to at least 6 percent of GDP per year by 2022. "According to World Bank's data in 2013, government spending on education by both central and state governments in India is 3.8 percent of GDP which is lesser than the world average of about 4.7 percent of GDP in the same year," says the report, which has made valuable recommendations to improve school enrollment, learning outcomes, vocational education, employability and reduce childhood stress.
Among the recommendations: introduce vocational education from class VIII onwards and compulsorily accredit all higher education institutions.