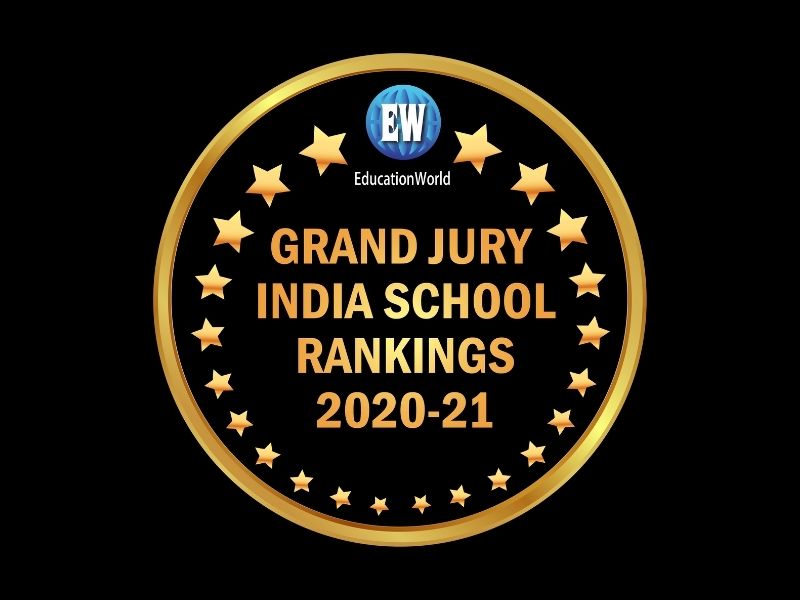 The annual EducationWorld Grand Jury India School Rankings were introduced in 2016 to acknowledge and felicitate schools — especially newly-promoted, low-profile primary-secondaries — that excel under parameters other than the 14 under which schools are rated and ranked in the annual EducationWorld India School Rankings which are based on field-based countrywide interviews.
In August-September advertisements in EducationWorld, our website (www.educationworld.in) and the social media invited nominations — including self-nomination — under separate and distinct parameters including environment-friendliness, blended learning excellence, design thinking, campus architecture and design, extraordinary leadership, multi-sports culture etc, with documentary proof of best practices and achievement. By the closing date (September 30, 2020), 1,000 nominations were received.
On the basis of the information provided by applicant schools and their own domain knowledge, a specially constituted Grand Jury comprising eminent educationists (Fatema Agarkar, founder of Agarkar Centre for Excellence, Mumbai; Rohit Mahindra, director of the Mumbai-based Raj Mohindra Consultants Pvt. Ltd, Meeta Sengupta, educationist and senior advisor Centre for Civil Society, Delhi; Damodar Goyal, president of the Society for Unaided Private Schools of Rajasthan, Jaipur and K.R. Malathi, founder-director of Auuro Educational Services, Chennai) ranked the Top 10 in each new parameter as under.
The complete Top 10 EW Grand Jury India Rankings 2020-21 are published below.
Steam education excellence
These awards are for schools delivering innovative science, technology, engineering, arts and mathematics (STEAM) education through experiential pedagogies.
"This recognition will boost our confidence and commitment to continuously upgrade our teaching-learning standards. We pride ourselves on being one of the few schools in Delhi NCR to have established an in-house Learning and Development Centre that continuously researches and incorporates latest pedagogies and learning into our curriculum. Our STEAM education framework is designed to ensure that students develop deep cognitive skills in STEAM subjects through age-appropriate pedagogies" — Soumya Gulati (centre), deputy director of academic development, Blue Bells Group of Schools, Gurugram
India's most respected education brands
Education institutions or groups that have impacted societal consciousness as trustworthy providers of contemporary education are being felicitated in this category.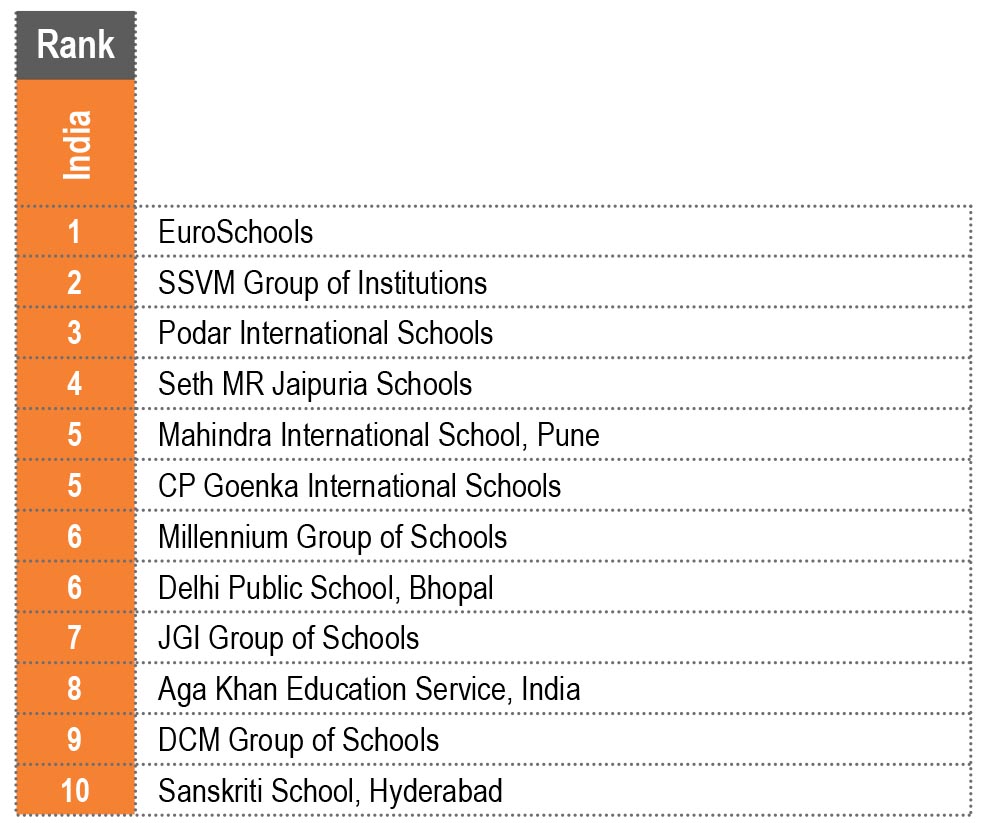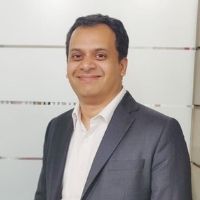 "We are delighted to learn that EuroSchools is ranked India's #1 Most Respected Education Brand by a high-powered EW Grand Jury. This award is recognition of our concerted and continuous effort to provide world-class education which accords equal importance to academics, sports and extra-curricular activities. Balanced holistic education is a precondition of success in the newly emergent global economy of the 21st century. Even before Covid-19 we had designed a highly interactive digital learning system enabling all Euro Schools to make a smooth switch to online education. Moreover, all Euro Schools are obliged to establish safety and hygiene departments to ensure government mandated SOPs (standard operating protocols) are followed when schools reopen" — Rahul Deshpande, CEO – K12 Schools. The EuroKids Group comprises 12 primary-secondary EuroSchools with an aggregate enrolment of 18,000 students and 1,200 teachers.
Most environment-friendly schools
Schools with environment-friendly campuses and environmentally responsible and resource-efficient processes and sustainability practices.
"I dedicate this award to every member of The Mann School family who has contributed to making our campus a green paradise. We are proud of our 20-acre pollution-free campus with excellent rainwater harvesting and waste management systems, and our diverse flora and fauna including 10,200 trees and 2,286 shrubs, that attract myriad avian species such as the kingfisher, peacock, bulbul, among others. Moreover, our student-run eco-club leads several initiatives within the school and local community to raise awareness about environment conservation. Currently, we are in the process of installing a captive sewage treatment plant — the first-of-its-type of any school in India" — S. Sriram, principal, The Mann School, Delhi which has 1,241 students and 72 teachers on its muster rolls.
Multi-sports culture
The Top 10 schools that encourage and provide facilities and training in several sports and games.
"The #1 rank for promoting multi-sports culture awarded to us is the outcome of our careful efforts to provide our
students a future-ready learning environment to enable their all-round growth and development. Gaudium provides facilities and training in 25 sports on our 27-acre integrated campus. Students have access to a 400m synthetic running track, a FIFA-standard football ground, swimming pool, badminton, basketball, tennis and squash courts, and skating rink — all globally benchmarked. Moreover, our first-of-its-kind in-house integrated sports academy Gaudium Sportopia provides excellent coaching with champion mentors such as badminton star Pullela Gopichand, cricketer Ravichandran Ashwin, among others mentoring aspiring sportspersons" — Anjalika Sharma, principal (IBPYP) of the Cambridge International and IB-affiliated The Gaudium School, Hyderabad which has 1,550 students and 200 teachers on its rolls
Social impact
Schools were assessed for encouraging student-led community service projects, in school-sponsored, regional or international community projects.
"We are overjoyed to learn that a grand jury of eminent educationists has ranked Sunbeam, Lahartara India's #1 school for social impact and community outreach for the second time after 2018. This recognition has inspired us to redouble our community outreach in this difficult pandemic year. Service to our local communities is an integral part of Sunbeam's ethos and curriculum. Our senior students are actively engaged with Kutumb, an NGO which cares for orphan children and our junior school students with ASHA old age home for women. Moreover, they also work closely with our own Sunbeam Grameen School, Karasana, a free school for under-privileged children" — Deepak Madhok (centre right), chairman, Sunbeam Group of Educational Institutions, Varanasi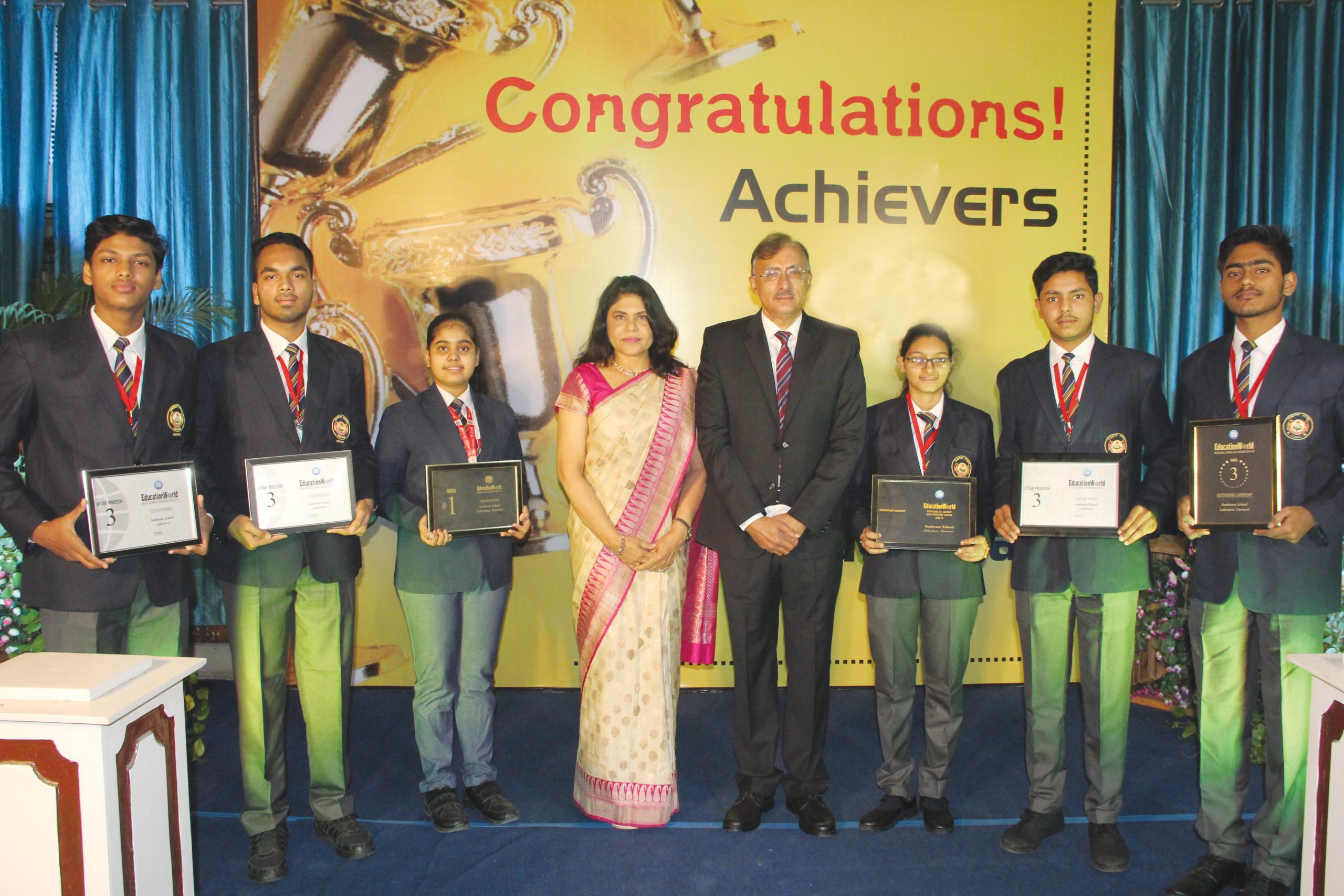 "The #1 rank for social impact is very satisfying because the mission of our schools is to inculcate values such as patriotism, respect for elders, empathy, gratitude, love of nature and practising vasudhaiva kutumbakum — the world is one family. It's this spirit of service that defines the school's community outreach and social work activities and projects" — Anjali Jaipuria (right), vice-chairperson, Seth MR Jaipuria School, Lucknow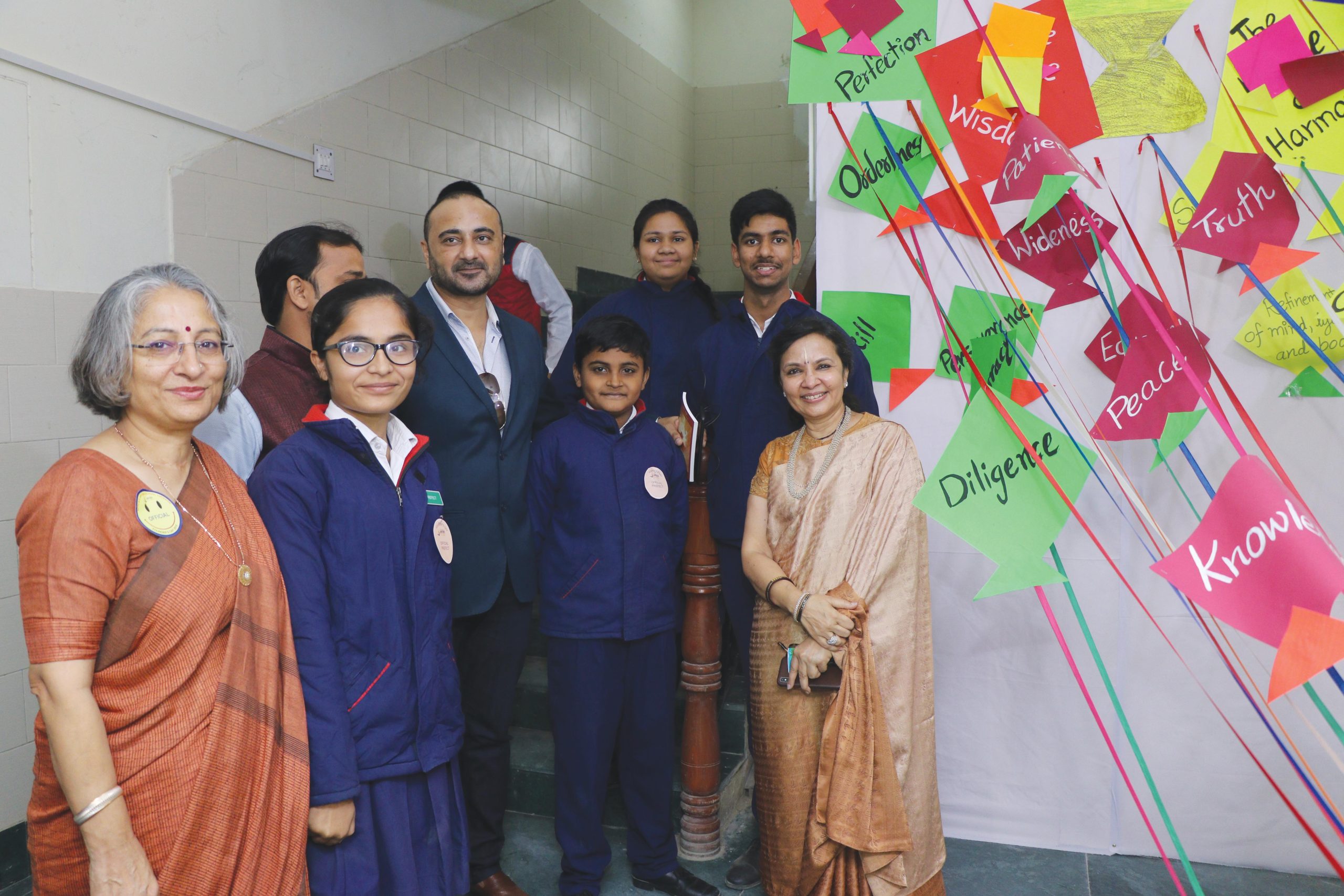 Campus Architecture & Design
Schools with attractive and conducive campuses that enable children to learn joyfully and give of their best are ranked in this category.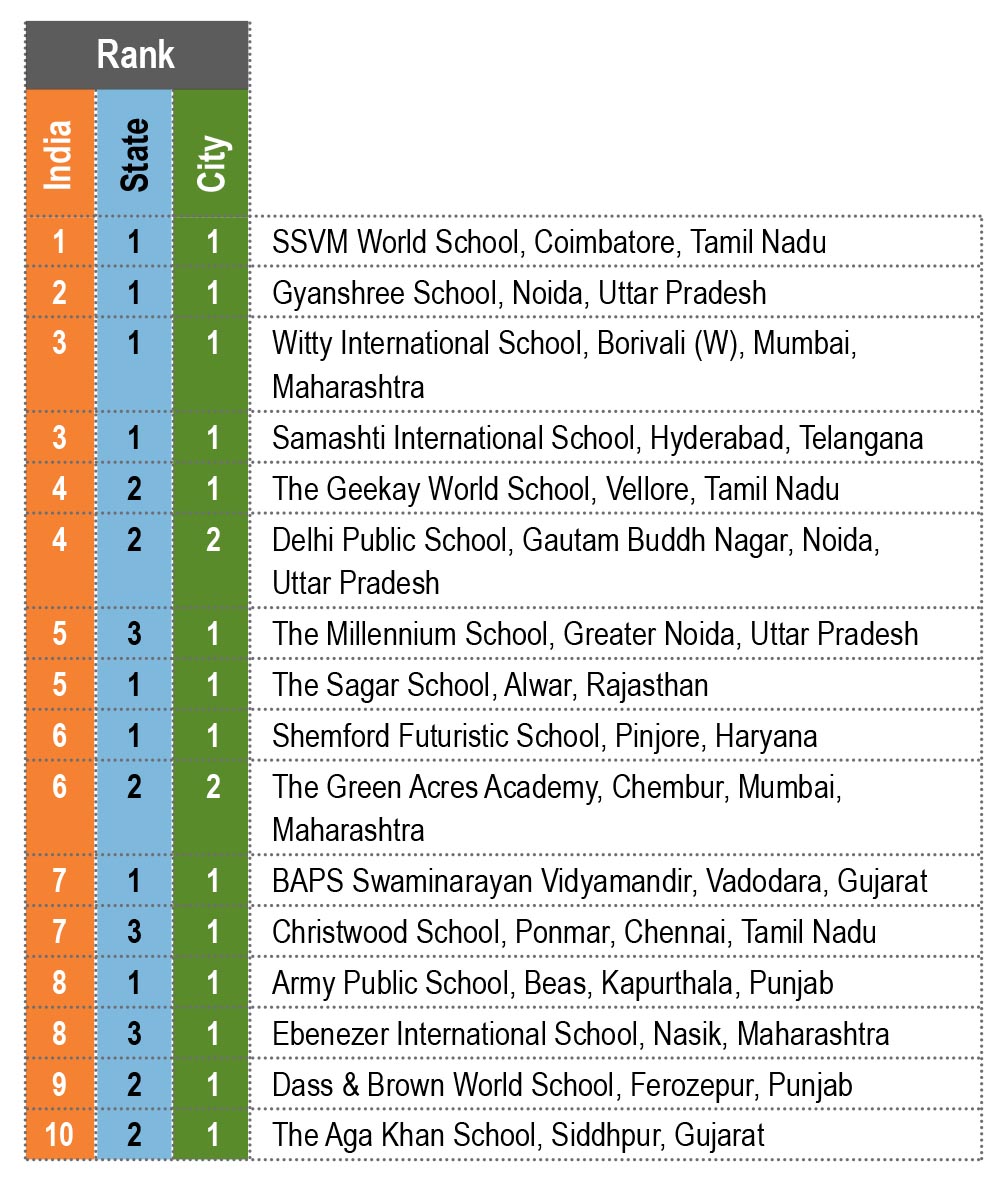 "We are thrilled that two of our schools — SSVM School of Excellence (SSVMSE) and SSVM World School (SSVMWS) — are ranked #1 all-India in the 'Emerging high-potential school' and 'Campus design and architecture' categories. Promoted in 2018, SSVMSE has quickly developed into a progressive K-12 institution providing excellent academic, co-curricular and sports education rooted in Indian values. Located on a 12-acre campus SSVMWS offers its students a lush green picturesque campus; world-class laboratories and libraries; 80 modern ICT-enabled classrooms; a 1,650-seat auditorium; facilities for swimming, archery, horse riding, rifle-shooting, athletics, among others. Both schools are also recipients of the British Council's coveted International School Award" — Dr. Manimekalai Mohan, founder & managing trustee of SSVM Institutions, which include four schools in Mettupalayam & Coimbatore
Emerging High-potential Schools
These are low-profile or newly promoted schools that have demonstrated high potential to quickly adopt and integrate 21st century education best practices.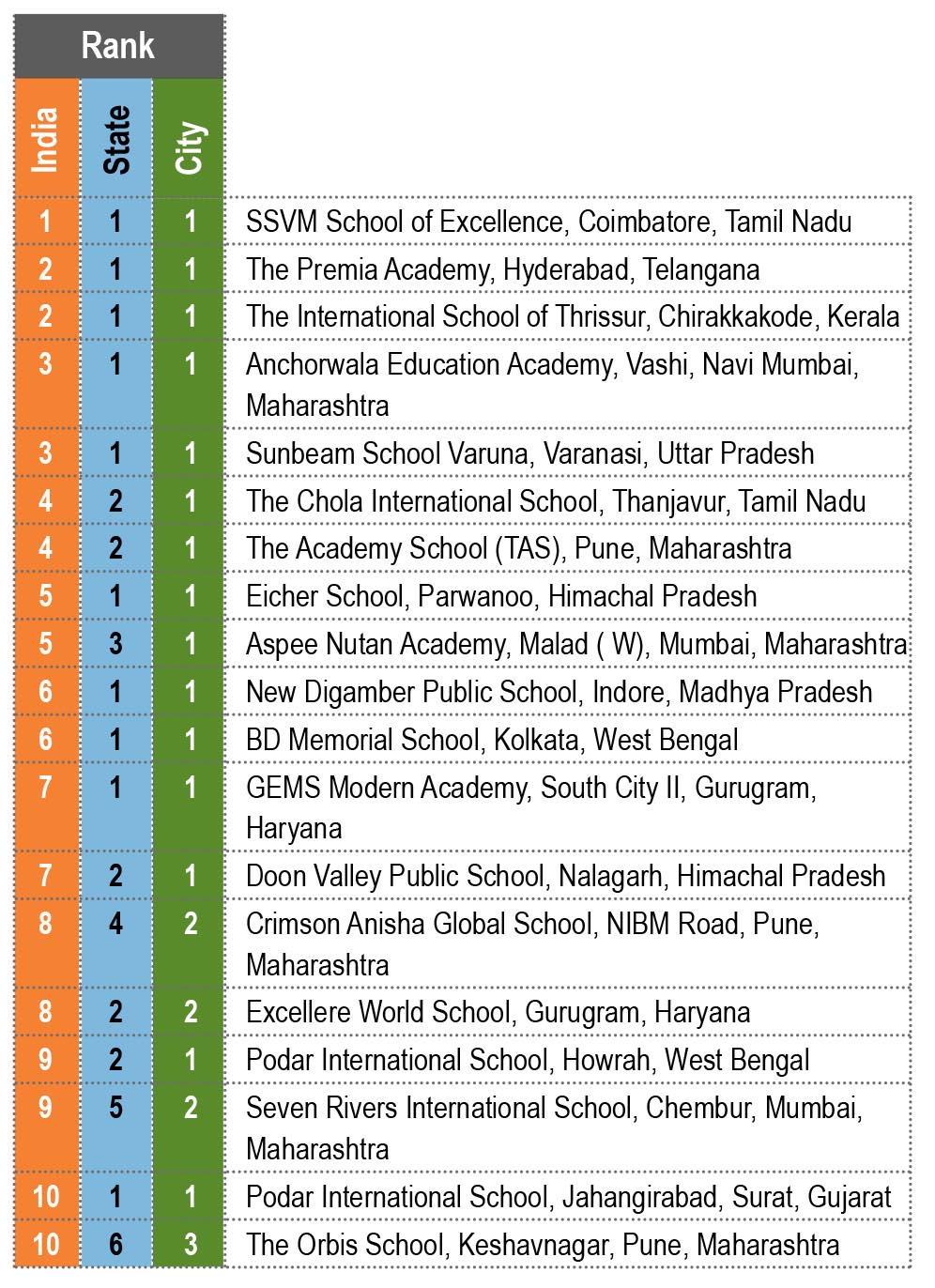 Extraordinary leadership
These rankings acknowledge schools with extraordinary leadership/management.
"It's exhilarating to learn that your expert jury has rewarded us for good leadership. The past year has been a challenge for educators worldwide. In APS, we confronted the Covid-19 challenge with courage and worked collectively to provide online learning to all children. Moreover, we have introduced new student research programmes, trained teachers intensively in online pedagogies, and organised food distribution for migrant workers among other community outreach programmes. I am pleased that the EducationWorld Grand Jury has acknowledged our effort to produce not only academically competent graduates, but also socially-responsible citizens" — Neetu Kapoor, principal, Army Public School, Delhi Cantt
Career counseling leaders
These are progressive schools that provide professional career counseling to help students choose suitable college/university programmes based on their interests and aptitudes.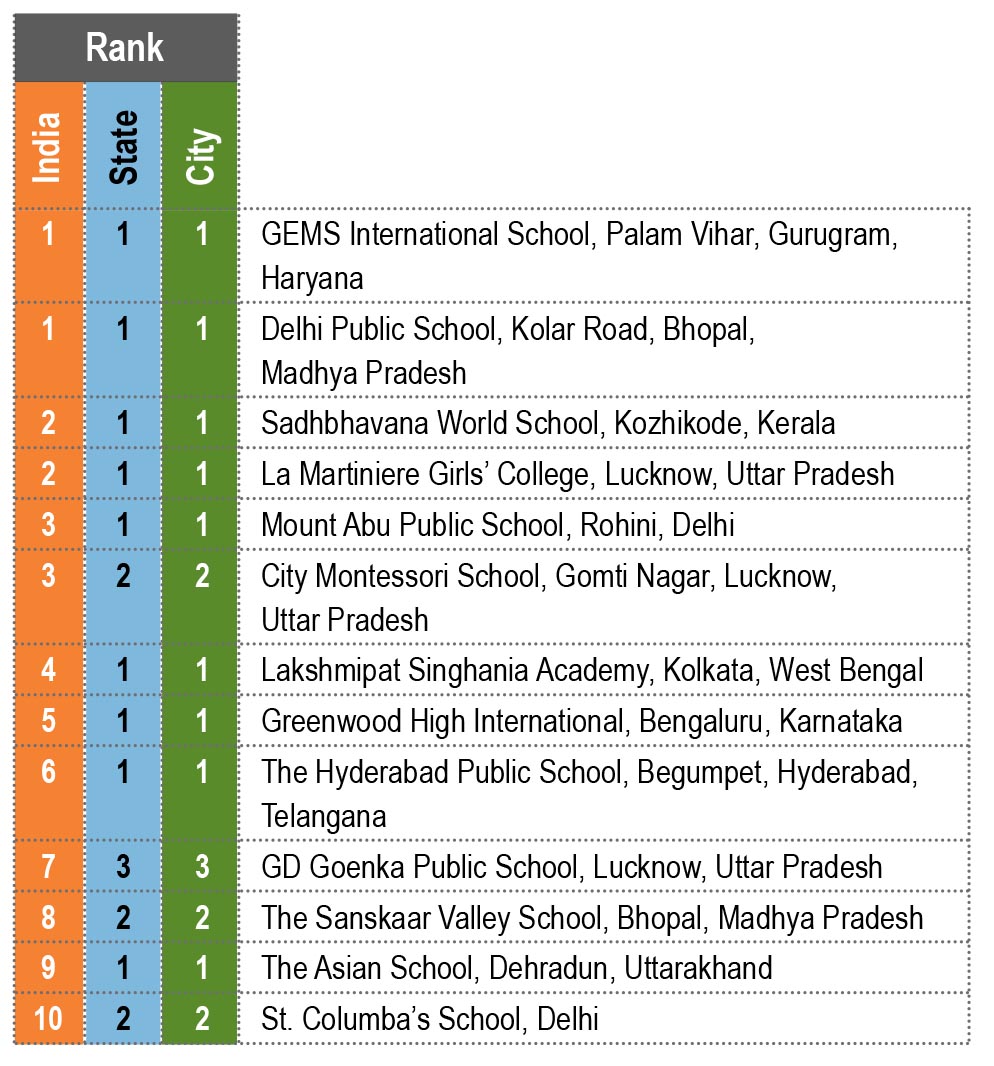 "I am thankful to the EducationWorld Grand Jury for bestowing us this honour. The unique feature of our career counseling is that we involve students and parents in our workshops. Our parents have greatly appreciated our efforts to inform them about career options beyond the traditional engineering and medicine. Moreover, we have signed up with career counseling companies Mindler Education and Univariety to supplement our career guidance workshops; invited several top-ranked private universities to introduce their degree programmes to our students; and organised guest lectures by practitioners of new-age careers." – Dr. Amrita Vohra, executive principal of GEMS International School, Gurugram (estb.2010)
"We are proud and grateful that an eminent Grand Jury has recognised our pioneering work in the neglected career counseling domain. Our school's Career Guidance Cell provides higher education and career-related information to secondary school students to equip them to make informed career path decisions based on their interests and aptitudes. Our own work in this field is supplemented by sessions conducted by Univariety, the well-known career counseling company. Because of high quality counseling our students are readily admitted into the world's top universities including McGill University, Canada, Japan University, University of Wisconsin, Madison, University of Illinois at Urbana-Champaign, University of Michigan Ann Arbor, IITs, AIIMS, Delhi University, among others" — Vandana Dhupar, principal of DPS, Kolar Road, Bhopal, which has 1,800 students mentored by 125 teachers.
Excellence in Blended Learning
These are schools which have successfully adapted and innovated online teaching-learning pedagogies and integrated cutting-edge digital technologies into curriculum delivery.
"This is overdue welcome news. Over the past two years we have been successfully integrating technology into all our operations from staffing and admissions, to teaching and learning. Therefore, the sudden shift to online classes because of the Covid-19 pandemic was smooth and a natural progression. Over the past few years we have progressively introduced the learning management system ManageBac, the International Baccalaureate's LMS for planning, assessment and reporting, and successfully took the whole school online from pre-primary to high school from March onwards, conducting online classes, examinations, extra-curricular events, teacher training and workshops" — Merzeen Z. Doctor (centre right), principal, Cambridge International (UK)-affiliated Chatrabhuj Narsee School, Kandivali East, Mumbai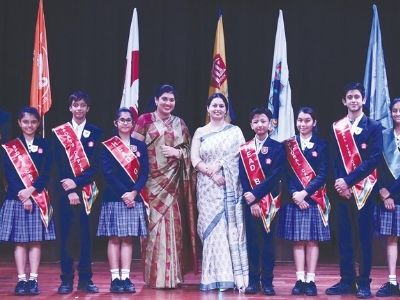 Design Thinking Leaders
Schools demonstrating extraordinary capability to break away from rote learning, and adopt pedagogies that encourage development of students' creative thinking, collaborative and problem solving skills are ranked under this parameter.
"This is very welcome validation of the innovative 21st century skills and pedagogies we have progressively introduced to develop the innovation, creativity, critical thinking, problem-solving, empathy, communication and collaboration skills of our students. The curriculum has been expanded to cover field trips, project-based learning, guest lectures and assessments. Some of our successful student-led design thinking projects include Kalam, an outreach programme for under-privileged children; Dr. Augemento and Medbot project providing AI-virtual first-aid assistance to elderly people and a waste/water management programme" — Ranjna Jangra, principal of the CSBE-affiliated BK Birla Public School, Kalyan, Thane
Library & Reading Culture
Schools which provide contemporary library facilities and actively promote reading culture are ranked in this category.
"This is really excellent news. For this award we give special thanks to Dalbir Kaur Madan from One Up Library and Usha Pandit of Mindsprings Publishing whose support and guidance has been instrumental in infusing the reading habit in our students. Under their guidance the school has taken several initiatives to promote library culture starting from upgrading our libraries which host 23,000 volumes. We created reading spaces, initiated the class libraries programme, and curated book lists for junior, middle and senior school students. This was followed with training for our educators, parents and students to organise reading challenges, book logs, guest author lectures and literary fests. The outcome is that we have created a school which celebrates reading culture" — Dr. Sunita Swaraj, principal, The Heritage School, Vasant Kunj, Delhi
Also read: EducationWorld Grand Jury Awards 2019