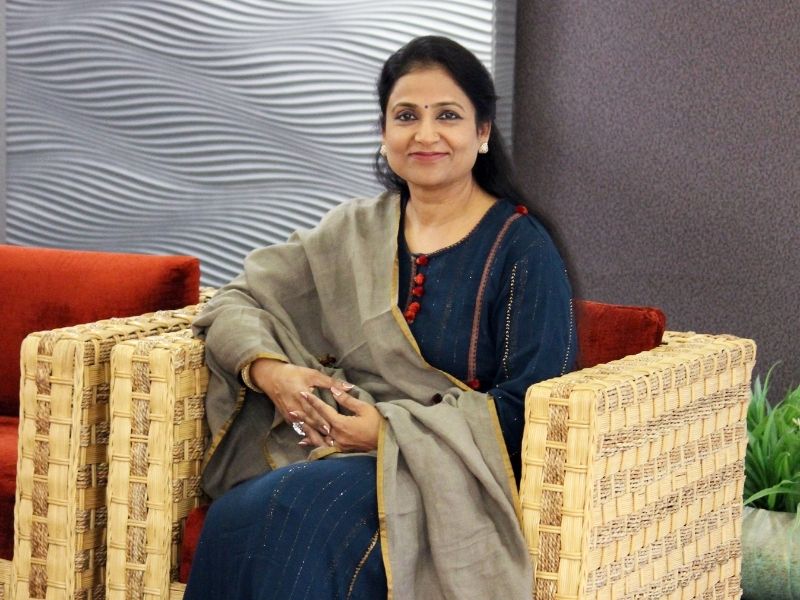 EducationWorld has introduced a new series, the 'Eduleader Focus' featuring interviews with educationists of reputed schools who are popular among their students and staff. In this edition of 'Eduleader Focus', Niru Agarwal, managing trustee of Greenwood High International School discusses the current state of education in India, teacher welfare and his interests.
Schools have been shut for the past two years. What are the challenges that the school community is likely to face once they reopen?
While physical classrooms were shut for nearly two years, online classes were ushered in to continue the academic work of students. A major challenge that students faced while returning to the physical classroom, was to get comfortable with this change. Students had to enhance their concentration and patience levels, while teachers too had to get used to the new mode of teaching and evaluations. Schools had to take care of the needs of both students and teachers, to ensure a smooth transition.
What are the challenges of online teaching and how far has your school been able to deal with these challenges?
Online teaching had some challenges that we have overcome. The introduction of technology in teaching, teaching students online and offline simultaneously and handling low concentration spans in younger students at home. Given all these conditions, we took up training of teachers in technology, the most important tool of teaching. We crafted schedules that would suit both teachers and students and ensured that children did not lose out on academic learning.
The absence of physical interaction has had a toll on the emotional health of children what steps has your school taken to ensure the mental well-being of its students?
The school has been continuously connecting with parents and students to help them manage the mental pressures and stress levels that have increased ever since the whole Covid19 scene came in. Ever since the lockdown came into effect, we have been holding counselling sessions for parents and students separately, to help them deal with their emotions and feelings, with the help of our highly qualified and trained psychology counsellors. Many from our school community embraced these sessions and have benefitted from it immensely.
If not a teacher you would be a ——-
I am a strong believer of giving back to society and I like to be involved in social welfare programmes. My heart goes out to the underprivileged children,as a result of which I have adopted some orphanages for revival. I am also a member of Friends of Tribal Society (Ekal Vidyalaya) and Mahila Chapter of Bangalore, that raises funds to support village schools. I am involved personally in fundraising through activities like art exhibitions and events.I firmly believe that giving back is the only way to move forward and I like to inculcate this in these values of service in my children.
What is your philosophy of education?
I believe education should help in learning new skills, knowledge and inculcate an outlook to life that is modern and vibrant. Education should be a vehicle of improvement and advancement of not only the schools, but of the nation at a broader level. This generation, according to me is truly sincere, dedicated, experimental and keen to adopt new practices of learning, with new challenges. In order to educate the younger generation in the present scenario, teachers also need to be regularly updated, trained and motivated.
Describe your leadership style.
As a leader, I truly believe that one has to be positive and give timely feedback to the team. I am highly approachable to my team and follow an open-door policy and have a very hands-on approach as well. I believe in ethical business practices and feel that my honesty and transparency as a person has helped me win the confidence and trust of the management team. I honestly feel that there is no substitute for hard work and believe in speaking my mind. This goes a long way in creating a positive environment where growth and camaraderie can flourish.
What do you do to unwind/destress yourself?
I am an avid yoga practitioner and enjoy destressing through my daily routine. I like going for long walks to get my thoughts in order. I am also a trained Kathak dancer and like to indulge in this dance form, when time permits. Apart from this, I enjoy listening to music and reading, to relax.
If there was one thing you could change in India's education system, what would it be?
There were times when we were made to realise that online education is not the best choice for education. In the current scenario, we are made to believe that distance or online learning will become an integral part of our education. This pandemic COVID-19 has taught us many life lessons, it has also taught us that education must change to prepare learners for an unpredictable future. We don't know what the future holds and adapting and being reactive to changing norms is what we must be prepared for.
Can you give us an estimate of the learning loss children might have faced during the pandemic? How according to you can we make up for the learning loss?
Children have certainly experienced learning loss due to the pandemic and the prolonged stay at home. But this problem was addressed by the introduction of online learning to arrest the dip in learning. Students who are under-privileged have been the most affected by the pandemic. There are gaps in digital education and more technological interventions need to be made, to help vulnerable children. Digital will have to go mass and cover both the urban and rural areas, as it will ensure that once everyone has access to education, learning loss will be eliminated.
Teachers have been under tremendous stress because of hybrid learning, unprecedented lockdowns, completion of syllabus, etc. As a leader, what is the manner in which you helped them out of it?
There were many challenges that we came across. Teachers had to be trained in using new online technologies to teach children, which was a sharp break from the traditional mode of classroom teaching. We had to ensure that teachers were equipped with the right technological infrastructure to address students online. We back teachers to the hilt and gave them the confidence that they can use the new technologies to teach children and to adapt to the new ambience as well.
How satisfied are you with the growth and development of your school?
I am happy that the growth of our school has been robust over the years. We have students who are brilliant, sharp and innovative and who love the philosophy of our school which promises intellectual growth. Our teachers are highly committed and qualified and have been great instructors and inspire our students to take up highly interesting projects. I also like the fact that our school gives a lot of importance to physical education and co-curricular activities that includes arts and culture and we have provided facilities and amenities that are comparable to global standards. Our futuristic curriculum lays equal emphasis on academics and personality development, to enable the holistic growth of our 7,500 students. Over the years, the school has been ranked No. 1 consistently, for the last 5 years and among the top Schools in the country in various surveys.
Hobbies-?
I am a graduate in Economics and am also deeply interested in art, music, dance and theatre.I like creativity and this drives me apart from my work in school. I infuse my energies into futuristic creative interior spaces and have taken up interior design in various projects. My artistic streak can also be seen in my inclination to come to up with vibrant interior designs as well as great ideas for outdoor landscaping in the school. Apart from my work in the education sphere, I am truly inspired by art forms.
Also Read:Eduleader Focus: Siddharth Rajgarhia, DPS, Nashik, Varanasi, Lava Nagpur