A highlight of the two-day EducationWorld India School Rankings Awards 2018-19 celebrations staged at the upscale Leela Ambience Hotel, Delhi NCR on September 28-29, was the launch of the unique ELITE (Emerging Leaders in Innovation, Technology and Education) School Rankings 2018-19, designed and executed by Edfinity, a Silicon Valley-based online learning firm supported by the National Science Foundation, USA and US government. Three hundred of over 1,000 schools countrywide, invited by EducationWorld, participated in the inaugural ELITE Rankings which evaluated participating schools on several metrics — teacher subject matter knowledge and competence and student academic proficiency assessed through online tests and leadership-resources and innovation through self-declared information.
In contrast with the annual EducationWorld India School Rankings survey in which schools are rated under the parameter of academic reputation according to the perceptions of sample respondents rather than actual testing, the ELITE methodology ranks students' learning outcomes and teachers' competence on the basis of online performance tests. Leadership-resources and innovation is measured through assessment of institutional responses to 25 carefully drafted questions administered to schools to determine how intelligently and creatively a school is leveraging its academic resources to deliver superior educational experiences.
To test teacher subject matter knowledge and competence, middle school maths and English teachers of participating institutions were obliged to write an online test. Similarly, students' academic proficiency was measured through online English, maths and computational thinking tests administered to 40 self-selected class VII-VIII students from each participant school. Over 140 schools across the country voluntarily participated in the teacher and student assessment tests.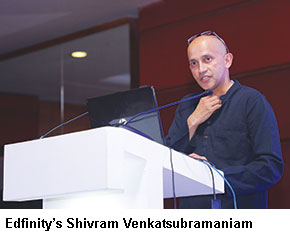 "All existing school rankings surveys have a common shortcoming — they don't actually test students and teachers to assess their proficiency. ELITE is designed to enable students and teachers to write online tests to evaluate average learning outcomes of students and subject matter knowledge and competence of teachers. The core principles that underpin the ELITE assessment exercise are metrics relevant to a changing world, rigorous quantitative analysis and honourable self-reported information blended with independent, objective assessment. The inaugural ELITE institutional rankings of students' academic proficiency, teacher competence and leadership-resources and innovation were enthusiastically welcomed by participant schools and we are expecting a surge in participation next year," says Shivram Venkatsubramaniam, an alumnus of BITS Pilani, IIM-Calcutta and MIT's Sloan School of Management and CEO of Edfinity, which currently serves over 500,000 K-12 and collegiate students in 25 countries.
The inaugural ELITE Rankings for online testing of students' academic proficiency substantially validate the EWISR academic reputation parameter rankings which are based on perceptions of over 12,214 informed stakeholders in K-12 education. For instance, the Dhirubhai Ambani International School, Mumbai, ranked #2 in ELITE's students' academic proficiency ranking is ranked #1 for academic reputation in EW India School Rankings 2018-19. Seth Anandram Jaipuria School, Kanpur ranked #1 under ELITE is ranked #12 for academic reputation among all categories of day schools.
In the pages following we present the inaugural ELITE School Rankings 2018-19 awarded under two broad categories — leadership-resources and innovation, and teacher competence and students' academic proficiency.
Student academic proficiency & Teacher knowledge & competence: Top 25
1. Seth Anandram Jaipuria School, Kanpur
2. Dhirubhai Ambani International School, Mumbai
3. Jodhamal Public School, Jammu
4. Aditya Birla World Academy, Mumbai
5. Podar International School, Santacruz (W), Mumbai
6. Rajmata Krishna Kumari Girls Public School, Jodhpur
7. Guru Nanak Fifth Centenary School (Boys), Mussoorie
8. Sat Paul Mittal School, Ludhiana
9. The Heritage School, Kolkata
10. Heritage Xperiential Learning School, Gurgaon
11. DPS, Nerul, Navi Mumbai
12. Lakshmipat Singhania Academy, Kolkata
13. Delhi Public School, Kalinga, Bhubaneswar
14. Chinmaya International Residential School, Coimbatore
15. City Montessori School, Gomti Nagar, Lucknow
16. Ryan International School, Vasant Kunj, Delhi
17. CHIREC International School, Hyderabad
18. Sai International School, Bhubaneswar
19. Glendale Academy, Hyderabad
20. Guru Nanak Fifth Centenary School (Girls), Mussoorie
21. Gitanjali School, Hyderabad
22. Venkateshwar International School, Delhi
23. St. John's High School, Chandigarh
24. Gyanshree School, Noida
25. Ahlcon International School, Delhi
Leadership-innovation & resources: Top 25
1. The Cathedral and John Connon School, Mumbai
2. Dhirubhai Ambani International School, Mumbai
3. Sat Paul Mittal School, Ludhiana
4. Good Shepherd International School, Ooty
5. Jayshree Periwal International School, Jaipur
5. The Assam Valley School, Balipara
6. Scottish High International School, Gurgaon
7. Sri Venkateshwar International School, Delhi
8. Ryan International School, Vasant Kunj, Delhi
9. St. John's High School, Chandigarh
10. CHIREC International School, Hyderabad
11. Indus International School, Pune
12. RN Podar School, Mumbai
13. Ahlcon International School, Delhi
14. Heritage Xperiential Learning School, Gurgaon
15. Vidyashilp Academy, Bangalore
16. City Montessori School, Gomti Nagar, Lucknow
17. Campion School, Mumbai
18. Sadhbhavana World School, Kozhikode
19. Lalaji Memorial Omega International School, Chennai
20. Arya Vidya Mandir, Bandra (West), Mumbai
21. Fravashi International Academy, Nasik
21. Kasiga School, Dehradun
22. Rajmata Krishna Kumari Girls Public School, Jodhpur
23. Lakshmipat Singhania Academy, Kolkata
24. Gitanjali School, Hyderabad
25. Aditya Birla World Academy, Mumbai