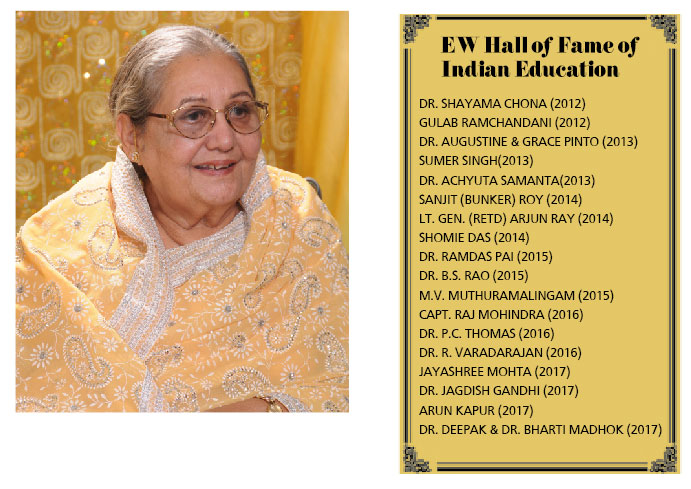 An arts and education postgraduate of Osmania University and the University of New Mexico, USA, Begum Anees Khan is the Promoter-Chairperson of the Hyderabad-based Nasr Education Society (NES, regst.2001), and the Founder-Principal of the top-ranked CISCE-affiliated class I-XII Nasr Girls School, Hyderabad. Over the past 53 years, NES has promoted and manages five education institutions in this ancient city of the Nizams (pop.11 million) which has since transformed into a hub of new 21st century IT and digital technologies industries. They are: Nasr Girls School (estb.1965), Nasr Pre-Primary, Somajiguda (1986), Nasr Literacy Centre, Somajiguda (1992), Nasr Boys School, Gachibowli (1998), and Nasr Pre-Primary, Gachibowli (2016). The aggregate enrolment of these institutions is 4,000 children mentored by 260 teachers.
"In Nasr Group institutions, our objective is to provide broad education of the highest standard in environments that stimulate the pursuit of academic excellence and holistic self-development. In particular, we accord high importance to developing the capabilities of our students to read widely, think independently and creatively and to participate in a wide range of co-curricular and sports activities to develop character and self-confidence," says Begum Anees Khan. Unsurprisingly, Nasr Girls — the alma mater of India tennis star Sania Mirza — is ranked among India's Top 5 girls day schools and #1 in Hyderabad, and Nasr Boys among India's Top 10 boys day schools and #1 in Hyderabad.
For her efforts, spanning over half a century, in the cause of championing the education and rights of the girl child and minority communities, Begum Anees has received numerous accolades — Citation of Honour of the National Conference of Minorities, Delhi (1994); Lifetime Achievement Award & Citation from the Khan Bahadur BabuKhan Foundation, Hyderabad (2007); Excellence in Education Innovation & Leadership Award from WCRC Leaders Asia (2014) and Women Achievers Award of the FICCI Ladies Organisation (2015). An ardent reader, gardener and music aficionado, Begum Anees is also a trustee of the Nizamia Hyderabad Women's Association Trust and an executive member of the Muslim Education Society.
In recognition and acknowledgement of her extraordinary contribution to the causes of education of the girl child and propagation of the rights of the Muslim and other minority communities of India, the Board of Directors and Editors of EducationWorld are pleased to present Begum Anees Khan the EW Outstanding Achievement in Education Leadership Award 2018 and induct her into the EducationWorld Hall of Fame of Indian Education.